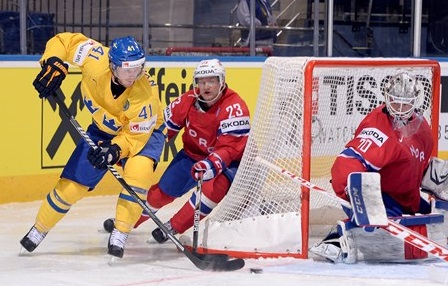 In a game that perhaps should have been easier than it turned out to be, team Sweden was able to come away with a tight win against Norway to give them top spot in Group A.
The Swedes couldn't have done much more in the first period as they directed eight shots at Norwegian goalie Steffen Soberg, to Norway's one shot. Despite owning the play – on paper – Sweden was forced to kill two penalties before getting its own power play opportunity.
There was very little time on the clock at the time of the power play, however, so there wasn't much time to get a great scoring chance before the period ended. As a result the teams went into the first intermission in a nothing-nothing draw – a fortunate result for the Norwegians.
After a first period that had its fair share of scoring opportunities, but nothing to show for it, there would be scoring in the second period. But the first goal came from an unlikely source as 2010 Toronto Maple Leafs draft pick (and current Norwegian-leaguer) Sondre Olden scored on just the second shot for Norway.
After Olden's goal at 2:47 of the period, Norway would fire only five more shots on Swedish goalie Anders Nilsson for the remainder of the period. Sweden, meanwhile, would get 15 shots on Soberg, but wouldn't break through until a Joakim Lindstrom powerplay goal with less than four minutes remaining in the period.
But once again the Swedes found themselves in a tie after the period, despite holding a 23-7 advantage in shots. The opportunities were there for both teams in third, though, as the teams combined for seven minor penalties.
But ironically enough it was an even strength goal that would decide the winner. In the middle of the parade to the penalty box was a goal by Linus Klasen for Sweden, which gave his team the lead and, ultimately, the 2-1 win.
The final shot clock gave Sweden a 35-14 advantage as the team challenged Soberg throughout the game. Nilsson, meanwhile, was solid the rest of the way after allowing the goal to Olden.
Sweden will have another day off May 14 before taking on team France May 15 in what should be an easier game.