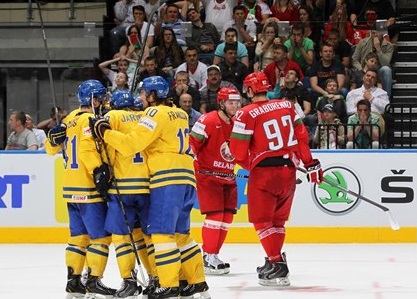 The host Belarusians gave team Sweden a great fight in their quarter-final match but it was the defending champions who prevailed in the end and advanced to the semi-final. But the win didn't come easy for the Swedes who received a tough test from the surprising Belarusian team.
Nicklas Danielsson put Sweden ahead with a powerplay goal at 13:41 of the first period, assisted by Mattias Ekholm and Linus Klasen. But that's all Belarus' goalie Kevin Lalande would allow – stopping nine of Sweden's 10 shots. Belarus needed that effort as it was only able to attempt three shots at Anders Nilsson in the Swedish net.
Nilsson's workload wouldn't be so light in the second period, however, thanks to an improvement in Belarus' play. Geoff Platt tied things up for the hosts just over five minutes into the period, with Alexei Kalyuzhny and Andrei Stas drawing assists. Platt was back to work nine minutes later, setting up Alexei Yefimenko for a goal to give Belarus a 2-1 lead.
But the home crowd wouldn't be cheering for long because Jimmie Ericsson scored Sweden's second powerplay goal just three minutes later to knot the game at two each. The teams would remain tied heading into the third period – a very eventful one for Sweden's Mattias Ekholm – when the game was decided.
After a fairly quiet start to the period, which saw the teams trade chances – Ekholm turned the puck over trying to deke his way out of his defensive zone. The turnover led to a penalty shot after Ekholm hooked Kalyuzhny on a breakaway. Luckily for Ekholm Nilsson came through in a huge way to keep the game tied.
This stop would turn out to be game-changing because – not even a minute later – Ekholm took from the puck from behind the Belarus net and scored on a wrap around. Ekholm, who just as easily could have been the goat for his team, ended up being the hero as his goal stood up as the game winner.
Sweden draws team Russia in the semi-final with the possibility of facing its bitter rivals, Finland, in the final. To get to the final Sweden will have to break Russia's streak of eight consecutive wins at this year's tournament. That won't be easy as Russia has scored 34 goals in eight games and allowed just seven
The Finns will also have to get by a Czech Republic team which beat a very talented American team to get to the semis. But regardless of who wins between Finland and Czech Republic, Sweden's road to a repeat championship won't be an easy one.