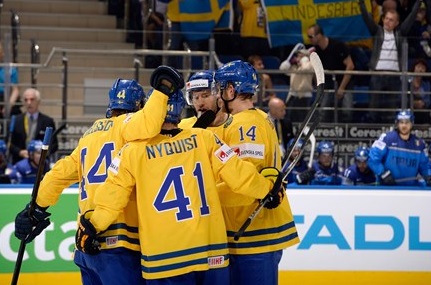 In their final game of the preliminary round, Sweden's power play came to life and helped the team to an easy 5-1 victory over the Italians.
The Swedes got to work early in the first as Gustav Nyquist scored his third goal of the tournament – what would be the team's only even strength goal – just 48 seconds into the game. The Italians tied the game at the half way point of the period, but a Mattias Ekholm powerplay goal gave Sweden the lead going into the first intermission.
It was much of the same in the second period as Sweden added to its lead by scoring another two goals thanks to two more Italian penalties. The first came once again from Nyquist 14:24 into the period, which was followed by a Nicklas Danielsson goal three minutes later. The second period sucked much of the energy out of the Italian team, but the onslaught wouldn't end there.
After the Italians took another penalty with under five minutes remaining in the game Jimmie Ericsson finished things off with Sweden's fifth and final goal. Though he didn't score any goals it was a big game for Sweden's Linus Klasen who assisted on his team's first four goals.
The win doesn't assure Sweden of first place in the pool – though it does put the team in first for the moment – but it forces Canada to win in order to finish first in Group A. Regardless of the outcome of the Canada game, though, Sweden cannot finish lower than second in the group.
The win was also an important one for the Swedes given their history against lower-level teams in this year's tournament. With the exception of Italy, Sweden was unable to defeat any of the bottom four Group A teams by a margin greater than three goals.
Sweden's playoff opponent will be determined after May 20 when all teams will have finished playing their seven preliminary round games.