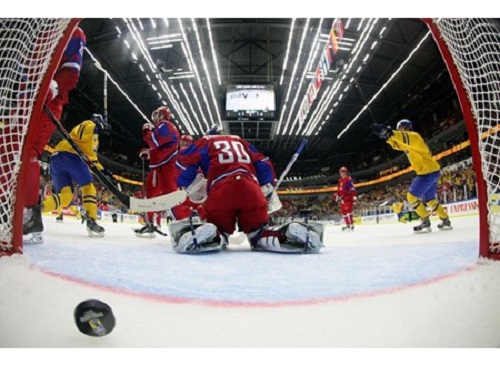 Undefeated Sweden faced 2-1 Russian Tuesday to determine which team would win group B. The host nation has looked dominant in the tournament, along making the New Years Eve showdown an exciting watch. Sweden was all over Russia early, dominating the pace of the game, but Russian goaltender Andrei Vasilevski stole the show early keeping Russia in the game.
Sweden struck first when they scored on the nation's first powerplay of the game. Georgi Busarov hit Oscar Sundqvist from behind, Busarov recieved a two minute checking from behind penalty as well as a 10 minute misconduct. Andreas Johnson's wrister beat Vasilevski to his blocker side, 1-0 Sweden.
With a little over ten minutes left, Russia's Pavel Buchnevich took a bad tripping penalty in their offensive zone. Then with 8 seconds left in that powerplay took another penalty Nikita Zadorov for slashing. Russia killed off the penalties, and look to have gained control, but they couldn't beat Sweden's goalie Oscar Dansk.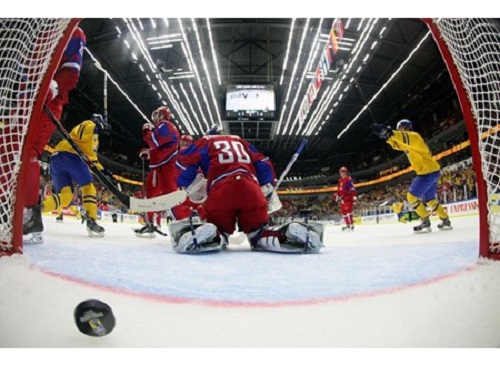 Sweden, feeling the pressure from the Russian, doubled their lead with a goal scored after working the cycle. Nick Sorenson worked it to Andre Burakowsky who dropped it behind the goal line to Lucas Wallmark, who then found Sorenson in front of the net. Sorenson's shot was redirected just enough to beat Vasilevski, putting the host's up 2-0 on Russia 17:01 in the opening frame.
Russia cut the lead in half with 16:13 left in the second. On their first powerplay, Alexander Barabanov was sitting right above the crease, and beat Dansk with a redirect of Vyacheslav Osnovin's pass.
Commentator Craig Button said "They call this is a U20 tournament, right now this men versus boys and the men are wearing the colors of Sweden"
With the powerplay ended, Sweden worked a beautiful passing play that ended with the da la Rose hitting Elias Lindholm back door. Vasilevski make a spectacular glove save to deny Sweden what looked like a certain goal.
Then with 8:08 left in the 3rd while on the man advantage, Russia picked up a huge goal by Mikhail Grigorenko. Grigorenko redirected Buchnevich's one time shot past Dansk making it 2-2.
But Sweden's dominance payed off with a late third period game winning goal with 2:22 left in the game by Jacob de la Rose. Gustav Oloffson's point shot was redirected 5-hole past Vasilevski by de la Rose and Sweden remained undefeated.