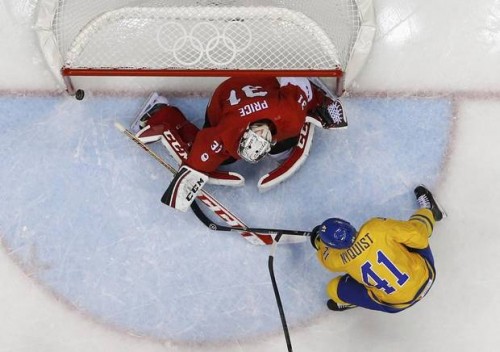 When Sweden kicks off its World Championship defense in Belarus this year it will be sporting a lineup sparsely lined with NHL players. Their official roster has still yet to be announced, but from the looks of it they'll be relying on players from other professional leagues to fill the roster.
All in all – according to the IIHF's website – there is expected to be just eight NHL players making the trip to Belarus. Most notable are Gustav Nyquist (Detroit Red Wings) and Mikael Backlund (Calgary Flames) up front; Erik Gustafsson (Philadelphia Flyers) and Mattias Ekholm (Nashville Predators) on defense; and Anders Nilsson (New York Islanders) in net.
As mentioned the roster is not final yet, so more players could be added before the tournament starts – and there are plenty to choose from.
The St. Louis Blues, Tampa Bay Lightning and Detroit Red Wings could each have multiple players representing their country in Belarus. Alex Steen, Johan Franzen and Victor Hedman are just a few of many names still available to play.
More notable players absent from the roster (who are healthy) include Gabriel Landeskog of the Colorado Avalanche and Oliver Ekman-Larsson of the Phoenix Coyotes. Landeskog's leadership and explosive offense will be missed, as will Ekman-Larsson's dynamism on the back end – one that helped Sweden to a silver medal at the Sochi Olympics earlier this year.
Three players whose chances of playing are extremely slim are the Sedin twins from the Vancouver Canucks and Erik Karlsson of the Ottawa Senators. Karlsson is still rehabbing his previously sliced Achilles, which he wasn't able to do last summer, while. Daniel and Henrik will most likely be using the off-season to rest and rehab after respective injury-filled seasons.
All this is to say the team will be in tough this year. That's not to disrespect Mattias Sjogren of Linkopings HC, Jonas Anhelov of Frolunda Gothenburg or any of the other non-household names expected to play. But these players lack the star power needed to carry their country in a tournament typically dominated by countries with rosters filled with NHL players.
Adding to the pressure is the fact this year they'll be in the same pool as Canada, which will boast an all-NHL team. So the road to gold could be quite difficult. Luckily for them, Slovakia and the Czech Republic are carrying abnormally weaker rosters than usual, meaning a trip to the playoff round could come easier than expected.
But regardless of who they play, it's no secret the Swedes will (expectedly) be relying on their NHL players to carry them. And the team's success will largely be determined by their individual success.
Here is Sweden's preliminary round schedule (all times ET):
-May 10, 9:45 a.m. @ Denmark
-May 11, 1:45 p.m. @ Czech Republic
-May 13, 1:45 p.m. @ Norway
-May 15, 1:45 p.m. @ France
-May 16, 1:45 p.m. @ Slovakia
-May 18, 9:45 a.m. @ Canada
-May 19, 1:45 a.m. @ Italy
Love Reading About Hockey?

Subscribe to keep up-to-date with the latest and most interesting hockey news!
| | |
| --- | --- |
| | We hate spam just as much as you |