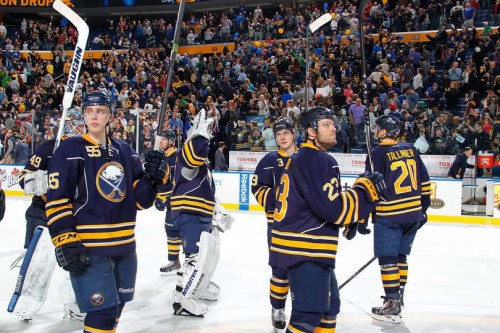 The Buffalo Sabres along with the rest of the league have released their 2014-2015 NHL regular season schedule. Considering the team is in major re-build mode, they will be looking to land star prospect Connor McDavid with the No.1 pick in next year's draft. The schedule is not easy to start with.
The Sabres will open up the season against the up and coming Columbus Blue Jackets on Thursday October 9th. Two days later, the Sabres will be on the road to face South Buffalo native Patrick Kane and his Chicago Blackhawks in their home opener. The blue and gold also start the first month of the season with the ever-enjoyable west-coast road trip. With that being said, the team has 11 games in 22 days, talk about being travel-logged!
This season will not be as condensed as last year's since the Winter Olympics aren't for another four years. I'm sure the players are thrilled they won't have to play roughly four to five games in a seven day span frequently throughout the season.
The Blue Jackets will host this year's All-Star festivities. They were supposed to host previously but the lockout postponed it to this upcoming season.
Fortunately for Sabres fans, the Toronto Maple Leafs only come twice to the First Niagara Center this season. This is great because the FNC is usually 60% Leafs fans which is quite embarrassing.
Although more than likely the Sabres will not be competitive this season, it will not matter who or where they play. This team will be bad enough that the NHL might actually award the franchise the No.1 overall pick. Last season was bad but with shaky goaltending and no scoring depth, it will definitely be a struggle to keep sane for any Sabres fan.
The Full Sabres schedule can be found here.