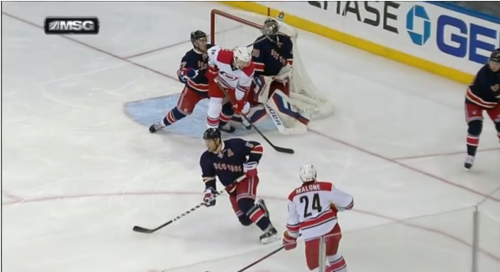 No team wants to lose their starting goaltender. The better the goalie is, the more vital he is to the franchise, and the more it hurts when an injury will keep the netminder out long-term. After taking a puck to the neck in a victory over the Carolina Hurricanes on January 31st (and playing one more game against the Florida Panthers two days later), Rangers goalie Henrik Lundqvist will miss at least three weeks with a vascular injury in his neck. The good news is that this isn't an injury that requires a smooth rehab process like a knee or hip injury. The neck just needs time to heal, and as soon as it's safe, Lundqvist will be back between the pipes.
There was obviously a lot of concern and worry amongst the Rangers fan base about missing Lundqvist an extended period of time. February is the time of the NHL season where we really start to separate the playoff locks, the playoff contenders, and the teams that will have mid-April tee-times on their favorite golf courses. There are definitely teams where losing their starting goalie for that long could hurt them in the standings (ie: Tampa Bay Lightning with Ben Bishop and the New York Islanders with Jaroslav Halak, just to name a couple), but the Rangers are fortunate enough to have a quality back-up in Cam Talbot. The Caledonia, Ontario native is very capable of shouldering the load for the Blueshirts for the next few weeks.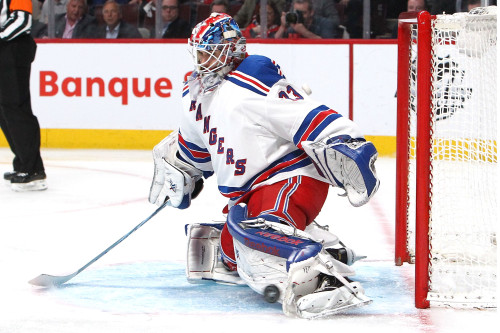 Am I suggesting that this is going to be akin to Ken Dryden taking Rochie Vachon's job en route to a Montreal Canadiens Stanley Cup in 1971, of course not. But there was definitely too much over panic amongst Rangers fans when the news came down that the Swedish netminder would be out for a few weeks. While Talbot's numbers for this season are okay (5-4-1 / .924 save percentage / 2.14 GAA), let's not forget what the 27 year-old did last season (12-6-1 / .941 save percentage / 1.644 GAA). When the Rangers had a bad month to open the 2013-14 season, and Lundqvist was injured for most of November, it was Talbot who played a big part in righting the ship. The quality of the Rangers blueline also inherently makes things a little better for any goalie playing behind that group.
It's looking like Lundqvist will miss approximately a dozen games while his neck heals. GM Glen Sather will likely acquire a veteran back-up as an insurance policy, and to give Talbot a night off if he needs it. But if you're worried that the Rangers will fall closer to the Panthers in the standings rather than stay competitive in the Metropolitan Division race, don't. Talbot has done well in this situation before, and he'll do well again.