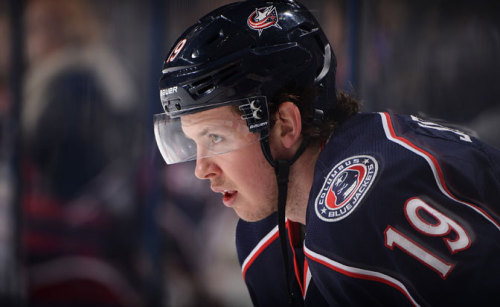 The saga between the Columbus Blue Jackets and center Ryan Johansen seems like a never-ending one, with neither side budging.
But according to the Columbus Dispatch's Aaron Portzline, talks appear to be moving. Slowly, but they're at least moving.
On Friday, Portzline reported that the two sides are $1.25 million apart per year ($2.5 million total on the supposed two-year bridge deal both sides are looking for):
#CBJ had 2 year, $6M offer on table for months. This is their first tweak to that offer. Overhardt started at $13.7M for 2 year, now at $9M.

— Aaron Portzline (@Aportzline) October 3, 2014
Considering neither side was talking as recently as two weeks ago and team president John Davidson was verbally blasting Johansen's agent before that (he called it "extortion"), this is good news. Whether or not the two will be able to come to a new deal before the Jackets take on the Buffalo Sabres on October 9th remains to be seen.
The Blue Jackets could certainly use the services of their burgeoning franchise center, especially given recent events. Prized free agent signing of a year ago, Nathan Horton, was reported to have a degenerative back condition and will be out indefinitely. On top of that, center Boone Jenner is expected to miss five weeks after undergoing surgery to repair a broken hand.
The hope is that the two can get things moving quickly and get Johansen, the team's breakout star of a year ago, back into the fold. Crazier things have happened, but injuries to the team might cause the Jackets to bend a little more than they'd anticipated.
Follow me on Twitter: @TwoPadStackRW