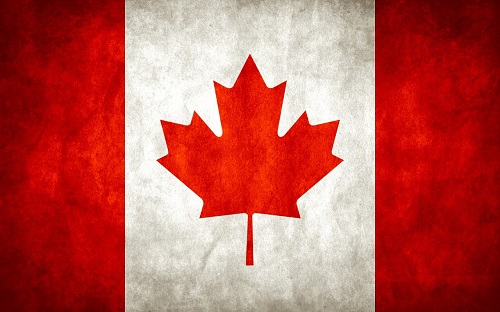 Imagine you are the general manager of your country's Olympic hockey team. You've been granted a time machine that allows you to go back to prior Olympics and bring players back to play for your team. Who would you choose to construct the ultimate team from your country?

Here are the basic ground rules:
-You can only choose players that have competed in the Olympics for the particular country.
-No junior championships, no world championships, only the Olympics.
-You must select the specific Olympic year of that player (e.g. 1998 Dominik Hasek) and once a version of the player has been selected, that player cannot be reused (ex: you can't take 1998 and 2002 Steve Yzerman).
-Players can be from prior to the inclusion of NHL players in the Olympics (e.g. 1980 Jim Craig).

You are tasked with putting together the best team possible. Select 12 forwards, 6 defensemen, and 2 goaltenders. Your line combinations matter and your defensive pairings matter. Everything matters in your quest for the Ultimate Olympic Gold Medal.
It's no secret that Canadians like hockey and that Canadians make up a large part of the NHL. Just over 50% of the players playing in the NHL this season are Canadian and it is widely considered Canada's game.
Which means it's no secret that Canada has a very deep pool of star players who have donned the maple leaf at the Olympics. So when our stats guy Prashanth Iyer, asked me to create the best lineup possible of Canadian Olympians, I knew it would be a chore. Luckily, Wikipedia has a list of every player to ever play for Canada which was a very helpful start. According to the list, 297 skaters and 36 goalies have been named to the team in 20 tournaments. The lineup below is the best of those players, but before you see it, I have to lay out my rules for choosing the players.
This all-star team will be coached by Mike Babcock. In 2010, he led the team through adversity when they lost a round-robin game to the USA. With a goaltending change and pairing Jarome Iginla with Sidney Crosby, the team got revenge on the Americans to win gold. He will also be coaching the team in 2014. His ability to juggle superstar lineups was very apparent in 2010 and I'm sure he would come up with completely different lines than I have for this team.
The biggest factor in my decision was Olympic performance, in both winning medals and putting up points. There are a lot of good, Hall of Fame players, who have played for Team Canada. But there are others who had good NHL careers, but took over the team at the Olympics. I also took into consideration how many tournaments a player went to. Many of the players had more than one good tournament. Being an all-star Olympic team, having proven success at the games seemed like the best way to divide the players.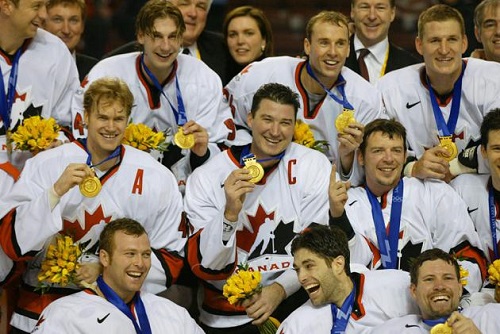 As far as lines go, I wanted every player to play their position and all but one that works out. Only Sidney Crosby moves from the middle to right wing and his skating and passing abilities should work fine there. The lines themselves are all well balanced between passers and shooters; power forwards and fast skaters. Canada is deep in all positions and all styles of play so there are an infinite amount of line combinations.
On top of these conditions, there is a year next to each player's name, which represents their best tournament. Specific tournament performances didn't factor into the decisions made except in cases that will be highlighted throughout. Most of the players were selected by their overall contribution to the Olympic team throughout their careers.
Goaltenders
Martin Brodeur (2002)
Roberto Luongo (2010)
Sean Burke (1992)
| | | | |
| --- | --- | --- | --- |
| Player | Games Played | Olympic Career Record (W-L-T-SO) | Medals |
| Martin Brodeur | 11 | 6-3-1-1 | 2 Gold |
| Sean Burke | 11 | 6-4-1-0 | 1 Silver |
| Roberto Luongo | 7 | 6-1-0-1 | 1 Gold |
Making Martin Brodeur (6-3-1-1) the starting goalie was a very easy decision. Not only has he been on the team four times, he was instrumental in the 2002 gold medal. His play in 2010 included a loss to the Americans and saw Luongo step in his place, but up until that point, Brodeur is the most successful and experienced goalie ever to play for Canada. He is the only goalie to have been named in all four years the NHL has gone to the Olympics and while he's still playing, he didn't make the team this year.
Roberto Luongo (6-1-0-1) lots into the second spot. Not only is he 6-1 in two tournaments but he is also the projected starter for his third Olympics in Sochi next month. His big saves in the semi-final and gold medal games helped Canada win gold in 2010. When a guy this good is sitting on the bench, it's pretty clear how deep Team Canada is in goal. One of Luongo's highlights in 2010 was this save on Pavol Demitra to preserve a 3-2 win over Slovakia in the semi-finals, video from epicfail86 on Youtube.
Finally, the most controversial pick is Sean Burke (6-4-1-0). Not because Burke wasn't a good goalie, but because he beat out Patrick Roy (4-2-0-0). Burke simply has more experience and success in the Olympics than Roy. Burke's silver medal came in 1992, when he sat out a season with the New Jersey Devils over a contract dispute and carried Team Canada. He also represented Canada in Calgary in 1988 and earned a fourth place finish while he was only 21 years old.
Defencemen
| | |
| --- | --- |
| Left | Right |
| Chris Pronger (2010) | Scott Niedermayer (2010) |
| Ray Bourque (1998) | Al MacInnis (1998) |
| Rob Blake (2002) | Adam Foote (2002) |
| Duncan Keith (2010) | Shea Weber (2010) |
| | | | |
| --- | --- | --- | --- |
| Player | Games Played | Points (G-A-P) | Medals |
| Chris Pronger | 25 | 1-8-9 | 2 Gold |
| Rob Blake | 18 | 2-4-6 | 1 Gold |
| Adam Foote | 18 | 1-2-3 | 1 Gold |
| Scott Niedermayer | 13 | 2-3-5 | 2 Gold |
| Al MacInnis | 12 | 2-0-2 | 1 Gold |
| Duncan Keith | 7 | 0-6-6 | 1 Gold |
| Shea Weber | 7 | 2-4-6 | 1 Gold |
| Ray Bourque | 6 | 1-2-3 | X |
The top pairing consists of two of the most decorated players on this team. With two Gold's each and a ton of Olympic experience, Chris Pronger and Scott Niedermayer will be matching up against the other team's top lines in this all-star tournament. Pronger, who will also be captain, has the most games played of all 297 skaters ever to play for Canada. He brings stability, strength and experience to the back end, which will be complimented by Niedermayer's speed and good first pass. It was a no brainer to reunite this strong pairing from 2010 here as the top pairing on the all-star team.
The second pairing is also a mixture of speed and power, but with a little less Olympic experience. Both Bourque and MacInnis are in the Hall of Fame, but combined have less games played in the Olympics than Pronger. Like Pronger, MacInnis can shoot the puck and like Niedermayer, Bourque can skate and make plays. They will get a lot of powerplay ice time. Success in the Olympics is the only reason keeping this power pairing as the second unit.
The third pairing is another pair who played together in the Olympics, this time the 2002 run. Blake and Foote complement each other with their play, with Foote being very smart without the puck and Blake being able to move the puck out. Blake may be a big man, but he can skate and provide the offence. Foote, on the other hand, is reliable in his own end. This pairing would see a lot time on the penalty kill and will be able to use their big frames to muscle the other teams off the puck. Both also bring a ton of Olympic experience, with Blake also being named an assistant captain for this all-star team.
The final pairing are basically reserve players but they are still really good. Keith and Weber are younger than the others and both will be playing in their second games in Sochi. Keith is very good at moving the puck out of the zone, while Shea Weber has enough power to put a hole in a net with his shot. They won't see a ton of ice time behind this top six, but both can be slotted in on any line and be reliable players.
Forwards
| | | |
| --- | --- | --- |
| LW | C | RW |
| Eric Lindros (1992) | Mario Lemiuex (2002) | Jarome Iginla (2010) |
| Brendan Shanahan (2002) | Wayne Gretzky (1998) | Sidney Crosby (2010) |
| Paul Kariya (1994) | Steve Yzerman (2002) | Theo Fleury (1998) |
| Harry Watson (1924) | Joe Sakic (2002) | Simon Gagne (2002) |
| | Joe Nieuwendyk (2002) | Rick Nash (2010) |
| | | | |
| --- | --- | --- | --- |
| Player | Games Played | Points (G-A-P) | Medals |
| Eric Lindros | 20 | 8-9-17 | 1 Gold, 1 Silver |
| Jarome Iginla | 19 | 10-4-14 | 2 Gold |
| Joe Sakic | 16 | 6-7-13 | 1 Gold |
| Paul Kariya | 14 | 6-5-11 | 1 Gold, 1 Silver |
| Rick Nash | 13 | 2-4-6 | 1 Gold |
| Brendan Shanahan | 12 | 2-1-3 | 1 Gold |
| Steve Yzerman | 12 | 3-5-8 | 1 Gold |
| Theo Fleury | 12 | 1-5-6 | 1 Gold |
| Simon Gagne | 12 | 2-5-7 | 1 Gold |
| Joe Nieuwendyk | 12 | 3-4-7 | 1 Gold |
| Wayne Gretzky | 6 | 0-4-4 | X |
| Sidney Crosby | 6 | 4-3-7 | 1 Gold |
| Mario Lemiuex | 5 | 2-4-6 | 1 Gold |
| Harry Watson | 5 | 36-0-36 | 1 Gold |
Before I get into line combinations, I want to address one thing. Wayne Gretzky. The Great One had one of the worst Olympic careers of anyone to ever play for Canada. As the chart shows, not only is he the only forward to make this team and not to win a medal, he also was the only player that didn't score a goal. That's pretty bad, especially for Wayne. Sure he was 37 and near retirement, but he still put up 90 points in the 1998 season. For this disappointing performance, Gretzky has been relegated to the second line. If this is a team of the best Olympians, he simply didn't earn a spot on the top line.
Now the line breakdowns.
The first line consists of players with three of the best Olympic careers on the whole team. All of them carried the team at one point and all are offensive power forwards who could score and defend with the best of them.
Lindros's best Olympics came before he had played one game in the NHL, when he put up five goals and 11 points in six games weeks before he turned 19. He won the silver medal then, was captain of the team in 1998 and won another gold in 2002. Lemieux was the captain in 2002, where he put up two goals and four assists. But his value to the team is best shown on a play where he didn't pick up a point. Take a look at this fake by Lemieux in the gold medal game from TheFoot on Youtube.
The line is capped off with the most decorated forward on the team, Jarome Iginla, who will be the other assistant captain on the team. Although he hasn't won the Stanley Cup yet, Iginla has risen to the occasion in multiple Olympics for Canada. Whether it's scoring a big goal late in the 2002 Gold Medal game to seal the win, or setting up Sidney Crosby in 2010 for the most memorable goal in Hockey Canada's recent history, Iginla is always in the right place at the right time.
Now to the second line, which has even more superstars. On left wing is Brendan Shanahan, in an enforcer role to protect his other line mates. Shanahan only registered three points in his trip to the Olympics, but his ability to clear a way to the net will work perfectly with Gretzky and Crosby.
As mentioned above, Gretzky didn't have a great Olympics in 2002. But Crosby had a great tournament in 2010. Although they're both considered the best players of their generations, I have them together on this team because Gretzky can make Crosby even better. Crosby has one of the best shots in the league, but his skill forces him to be the setup man a lot of the time. Now with Gretzky taking on the passing role, Sid will be able to shoot more and those shots will lead to more Golden Goals. Video from Christia Ma on Youtube.
The third line is three small guys, but they are all skilled and capable of playing a two-way game. Paul Kariya's best tournament actually came in 1994, the last time the NHL didn't send players. As a 19-year-old, he led the team in scoring and to a silver medal with four goals and three assists. At center is Steve Yzerman, the top defensive forward on the team. His smart, two-way game comes from an immense passion for the game as this video from We All Bleed Redd shows.
On right wing, Theo Fleury slots in to complete this speedy line. In 1998, he had one goal and three assists, and also won a gold in 2002. His offensive skill will complement Yzerman's hockey sense and Kariya's speed.
Joe Sakic and Simon Gagne make up two thirds of the fourth line. Like Yzerman and Karyia, they bring a strong two-way game. But they will be lined up with the one player who never played in the NHL, Harry Watson.
In 1924, Watson scored 36 goals in five games for Canada, for the second ice hockey gold medal ever. He is a big forward with a strong shot and an obvious scoring sense. But he simply didn't want to play in the NHL, even though his skill was worthy of the league. Sure the competition was not the same as it is now (Great Britain won the bronze medal that year) but being able to score 36 goals is insane no matter when you play. He earned a spot on this team.
Joe Nieuwendyk and Rick Nash round out the forwards in reserve spots. One is a skilled two-way center and the other is an offensively minded power-forward. Both can be slotted in anywhere if someone gets hurt.
Conclusion
When developing an all-star Olympian team, it is impossible to make a team everyone agrees on. Which is why this team would win in a new Olympic tournament. All of these players are both some of the best to ever play the game and all (except Gretzky, Bourque and Burke) have the experience of winning a gold medal before.
Much has been made about the 2014 being a team of chemistry with a lot of pairings from the NHL. I think this is unnecessary for an all-star team like the one above and I am confident that these players would be able to mesh in a hypothetical tournament. I wish there was a way to simulate the games between this team and the other ones you will read about in this series.
This experiment shows why the Olympics is such an exciting tournaments. The best players in the world; going to battle to defend their flag. Nothing is better than that.