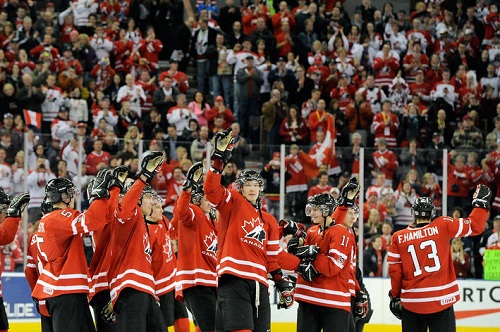 Team Canada got a win against Sweden, 2-1 in a shootout, but there are still some important questions that need to be answered after this one. After yesterday's announcement that Charles Hudon would have to drop out due to injury and with Brett Ritchie still not back from his injury against Finland, Team Canada had some holes in their forward lineup today. But the bigger issue remains discipline, as Canada took seven more minors after 10 last game. Still, there was some good that came from this game too. Jordan Binnington's play in this game was outstanding and he should take the starting spot away from Malcolm Subban. Read on for my full recap of the game.
First Period: There were two key story-lines that came from the opening frame. First, Canada's undisciplined play continued, taking three more penalties. Ty Rattie went off first, a holding penalty when chasing a Swedish forward. After the period, he admitted in a TSN interview that the penalty was "silly" but luckily Canada was able to kill it off. Ryan Strome wasn't so lucky. His cross-checking penalty, taken with 20 seconds left Rattie's penalty, resulted in the only goal of the period. Alexander Wennberg banged a rebound into a wide open net, past Binnington. Canada got their own powerplay after that, but were unable to get any meaningful scoring chances on it. Then Phillip Danault got sent off for boarding, adding to Canada's undisciplined play. After spending so much time shorthanded, Canada's offensive players didn't have nearly enough time to put consistent pressure on the Swedish defence. Penalties were certainly addressed in the intermission, but they just kept coming in the second.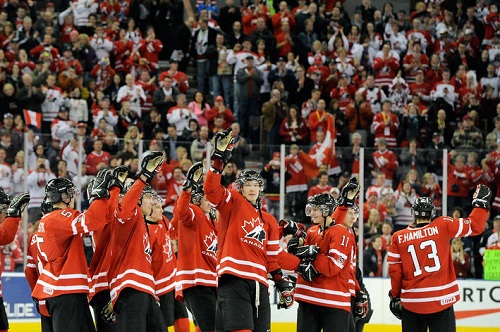 Second Period: Canada started this period with a powerplay, but things quickly unravelled from there. All in all, they had to kill off three more minor penalties and one major. A big part of the penalty kill was Binnington, who made many huge stops while killing penalties from Dougie Hamilton, Jonathan Huberdeau and Griffin Reinhart. But then came Boone Jenner and his major penalty. Jenner threw a late, open-ice hit on defenceman Jesper Pettersson which at first looked harmless. At most two-minutes for charging. But then Pettersson didn't get up and had to be taken off on a stretcher. Now Jenner, Canada's top faceoff man and penalty killer, was given a five-minute major for charging and a game misconduct. And it is possible he could be suspended too. TSN reported that Pettersson suffered some broken ribs, which is an important factor in deciding suspensions. Either way, Canada was down to 10 forwards just past the half-way point of the second. But the penalty proved to be a blessing in disguise. Jonathan Drouin, who served it in Jenner's place, received a perfect stretch pass from Rattie just as he got out. Drouin went in all alone and beat the Swedish goalie with an awesome deke to tie the game at 1. The goal gave Canada some life and they finished the period strong, not taking penalties and looking like a team.
Third Period: This period was one of the best Canada had in the pre-tournament. They almost went the whole time without a penalty, got lots of shots, and did everything but break the tie. Nathan MacKinnon, Drouin and Hopkins all had scoring chances but couldn't capitalize. The Swedes had some good chances too but Binnington shut the door on them too. Canada had their best powerplay of the game too, keeping Sweden pinned in their zone for most of Wennberg's interference penalty. It was nearly a perfect period, until Dougie Hamilton took his fourth penalty of the pre-tournament, a slashing penalty with 30 seconds left in regulation. Hamilton is one of the leaders on the team and needs to be more disciplined if they are going to win. So as the period ended and the game went to overtime, Canada was shorthanded but still tied 1-1.
Overtime and Shootout: Canada started overtime shorthanded and Sweden had a ton of chances to win the game early. And even when Hamilton got out, Sweden still carried the play. But Binnington stood tall and basically stole Subban's starting spot in the five-minute period, if he hadn't already. He stopped 30 shots in 65 minutes, looked way more confident than Subban and will be key if Canada is to go far in the tournament. And Binnington's play didn't drop off in the shootout. After Huberdeau opens the shootout with an awesome deke, Mikael Vikstrand beat Binnington with his own move. But after Hopkins scored and Drouin missed, Binnington stopped Victor Arvidsson and Filip Forsberg to secure the win for Canada.
Binnington was named player of the game for Canada and should be the man in-goal on December 26 when they open the tournament against Germany. By then, Canada will know if Brett Ritchie can play and if Boone Jenner is suspended. Game time is 4 a.m. EST, live from Ufa, Russia.