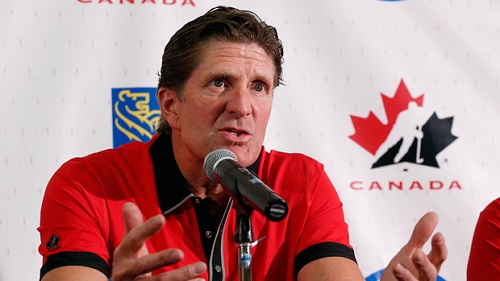 The management, coaches and 46 players from Team Canada traveled to Calgary Sunday to begin a three day orientation camp ahead of the 2014 Sochi Olympics. Before the camp started Monday, Steve Yzerman and his management team, Mike Babcock and his coaching staff and some of the players spoke to the media.
"The reality is these are hard tournaments to win," said Yzerman. "We are playing against other countries who believe they're as good as we are. And they're starting to prove that."
Due to the high cost of insurance and injury risk, they will not skate this week. Instead, the camp will give the players time to bond before they potentially become teammates. It will also allow the management and coaches a chance to speak to the players about the direction they want the team to go.
"Obviously, this isn't an evaluation camp at all," Babcock said. "This is an opportunity to get to know one another, to get some details on how we're going to play, and to let them know what it will take to get on the team."
Babcock explained what he thinks management is looking for when picking the team.
"The guys that play the best are going to be on the team," said Babcock. "The guys that can skate, the guys that take care of the puck, the guys who play 200 hundred feet."
Babcock and Yzerman were instrumental in Canada's gold medal at the 2010 Vancouver Olympics. But Babcock said they are working with a clean slate.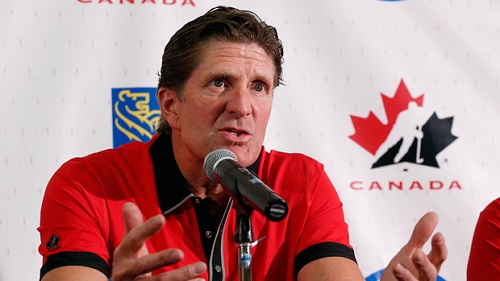 "What happened in 2010, obviously we're excited with the opportunity we had there and we enjoyed it. But that's over with," he said. "This is a new opportunity. We have to pick the best group to play and I don't think it has anything to do with 2010."
The players who played in Vancouver agreed with Babcock about the new opportunity, but didn't undervalue the experience Vancouver gave them.
"(Vancouver) was the most pressure I've ever gone through as a hockey player," said Sidney Crosby. "Having gone through that, I think will helps us."
There were lots of questions directed at Roberto Luongo after it was announced he would not be traded from the Vancouver Canucks. Luongo answered everything with confidence and was just happy to be talking about hockey.
"You go through stuff throughout your life and your career, and you try to learn from them." said Luongo. "Right now I just want to play hockey, it doesn't matter where it is. I'm happy to be a starting again and that's what I'm focused on."
Although Luongo ended up being the goalie in net for the gold medal game in 2010, Babcock said that doesn't give him an advantage. But his experiences since then will.
"To me, (Luongo's) got that confidence in himself," Babcock said. "He's been through a tumultuous time that I thought he handled it with extreme class and like a professional. I'm actually proud of him the ways he handled himself."
There are plenty of stories that will continue to play out as the Sochi Olympics draw near. Team Canada's camp has officially begun and so has that journey. But in the end, all that matters is how the team does in the two week tournament.
You can see Team Canada's potential line combinations here, as picked by some of the Canadian writers at Hooked on Hockey.com.