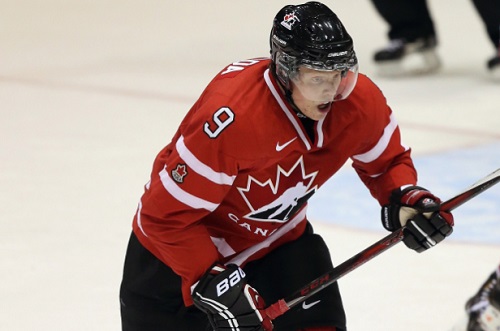 After winning their first pre-tournament game against Finland 4-2 Friday, Team Canada made two of the three cuts needed before the World Junior tournament begins on Boxing Day. Vancouver Canucks forward prospect Hunter Shinkaruk and New Jersey Devils defence prospect Damon Severson were both released by Head Coach Brent Sutter.
"Obviously it's something you don't want to go through," Severson said. "Any time you get cut from a team, it's no fun, but obviously there's a bunch of good guys in here and guys who are hopefully going to bring some hardware for Team Canada so I wish them all the best."
Both players are 19-years-old and will not be eligible for next years tournament.
Shinkaruk was Vancouver's second first round pick this past June, going 24th overall. He has struggled with a hip injury this season and only has 5 goals and 16 points in 18 games with the Medicine Hat Tigers this season. His injury risk and the emergence of Anthony Mantha against Finland made Shinkaruk expendable.
Severson was taken 60th overall by the Devils in 2012. Known as a stay at home defender. He is the top defender on the top defensive team in the WHL, registering nine goals and 19 assists along with a +17 rating in 27 games.
Team Canada will play their second and final pre-tournament game Sunday against Sweden. They will then have to cut one forward before they play Germany on December 26.