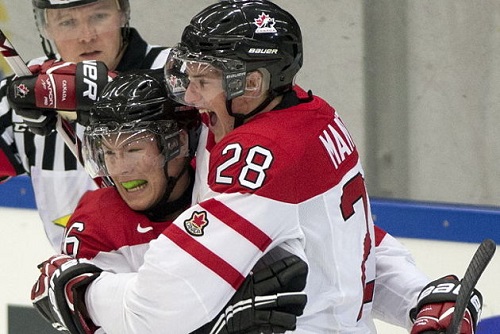 When Team Germany scored 94 seconds into their game against Team Canada Thursday morning, most Canadian fans were surprised. But the Canadian team recovered and rolled over the Germans 7-2. Led by Anthony Mantha's three goals and Jonathan Drouin's three assists, the Canadians woke up after giving up the first goal and played a strong game at both ends.
"We absolutely wanted that win and I think we worked hard enough to get it," Mantha told TSN's Nabil Karim. "And on my side, three goals, I couldn't have asked for better today."
Josh Anderson opened the scoring for Canada, tying the game at the 6:21. Canada's NHL defenceman, Matt Dumba, skated around all the Germans and sent a low shot on goal. The puck bounced off of goalie Marvin Cupper and onto Anderson's stick, making it easy for him to jam it into the net.
"We just try to create turnovers as best we can," Anderson said. "We got down one and we got fired up after that."
Canada would soon get their first lead on Mantha's first goal, on the powerplay with Lennart Palausch in the box for tripping. He finished off a rebound on a Curtis Lazar shot after all the other players moved the puck around.
After the game, Mantha talked about the effectiveness of the powerplay.
"All the players are so intelligent," Mantha said. "It's just great chemistry."
Germany would score their only other goal to tie the game 2-2 with less than five minutes to go in the first. The powerplay goal by Janik Moser came on Canada's only major fluke when Adam Pelech fanned on a clearing attempt. The puck landed right on Dominik Kahun's stick, who fed Moser for an easy tap in.
"The first two goals we can't be happy about," said Head Coach Brent Sutter. "We played well enough to win the game by five goals but there is still room for improvement."
Goaltender Jake Paterson finished with 22 saves and says he wasn't phased by the close game early on.
"Obviously you don't want to give one up that early in the game, but once it's past you it's past you," he said. "Whenever shots come you have to be ready for them and I think I did a good job at that."
From then on Canada played as everyone expected them to, taking over the game and scoring by committee. Mantha scored his second and Bo Horvat scored too before the end of the first and they didn't let up from there.
"We need contributions from everybody," said Sutter. "We have guys that can put the puck in the net but we need to make sure we play a good team game."
The next goal came from Sam Reinhart, one of three undrafted players playing for Team Canada. Josh Morrissey sent him a long stretch pass and he buried a breakaway. All three undrafted players, Connor McDavid and Aaron Ekblad too, were major contributors at both ends of the ice. After the game, McDavid talked about the pressure of putting up points.
"I felt pretty comfortable out there and don't feel any pressure with offence," the 16-year-old said. "It was a lot of fun."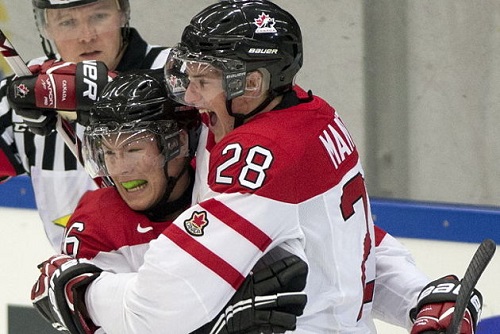 Mantha finished the hat-trick with his second powerplay goal near the end of the second to make it 6-2. Even though Mantha already has 35 goals in the QMJHL, he wasn't considered a lock for his team because of his effort on the defensive side of the puck.
While Sutter was happy with his three goals, he was even more happy with his overall play.
"I've had some discussions with Anthony about playing better in all three zones and I thought he was better at that tonight," Sutter said. "Obviously he can score, he has great hands and he can really shoot the puck."
McDavid set up the last goal in the third with a wraparound that Nic Petan tapped in. Germany got a good chance while shorthanded but Patterson wasn't very busy.
Canada has now won 15 straight tournament opening games, dating back to 1998. Their next game is Saturday against the Czech Republic.
"It's just one game and tomorrow has to be a better game than we were today," Sutter said.