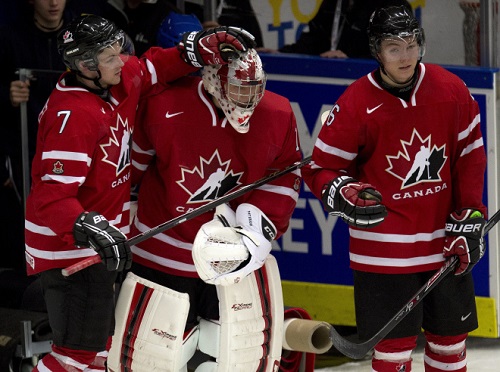 Team Canada's usual walk through the round robin portion of the World Junior championship hit a bit of a snag in the form of the Czech Republic Saturday, losing 5-4 in a shootout. Canada trailed most of the game, having to come back four separate times in regulation. But Dominik Simon's one-handed deke goal sealed Canada's fate and opens up a lot of question about what comes next.
"We need to use this game as a wake up call," defenceman Matt Dumba, who was battling a cold, said. "We need to take positives from it and not be negative."
Canada opened the game with a lot of pressure but for the fifth time since coming to Sweden, the Canadians found themselves trailing early on. A pile of players stormed goaltender Jake Paterson's crease and David Kampf jammed it in to give the Czech a 1-0 lead. Patterson finished the game with 24 saves on 28 shots.
"I thought Patty was ok, I'm sure he'd like to have a couple of those goals back,"" Head Coach Brent Sutter said. "It is what it is with our goaltending situation and those guys need to be good for us and we'll see what happens next game."
Sam Reinhart brought Canada even late in the first on a powerplay goal. Standing in the slot, he picked up a pass from Bo Horvat and fired a hard wristshot past goaltender Marek Langhamer. The first period ended with lots of Canadian pressure, but a 1-1 tie on the scoreboard.
The second period saw more strong play from Canada. Reinhart, Drouin and Chris Bigras were just some of the players who came close to giving Canada the lead. But Langhamer stood tall when called upon and benefited from a lot of shots wide by the Canadians. And then one second after Connor McDavid's hooking penalty ended, the Czech broke the tie.
Kerby Rychel's failed clearing attempt landed right on the stick of Michal Plutnar, who fired a slapshot over Paterson's shoulder. Surprisingly, it would not be the play that would make Plutnar the talk of the game. This was.
This Vine from Pat Iverson at SB Nation shows Plutnar chasing after McDavid for shooting the puck after the final whistle in the second period. But instead of getting McDavid, the Czech runs over the linesman. He was given a two-minute roughing call but could have gotten a lot more.
Still, Canada did go into the intermission down 2-1 but Drouin said it did not affect the team.
"I don't think we panicked," Drouin said. "We have the skill offensively to get that goal but we can't let those guys go ahead in the third period."
"I thought what really hurt us was our second period," said Sutter. "We got off track in how we want to play and got it back in the third."
The Plutnar penalty ended up helping Canada. Drouin scored 24 seconds into the period on the powerplay, hammering home a slapshot from a Reinhart shot. That goal sparked a wild third period of scoring chances and goals for both teams.
The first crazy sequence came just over four minutes later. The entire play took place over 8 seconds. Libor Sulak went off first for holding, but that was quickly cancelled out by McDavid's second hooking call four seconds later. Two seconds into four-on-four play and the Czech had scored, with Vojtech Tomecek shooting the puck right off the faceoff through Paterson's legs.
Things weren't looking good for Canada when Anthony Mantha went off for too many men on the ice. But again a wild flurry saw Aaron Ekblad score a shorthanded goal off a rebound from captain Scott Laughton. Of course, with five-seconds left in the penalty, the Czech took the lead back 4-3.
But the flurry continued and it only took Canada's Charles Hudon 16 seconds to tie the game 4-4. From there, both teams were on edge, giving up and getting lots of scoring chances. But all along it was clear that Canada was missing the net and needed to change things up. So McDavid was benched and Taylor Leier was promoted to the top line to spark some offence.
"I think at times tonight our youth showed tonight," Sutter said. "That's the difference of playing at the under-18's and the world junior level."
"We played our game in the first but I think we let it down in the second and third," Drouin said. "We did too much individual stuff and it cost us the game."
The individual stuff should have helped Canada in the shootout. Drouin scored on a backhand deke but Nic Petan and McDavid both fanned on their shots. It was David Pastrnak and Simon who both scored to clinch the win for the Czech's.
http://www.youtube.com/watch?v=WAmkgBA8xzc
"There are so many little details in the game make it hard to trail like that," Dumba said. "It's a huge momentum game and you have to capitalize on the chances you get."
The loss moved Sutter's record as coach to 13-0-1 in three tournaments.
"You can't go into a tournament thinking you are going to win every game," he said. "Ya you'd love to do it but you're going to have some adversary."
Canada will get a chance to get back in the win column Monday against Slovakia.