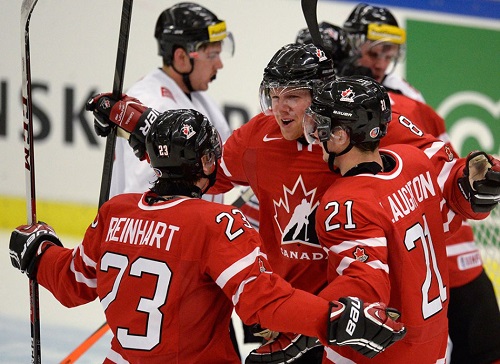 Team Canada advanced to the semi-finals of the 2014 World Junior Hockey Championships with a 4-1 win over Switzerland on Thursday. Griffin Reinhart, Anthony Mantha, Curtis Lazar and Derrick Pouliot scored for Canada while Zach Fucale picked up his third straight win with 19 saves.
While Canada only has one shootout loss this tournament, they have had trouble getting good starts. But this time they came out flying and got on the board first for the first time in this tournament.
Scott Laughton picked up the puck in the corner and drove it hard to the net. A crowd formed and the puck slid out into the slot for a pinching Reinhart to fire into the net. After being suspended for the first three games, Reinhart is back for his second game and was already contributing.
The second period saw Canada continue to dominate, firing 12 shots and getting a ton of chances. One chance came when Mantha was on a breakaway but after being hauled down, he was given a penalty shot. And he wasted no time.
It looked like Canada would comfortably head to the second intermission with a 2-0 lead, but with one second to go, Nicola Dünner tipped a shot through Fucale's legs. After a long review for a high-stick, the goal counted and suddenly Canada was only up by one with a period to go.
But it was again Griffin Reinhart who put Canada's lead out of reach. After picking up a Lazar pass, the defenceman took off on a breakaway. When he couldn't score he kept digging, letting Lazar pick it up behind the net and wrapping it around for a goal.
The final goal for Canada came from Pouliot, who skated all the way in and fired a hard wrist shot that beat Swiss goalie Marvin Nyffeler. Nyffeler made 19 saves in the loss.
Canada will now play Finland on Saturday. They will be playing for a medal again, keeping their streak of semi-final appearances alive at 16.