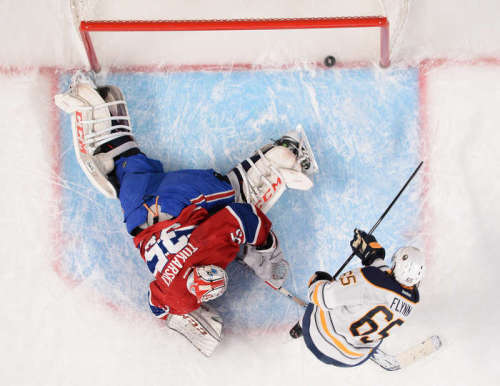 Many would say that Friday night's win over the Montreal Canadiens was all luck for the Sabres. The Canadiens expected to split the home-and-home series with a win Saturday night. Montreal came in at 16-7-1, Buffalo at 7-14-2.
Buffalo had other ideas, and a 4-3 shootout win over the Habs proved the doubters wrong on both accounts.
The Sabres fought for each goal. The first was a tip-in by Zemgus Girgensons after Girgensons, Tyler Ennis, and Nicolas Deslauriers brought the puck out of their own zone and all the way down the ice with some good cross-ice passing. In Montreal's end, Deslauriers passed the puck to Ennis, Ennis to Girgensons, and Zemgus tipped it into the net.
The Sabres fought through a difficult second period in which Brendan Gallagher tied the game at one, but not once did they get discouraged or give up.
It was Chris Stewart who put the Sabres back on top almost six minutes into the third. Once again starting in the Sabres' end, Stewart used his speed, power, and strength to create his own breakaway and go top shelf on Montreal goaltender Dustin Tokarski. It was Stewart's third goal of the season and second in three games.
Montreal tied the game again a minute and a half later and went ahead with just over six minutes remaining. Those goals were scored by Lars Eller and Max Pacioretty, respectively.
Down late in the game, the Sabres of October 2014 and early November would have given up.
Not Saturday night.
"Earlier in the year, maybe we would stop playing after a tough goal," Jhonas Enroth, who made 41 saves and did not allow a shootout goal, said after the game. "But we kept going."
Less than a minute after Pacioretty's goal, Brian Flynn tied the game at three. He waited patiently in front of the net while former Habs captain Brian Gionta skated behind the net with the puck. He passed to Flynn, and Flynn backhanded the puck into the net.
Flynn went on to score the shootout winner – the only shootout goal scored by either team – and was named the first star of the game. It was the first game-winning shootout goal of Flynn's career.
The Sabres hadn't lost in a shootout since November 5, the last time they had faced the Canadiens before Friday's game.
They put an end to that tonight, improving to 8-14-2 with tonight's win, the fifth in their last six games.
"We're realizing that if we play the way we're capable of, we can play with anyone," Flynn said after the game.
After ending November on a high, the Sabres will start December off with a home game Tuesday (December 2) against the Tampa Bay Lightning.