Imagine you are the general manager of your country's Olympic hockey team. You've been granted a time machine that allows you to go back to prior Olympics and bring players back to play for your team. Who would you choose to construct the ultimate team from your country?
Here are the basic ground rules:
-You can only choose players that have competed in the Olympics for the particular country.
-No junior championships, no world championships, only the Olympics.
-You must select the specific Olympic year of that player (e.g. 1998 Dominik Hasek) and once a version of the player has been selected, that player cannot be reused (ex: you can't take 1998 and 2002 Steve Yzerman).
-Players can be from prior to the inclusion of NHL players in the Olympics (e.g. 1980 Jim Craig).
You are tasked with putting together the best team possible. Select 12 forwards, 6 defensemen, and 2 goaltenders. Your line combinations matter and your defensive pairings matter. Everything matters in your quest for the Ultimate Olympic Gold Medal.
FORWARDS:
Team Sweden All-Time First Line:
Mats Naslund ('94) Sven Tumba ('64) Hakan Loob ('94)
-Originally a younger, 1980 Naslund seemed appealing, but the team chemistry of having two '94 players betweein Naslund and Loob was too good to pass up. Those two were also two of the three original members of the Triple Gold Club (a Stanley Cup, World Championship and Olympic Gold). For the third member you'll have to refer to our defense. In between these two Swedish greats we have the, probably, least recognizable but most historically great Swedish hockey player of all-time. Sven Tumba not only led the '64 Olympics in scoring (8G, 11A in seven games) but is also Sweden's all-time leader in Olympic scoring with 32 points. Oh, and in his spare time he designed one of the first hockey helmets, played professional soccer, represented Sweden for their national soccer team and was named the most influential person in the history of Swedish golf. Not a bad resume and not a bad cap to the first line.

Team Sweden All-Time Second Line:
Henrik Zetterberg ('06) Peter Forsberg ('94) Daniel Alfredsson ('06)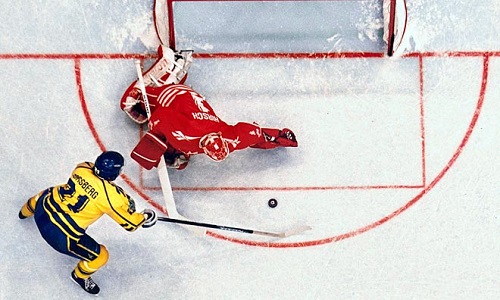 In what could be considered for the best second line of all-time and with four Olympic golds between them, there's not much reason to make an argument for this line, as they've done it with their play. Add those four gold medals to the fact that if Forsberg had stayed healthy and played in Sochi, it's conceivable that they would have seven gold medals with Sweden having a legitimate chance to win this year. If you do need a reason to consider them one of the best lines, how does 52 points in the Olympics between the three of them sound? Also, remember that Triple Gold Club that was brought up before? Zetterberg is part of that and Forsberg is one of only three players (Viacheslev Fetisov and Igor Larionov are the other two) who has enough trophies to be a two-time club member.

Team Sweden All-Time Third Line:
Daniel Sedin ('06) Henrik Sedin ('06) Loui Eriksson ('10)
Gold-medal-winning twins and a game-breaker of who is used to being shuffled down the lines on a stacked Boston Bruins team, all of whom played together in the Vancouver games in 2010 – that's what you call chemistry and firepower. This is a solid scoring third line but also has some defensive responsibility as noted by Eriksson's career +/- of 41. Although they played in '10 together, Sweden's all-time team stands a better chance with the 2006 version of the Sedins as they were a tad younger, faster and on the top of their game. It also helps they won the gold that year too.
Team Sweden All-Time Fourth Line:
Markus Näslund ('02) Mats Sundin ('02) Fredrik Modin ('06)
At the prime of their careers any NHL team would be proud to call this line their top line. The main reason Sundin dropped to the fourth line on this team is just because of how stacked Sweden is up the middle. And the reason we chose '02 Sundin over gold-medal-winning '06 Sundin is just that he was still in his prime in '02 as evidenced by his nine points in four games in '02 versus eight points in eight games in '06. Sundin's play that Olympics in Salt Lake City also led us to choose Näslund over some other candidates for the fourth line left wing spot as they played well together that tournament and already have some chemistry together. Also, Naslund was a force in the prime of his career, which just happened to be around '02. In the 2001-02 season, Naslund recorded 90 points and followed it up the next year with 104 points. Modin gets the last right wing position because of his big-game experience, as proven by his status as another Triple Gold Club member.

DEFENSEMEN:
Team Sweden All-Time First Pairing:
Nicklas Lidstrom ('02) Börje Salming ('92)
Considering Lidstrom is one of the best defensemen ever, he was a lock to make the squad. Of his four Olympic appearances, he had one goal and five assists in four games in the '02 Salt Lake City games. Salming, although in his later years at this point, brings experience and an edge to the top pairing while not sacrificing productivity (four goals and three assists in eight games at the '92 Albertville games).
Team Sweden All-Time Second Pairing:
Tomas Jonsson ('94) Kenny Jonsson ('94)
Tomas Jonsson is one of the three initial members of the Triple Gold Club (gold medal, World Championship, Stanley Cup) in 1994. He also won Bronze in the 1980 Lake Placid Games, registering four points in both Olympiads. Kenny is a three-time Olympian that brings size (6′ 3″) and two gold medals. We'll take the 33 year old and experienced Tomas, and the sprite 19 year old Kenny. It's also good to have a pairing of teammates of the same year, as that increases chemistry.

Team Sweden All-Time Third Pairing:
Erik Karlsson ('14) Mattias Ohlund ('06)
It says something about how good you are when you're a part of an all-time team and your first games are still in front of you. Karlsson gives this squad speed on the blueline as well as quarterback the power play. Ohlund is a well-rounded defenseman that balances Karlsson's speed with his 6'4″ frame. Ohlund also brings plenty of experience since he's represented Sweden four times at the Olympics .
Team Sweden All-Time Goalies:
Henrik Lundqvist ('06)
"The King" laid the groundwork for being a household name in New York City heading in to the 2006 Olympiad, but he was known all over the hockey world after the tournament. He posted a 5-1 record with a 2.33 Goals Against Average en route to gold. Despite Sweden's early exit in the 2010 Vancouver games, Hank still went 2-1 with a 1.34 GAA and a .927 save percentage.
Tommy Salo ('94)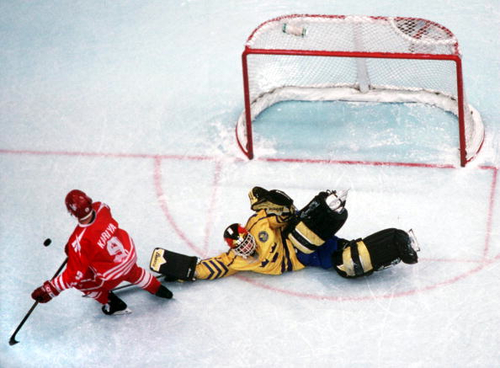 In an eerie coincidence, Sweden's other gold medal goalie posted a 5-1 record with a 2.11 GAA on his way to winning it all. His performance in the final game against Canada was one of the more memorable goalie performances in recent Olympic hockey history. He would represent Sweden two more times; once in 1998 and again 2002. He makes the squad despite letting in an awful goal to Belarus defenseman Vladimir Kopat, which would lead to their early exit from the '02 games in Salt Lake City.
Reasons Why They Would Win:
-Sweden has arguably the best Top Defensive pairing among all of the all-time teams
-Even if you can get through the well-balanced defensive group, you still have to beat two of the better Olympic goaltending performances of the past 30 years.
-Sweden's first line is spectacular, but the second line may be one of the toughest second lines to defend ever. Zetterberg brings all around play-making, Forsberg brings brute strength, and Alfredsson's ability to find of the net is exactly what you're looking for in a line.
-Sven Tumba is still the all-time leading scorer among centers at the Olympics with 32 points (which also ranks fourth among all players) and also amassed an amazing 25 goals in 29 Olympic games.
-This Sweden all-time team has five Triple Gold Club members and overall Sweden has nine members, which is the most of any nations. Canada is second with eight.
Written in collaboration with Adam Bernard.