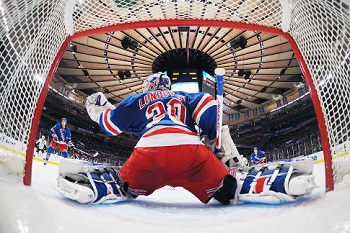 Yesterday morning while listening to Bruins talk on Boston's 98.5 The Sports Hub a texter stated that goalies should never be blamed for a team's loss, "Hockey players know to never blame the goalie". I think most of us can agree that if this guy actually knew anything about hockey himself that he needs to get his dome examined. A goalie can make or break a team's chance in the post-season, and with playoffs rapidly approaching, I wanted to take a peek at which teams look promising on account of their goaltenders.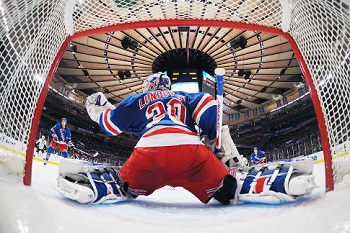 Ilya Bryzgalov (Philadelphia Flyers)
After HBO's 24/7 spotlighted deep thinking Russian Ilya Bryzgalov, the Flyers goaltender has been a popular name to watch.
Bryz shut out the Capitals 1-0 Sunday in Washington earning his third shutout of the season, and the 26th of his career, even with the Flyers missing two defensemen who sat out with injuries: Kimmo Timonen and Andrej Meszaros.
"To win a game on the road against a very good offensive team — to blank them, on top of it — it's good for the mindset of the team," assistant captain Daniel Briere said. "It's no secret, in the playoffs, this is the type of hockey that needs to be played if we want to win."
The goalie deflected questions after the game.
"Stop worrying about me, guys," he told reporters. "Seriously."
The Flyers will take on Detroit Red Wings tonight back at home in Philly with Bryzgalov as the player to watch. The man in net posted a 1.33 GAA and .951 save percentage in his last three starts, stopping 77 of 81 shots.
If playoffs began today the Flyers would play as fifth seed in the Eastern conference against fourth seed state rivaled Pittsburgh Pens, whose Fleury is looking strong as well.
Marc-Andre Fleury (Pittsburgh Penguins)
Fluery, after last night's 2-1 victory over Phoenix, completed his fourth straight season with 35 or more wins. ESPN reports that only three other goaltenders in NHL history have recorded at least 35 wins in four or more straight seasons; Martin Brodeur did it 11 straight seasons (1996-2008), Miikka Kiprusoff had 35 or more in each of the past six seasons (28 so far this season), and Henrik Lundqvist did so in each of the past five seasons (31 so far this season).
The Penguins are performing strong and look good thus far for playoffs in their fourth seed position in the East. Fleury currently sits at a .909 save percentage for the season, and has an NHL career playoff average of .910.
Mike Smith (Phoenix Coyotes)
After last month's extraordinary 11-0-1 record, Coyotes' Mike Smith has become one of the league's hottest netminders. Smith completed a career-high and franchise record 11 game winning streak (11-0-0) for February, making 315 saves, and allowing just 16 goals during the streak.
Smith was named the NHL's First Star of the Month March 1 and was named the NHL's Player of the Week on Feb. 13.
The goalie has been an essential component of the 'Yotes success this season, and for those that scoffed at the notion that he could fill Ilya Bryzgalov's place between the pipes for Phoenix have gone very quiet. In the desert dogs' "March to the White Out" Smith is expected to play the majority of the sixteen remaining games and hopefully will earn some playoff time. Last season with the Lightning Smith boasted a .958 save percentage for post-season play. This tendy is one to watch.
Jimmy Howard and Joey MacDonald (Detroit Red Wings)
Luckily the Red Wings have two stellar goaltenders since as of Sunday Jimmy Howard was added to Detroit's long list of injured players.
The Wings website detailed, "Howard and [Jakub] Kindl are just the latest players added to the Wings' M*A*S*H unit, joining Nicklas Lidstrom (right ankle), Pavel Datsyuk (left knee) and Jonathan Ericsson (left wrist), who remain out of the Wings' lineup."
Howard suffered a lower-body injury at some point in the first period and did not return after the first intermission.
"All I can tell you is it's a lower-body injury and it's day-to-day," Howard said. "I don't think it's too serious. I'll get it looked at tomorrow morning and we'll go from there."
Joey MacDonald played the final two-periods and earned just his second loss since he was recalled from Grand Rapids when Howard (.923 this season) fractured his right index finger in Vancouver at the start of February. MacDonald recorded a career-best 7-game winning streak between 2/6 and 2/28, and has averaged .933 save percentage this season with the Red Wings.
As long as the Red Wings don't completely crumble from injuries, they're looking, as usual, strong headed towards the post-season.
Tim Thomas (Boston Bruins)
Tim Thomas, as good of a goalie he is, and as much as I like him as a hockey player, has given some questionable off-ice statements. After losing to the Rangers 4-3 on Sunday, Thomas threw out a pretty lame excuse, blaming the lights at Madison Square Garden for his poor performance.
The Boston Herald reported that Thomas is expected to be in the lineup more after backup Tuukka Rask was injured in Saturday's loss to the New York Islanders.
Thomas was asked if he was ready for the workload. "Yeah," he told the Herald. "Especially if I go to an arena with lights… Every [goal] was a screen or a weird, goofy bounce," he stated. "It wasn't a normal game for a goaltender. Let's put it that way."
The lighting at Madison Square Garden is significantly different from other NHL arenas, as is evidenced by its appearance even on television. Still, that hasn't prevented Lundqvist from leading the league in save percentage and shutouts this year.
Additionally, the B's brought up veteran goaltender Marty Turco who signed a one-year contract. Turco, 36, has played in 538 regular season games with the Dallas Stars and Chicago Blackhawks. In his NHL career, he owns a 273-165-26-40 record with a .910 save percentage.
Henrik Lundqvist (New York Rangers)
The Rangers, with power goalie Henrik Lundqvist, are enjoying an amazing season having, for third week in a row, the top spot in NHL.com Power Rankings. They have earned at least a point in seven of their last eight games and beat the defending Stanley Cup-champion Boston Bruins on Sunday 4-3.
"To be honest, we relied a bit on our goaltending," the Rangers' Brad Richards told the New York Times.
Lundqvist, who just turned 30 on March 2nd, is currently the best goaltenders in the NHL. His current save percentage is listed at .938 for the 2011-2012 season.
With the league leader of save percentage in their net, it's looking like the Rangers will have a good run for the Cup this spring.
Here is what it would look like if the playoffs began today, courtesy of NHL.com:
http://www.nhl.com/ice/standings.htm?season=20112012&type=PLA&cmpid=nhl-rxl-twt
Love Reading About Hockey?

Subscribe to keep up-to-date with the latest and most interesting hockey news!
| | |
| --- | --- |
| | We hate spam just as much as you |