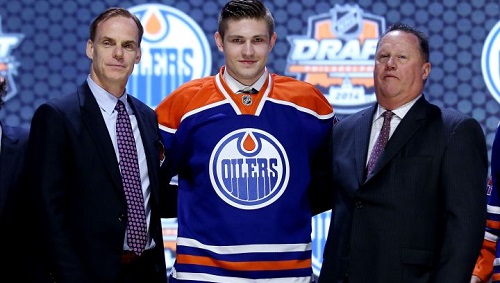 Hockey fans have been tracking the 2014 NHL Entry Draft and Edmonton Oilers fans in particular finally have an answer to what the Oilers would do with their third overall pick. Let's take a look at how things worked out for Edmonton.
The most high profile pick is obviously Leon Draisaitl, the talented center that Edmonton used their third overall pick on. The Oilers were silent for the next couple of rounds, and post-Draisaitl, their picks were all down the line 'project' players that need several years of cultivation: William Lagesson, Zach Nagelvoort, Liam Coughlin, Tyler Vesel, and Keven Bouchard. With the exception of Draisaitl, and perhaps Bouchard (who may go pro within two or three years as opposed to the other players' 4+ years), the picks are all players that will go straight to the backburners for cultivation.
While getting future skilled players young and nursing them to star status can be hugely beneficial, it's also risky – there's no guarantee that a promising player will live up to expectations. Either way, the Oilers need a lot of help up front, and it shouldn't be ignored that through the draft they managed to acquire essentially one viable NHL player.
It's not entirely a waste, however – MacTavish did make some trades that acquired or cemented important players for Edmonton.
Ben Scrivens and Viktor Fasth strengthen Edmonton between the pipes, somewhere the Oilers have been working really hard on improving and where they've perhaps made the most strides.
Nikita Nikitin brings some strength to the blue line, while David Perron – who has been successful in Edmonton since his arrival – continues to bring his skill in the offensive line.
Scrivens, Fasth, Nikitin, and Perron are all hitting their peak, as they acquire a certain degree of veteran status without yet being over the hill (all, apart from the 31 year old Fasth, are in their late 20s, a necessary contrast to the young forwards that the Oilers are so focused on).
So, with that having been said, let's take stock.
On the left, for forwards, the Oilers have Taylor Hall, David Perron, Matt Hendricks, Jesse Joensuu, and the bruiser Luke Gazdic. Having said goodbye to long time center Sam Gagner, Ryan Nugent-Hopkins and new draft pick Leon Draisaitl will be battling for center ice, accompanied by secondary picks Boyd Gordon and Anton Lander. On the right wing, they have Jordan Eberle, Nail Yakupov, and Mark Arcobello, who bounces between the NHL and AHL
In the defensive realm, on the left is Andrew Ference and the recently acquired Nikita Nikitin, along with Martin Marincin and Darnell Nurse; on the right, Oscar Klefbom and likely the two RFA's Jeff Petry and Justin Schultz, who should be a priority for MacTavish,
And of course, in net, Viktor Fasth and Ben Scrivens
Some of the players are tenuous, as it's a constant question of whether they will be returned to cultivation or allowed to don blue and gold on the ice, but they all have something to offer the team and hopefully something to help improve it
The situation will likely change during Free Agent Frenzy – and it's something to look forward to, as in last year's free agency frenzy the Oilers managed to get several players who have been solid additions to the team since then
Edmonton should be looking for at least one more experienced defender to continue strengthening their defensive line, and perhaps some more aggressive, big forwards to round out and complement the small, quick, young forwards