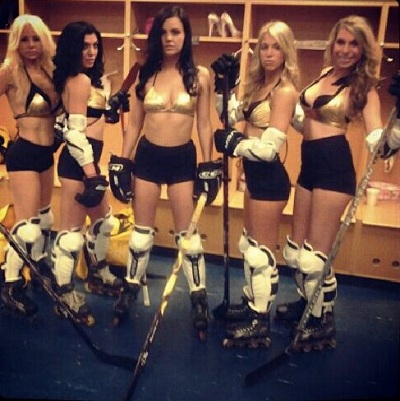 Hey, you, reader. Stop smacking yourself (unless you're a Flyers fan, in which case keep up the good work). You aren't dreaming. Unless the idea of Henrik Lundqvist is more appealing to you, what's probably been your biggest fantasy since you started noticing girls and understood the concept of icing is becoming a reality. A reality TV show, that is.
As you've probably figured out from the cover photo and my poorly worded headline (don't worry, I had trouble noticing the headline too), the concept of a league of gorgeous women playing the greatest sport in the world in scantily clad outfits is trying to work its way to your TV screen. The Bikini Hockey League (BHL) is attempting to take the best of both worlds by putting gorgeous women into some hockey gear and have them duke it out on an inline court, and then showing the progression of the league in a reality TV show format.
Now, be honest; when you first heard the phrase "Bikini Hockey League," you probably thought to yourself, "There's no chance in HELL that these girls have any actual talent, let alone know how to skate."
One of the prospects, Jessica Frump, 22 from Santa Clarita, Cali., admits even she was skeptical at first.
"Sounds like a bunch of bimbo puck bunnies struggling to make it big on some reality TV show," she said about her first impression when hearing about it. And the reader probably first thought the same. But she says her view was immediately swayed after seeing the talent and hearing about some of the girls' hockey experience.
And boy do they have some experience. Most of them started playing in boys'/coed leagues because, for some, there weren't any girls' hockey leagues.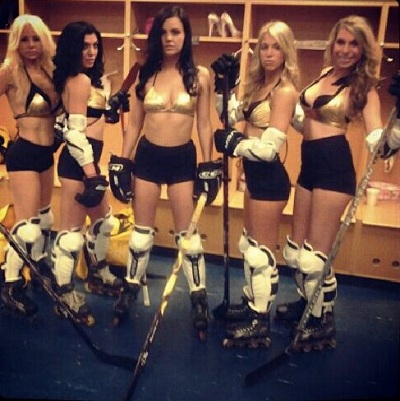 Sophia Goulet, 19, from Boston, played (in Maine) with boys until she was 13, and from there she won numerous state titles, regional championships, and made it to a national tournament. In 2011, she was named the Maine Sunday Telegram girls' hockey MVP.
"I started skating when I was three," said Erin Honto, 28, originally from Detroit but now residing in Brooklyn. "My mom tried putting me in figure skating and I cried like a baby because it was for 'sissies' and I wanted to play hockey." She played in travel boys' (A and AA) and various AAA leagues until age 19. She's also a five-time state champion. Quite the résumé.
Oh, did I mention that she was invited to the USA National Junior Evaluation Camp? Because that's kind of a big deal. She was invited to the Lake Placid Olympic Festival women's' ice hockey tryouts, which is an accumulation of the top-50 young players in the nation. Also being invited to the festival, thrice actually, was Jessica, who played twice at an international tournament in Quebec (captain the second year) and played D1 hockey at Syracuse.
"The talent, athleticism and level of play from these girls are amazing things to watch," said Development Director Chris Wallace, 41. "Forget the basketball team; I think we put together the ultimate dream team."
On the other hand, well, let's say just some of the players' hockey experience is limited.
"The only hockey knowledge I have is from the Mighty Ducks (the awesome movie series)," said Jules Lynn, 26, of Freesboro, Tenn. "I was shooting knuckle pucks in my basement; I thought I was such a badass."
Jules' only skating experience (along with some of her personality probably) stems from about a year of playing roller derby (yep, like that sport you may remember from TV a while back where they try to kill each other…well, sort of like that anyway). Where the rest of the girls use roller blades/inline skates, she uses the roller skates.
Katie Alexander, 19, from Murrieta, Cali., although a diehard Kings fan for most of her life, had zero hockey and skating experience prior to the BHL.
"And it seems crazy, flying to Oklahoma (where the pilot was shot), playing hockey with a bunch of really talented and experienced girls, filming a TV pilot of me actually skating and playing a sport I love when I have never done it before," she said. "But I guess it can work well in my favor; people can relate to me in that sense."
By Wallace's own admission, he wanted to include some girls with very minimal or no experience to see how they would mesh with the experienced players. But overall, the consensus is that there is a very high level of competition, much higher than even the author of this article expected.
Are the games intense? Yep.
Jules, who is an avid fan of combat sports (and admitted to being in a few, uh, unofficiated fights), was outclassed by some of experienced players, and her personality caused her to go after at least one of the players.
"The producers had to pull me off," she confessed. "'No hospital visits' they said."
"One of the girls was hitting me with her stick and I felt it was appropriate to take it and throw it down the ice," said Heather Josie Moore, 39 of Scottsdale, Ariz., who was one of the girls with no prior experience, and also deemed to be the "miss nicey pants" of the group.
Although she doesn't have any playing experience, Heather is accustomed to the hockey world.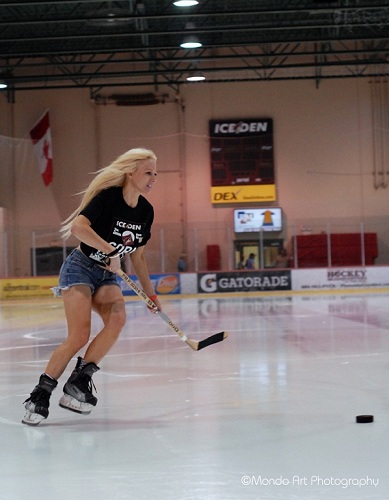 "I basically live at the rink," she said, where she works on things such as her charity work, Tanners Kids, which gives free equipment rentals and trainers to kids age 4-10 so they can try out the sport.
She spent a few games on the Phoenix Coyotes ice crew, but her career there was cut short when a prank was played on her; she had the longest route to get off the ice, and some of the crew locked the door in front of her as sort of a hazing ritual. She was stuck on the ice and the players, many of whom knew her, just stared at her. Although the game wasn't delayed, Jobing.com arena decided to fire someone over the fiasco, and Heather just happened to be that someone.
That could have been a bit of a blessing in disguise, though, as she soon found her way onto the BHL squad, partially using the selling point of being able to open the show to a larger demographic (older women, who she said will either cheer her on or laugh at her), and she was chosen to be the media contact of the group because of her background.
"I'm obsessed with being the best and I always give my all to get it done," said Erin, who led one of her leagues in both assists and penalty minutes (in a men's league I might add). "I do tend to lose my cool on the ice at times and I do rack up the [penalty] minutes but there is a time and place for everything."
They don't mess around; it's legit puck. It's physically demanding, and just being pretty won't save them here. One of their practices took place in 116-degree heat. Well, at least they're dressed for the weather.
Don't bother comparing the BHL to the Lingerie Football League (LFL)
Oh, sorry, I got so caught up in the fact that these girls are actually legitimate players that I forgot to address the most glaring aspect of the league: they're wearing practically next-to nothing. Aside from helmets, gloves, elbow pads, shin guards, and indoor volleyball-style compression shorts (which some would argue is a positive), the girls (excluding the goalies) are in just skates and bikini tops.
Sound familiar? Well, not so fast.
"The name of [the LFL] was better than the outcome," says Katie. "The BHL has girls that are so talented. You watch us and honestly forget we're in bikinis. We do this for the love of the game, not to prance around half naked and try and look good skating and be on TV."
Founder and owner Cary Eskridge, 49, took a bit of heat after an interview with Fox Sports Southwest was more publicized by Yahoo! Sports' Greg Wyshynski, aka Puck Daddy, in which he said that the two leagues shouldn't be compared. But Wallace says the whole thing was blown out of proportion; he claims that the comments were referring to the simple fact that the leagues were different sports. Although that didn't stop the LFL from going after them.
"…next thing we know, we're in a battle with the LFL," Wallace said.
"There's a place for both," he added. "We wish the LFL the best of luck, and we hope they do the same."
A dream turning reality
The league started out as a vision back in 2004 during the lockout (the second lockout, and hopefully the last), but Eskridge and Wallace didn't seriously start working on the idea until March 2012. They put ads on Craigslist to see who was interested, and eventually a blogger picked the idea up, and it exploded from there. Within hours, Wallace says, the idea was picked up by MSN, Fox Sports, and radio shows (including Playboy Radio) across the nation. And outside the nation. London (England), Dubai and – get ready – South Korea were a few locations wanting syndication rights.
Ultimately, they've been in heavy talks with Cheyenne Enterprises, who encouraged the idea of a reality show and the concept of showing the birth of the league. Then they began recruiting, asking candidates to fill out a questionnaire and to send in photos of themselves. The team received more than 600 submissions, including a few from Sweden, and had Skype interviews with selected candidates.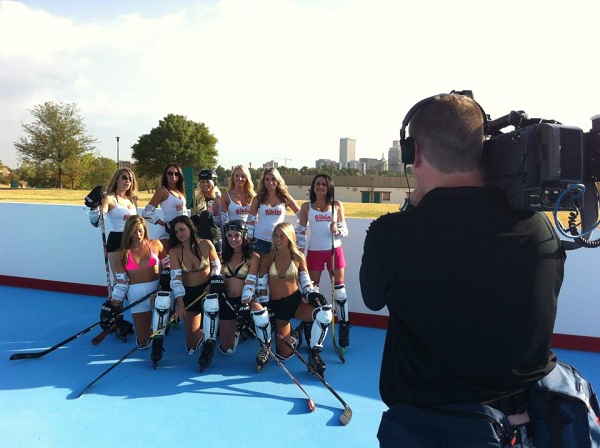 Enough girls for six teams were chosen, but only ten of them were flown out to Tulsa, Okla. for the shooting of the league's pilot (remember, it's going to be a reality show), or "sizzle reel". The prospects scrimmaged and got to know each other.
Some of the girls were cynical of the idea.
"I was a little skeptical at first, said Sabina, 22, from Strathroy, Ontario. "There's lots of fake things on the Internet, but my friend talked it up to me so I figured it wouldn't hurt to send in an application. I was thrilled [to be chosen to participate in the sizzle reel], but still at the same time I wasn't sure how talented the other girls would be and didn't want people to think we were a joke."
"At first I was like 'what is this crap?' to be honest," said Sophia, seconding Sabina's sentiments. "My friend signed me up as a joke."
So why did she accept the offer to participate? "I was dared. Double-dog dared."
A few were a little more enthusiastic of the proposition, even if it wasn't the players themselves.
"My friend that I played hockey with called me and was like 'You have to do this!'" said Erin. "'They need pretty hockey players, and you model and you're the best hockey player I know.' And I was like 'OK' so I submitted my info not really taking it seriously because I didn't know much about it at the time."
But they definitely enjoyed their short time shooting the pilot.
"I didn't want to come home," said Erin. "I have done some great things in my life, but this was by far my favorite and I really want to see it go far."
"It was so incredible," said Heather. I can't even articulate it."
What cameras?
The girls, for the most part, seem to get along great. With both the common theme of being there for the love of the game and being pretty, the girls all have something to relate to with each other.
In fact, Katie is staying in Arizona with Heather, working out with her and hanging out with Mr. Stanley Cup, doing some interviews and photo shoots.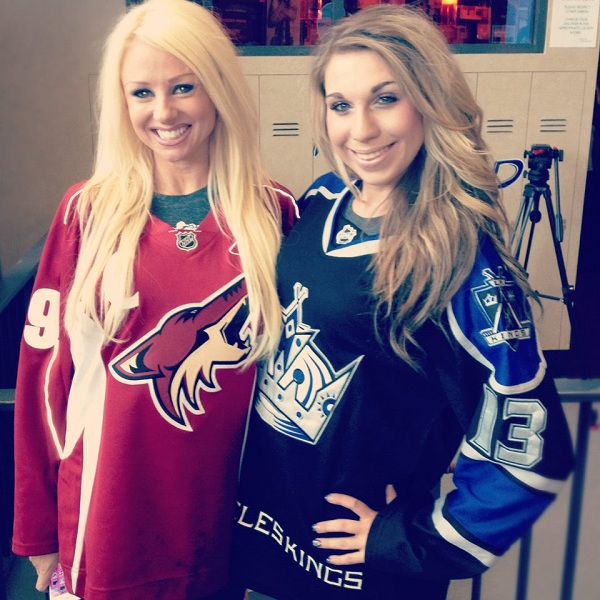 "[Heather] and I are like best friends and I hang out with her all the time," said Katie. "We skate and play hockey together on our days off and she's taught me well."
Sounds like a happy family, right? Well, sure, maybe for the short three days they were together and online interactions. But take away the smart phones, the computers, the Internet, Facebook, and basically all general contact from the outside world for the three to four month period they would be filming, which they would do per standard reality show regulations, lock them up together, and you might have some problems.
"I expect [the animosity] to take off," said Jules. "It might be the reason everyone else (on reality shows) gets so angry. I'll be interested to see how the real people come out without their stuff. Some just kept to themselves (for the three days) on Facebook and stuff, there are going to be a lot of 'me's.'"
So although the league is about hockey, there is that concept of a reality show. People who have suffered through the Jersey Shore may find that idea to be an immediate turn off. For the girls, as many of them are actresses and models, they have some familiarity with the cameras, although not necessarily on this level. And the cameramen, as you might expect, can be intrusive.
Jules explains: "Can you leave us alone?" a girl may ask. "I can't," will be the response. So she just talks in front of them, however personal it may be. They also may try to provoke drama, saying things like "Oh, I hear you don't like so-and-so."
However, most of the girls, Jules included, don't notice the cameras after a while.
"I'm definitely a little bit shy and found it so awkward at first," said Sabina. "I was a little caught off guard when they just randomly come around the corner mid-conversation, but after a while you just kinda forget that they're there."
"I was nervous being surrounded by all these girls and I was nervous on how I would be portrayed, and that they would cast me as something I'm not," said Erin. "But I think they totally got me and I rather enjoyed it. And they caught a lot of the 'badass hockey girl' mentality along with the 'do these shoes match this dress?' girly part."
Most of them are looking past the reality show part and looking forward to actually playing.
"I've been in commercials and TV shows and photo shoots plenty enough that it doesn't bother me," said Jessica. "I'm there to play because I genuinely love to play. I'd like a crowd to play in front of though so I can really see reactions."
"I just wanna show everyone that we're actually a really talented group of girls," says Sabina. "I mean I'm sure there's lots of people who think we can't play and we're just some eye candy or dumb broads, but those people are still gonna tune in because it's a great concept. I can't wait to see the reaction from people when they actually get to see what we're all about and realize it's not just some drama catty idea."
And some just like to have fun with the cameras (no, I don't mean in that way).
"Jessica and I decided our first night out that we were going to go rollerblading, and the camera guy said he was going to come, too, on a skateboard with a hand held," explained Erin. "He thought we were going to be going slow. He was begging us to slow down and finally gave up. After that we all became friends with them and forgot about them all being around with the cameras."
"I like to mess around with the camera guys, so they may need to edit a lot of me out," said Katie.
What bikinis?
If you were to talk to any of these girls or the executives, the topic of bikinis may never even come up. It really seems like a secondary characteristic. The girls are focused on just playing puck and putting on a good show (relax, I mean hockey).
"Safety first, and [the BHL staffers] are really good about that, said Katie, who will likely be covered in full goalie gear when the games really start. "But if America wants to see me in a bikini, I'll be sure to strut around at the house or after the games a time or two."
"It's a sport, we just happen to be in bikinis," said Sophia.
However, viewers and critics aren't going to be as dismissive of the bikinis.
Heather, who has a son, Dylan, age 11, is obviously in a bit of an awkward situation because she will be sexualized by some, but says her kid is understanding.
"Listen, son," she said, "people might be saying negative stuff about me, calling me [several derogatory names]."
"But he's such a wise person. 'I can handle it, can you?' he asked me."
There are going to be doubters and objections to the idea. The traditional hockey fan might frown upon the league, claiming that the skin exposure is just a gimmick. Women may be offended by the way they are being sexualized. Wade Redden may accuse the girls of cheating when comparing the two parties' skill level. But Wallace says he can "count the negative e-mails [they've] gotten on one hand."
"I know there will be criticism. All I can say is sit back and watch. I think die-hards will change their minds." He also added that popularity may be stunted because of the fact that people are worried that "liking" the league on Facebook or other media will make them look foolish to friends.
"There's always going to be haters no matter what you do in life," said Sabina. "Hopefully they will tune in and see there's more to us girls then our looks, and we do have a lot of talent and our games will be nail biters and action packed!"
So what's next?
Wallace is hoping to know what direction the league is headed in the next month or two. But with such uncertainty of a start date, getting these girls for a three- or four-month period is going to be a bit of a problem. They all have their own lives going on, and some may not be able to drop everything to commit to that time period.
"School comes first for me," says Sophia.
"Dylan is first, the charity is second, and the frivolous other stuff comes third," said Heather.
Wallace and co. may be forced to improvise from the original plan, going by a week-by-week schedule or settling for filming on weekends. Although it may be challenging to work out a schedule, every single one of them is excited for the show to get going for real.
"I know we have something fantastic here and I know it's going to be great," said Erin. "I'm excited. I do mostly independent work and the lady in charge of my events and promos is so "Team Honto!" and "Team BHL!" that she cannot wait for me to ask for the time off to go film. She asks me every time I see her if I know anything yet, so everyone around me is very supportive of this getting started."
You say lockout, I say opportunity
The idea for the league spawned when there was no NHL. Now, almost ironically, it looks like the NHL is headed towards another lockout as the BHL looks to kick start. And that might just be the best thing to happen for the league. With no professional hockey, fans are going to look elsewhere to get their fix. Some may turn to college hockey, some may look to the KHL or European leagues, and some may repeatedly smash their head against the wall in a state of denial while repeating "It's just a bad dream, it's just a bad dream…" But it's possible that, if there is a lockout, and the BHL starts soon, that void could be filled by the BHL.
According to Wallace, there are nine cities interested in being a part of the league, and he plans on taking the show on the road, going on an exhibition tour to seven cities. The goal is to generate interest in various locations while simultaneously creating stimulating content for the show itself.
"Viewers will get to delve into the lives of the players and get to see all the craziness that goes into making this thing," said Wallace. "You can watch a game on Saturday and see the show on Tuesday. I like to call it an 'interactive reality show.'"
The girls are determined to show that they are capable of playing hockey at a high level and are more than just pretty faces in revealing outfits.
"Like I said, we aren't just a bunch of girls tramping around in bikinis just trying to look good for TV," said Katie. "We play, and we play hard. As for most of us, hockey consumes our lives. And we're out there to show we have talent, know our stuff, and want more people to get hooked on the greatest sport ever just as much as we are."
Love or hate the idea, one thing is for sure: say what you want, but a bikini hockey league reality show would make for better TV than that Kardashian show, Fox News, or a Columbus Blue Jackets broadcast.
Love Reading About Hockey?

Subscribe to keep up-to-date with the latest and most interesting hockey news!
| | |
| --- | --- |
| | We hate spam just as much as you |