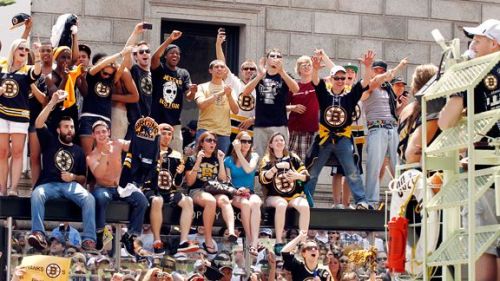 Toga, Toga, Toga!
It's that time of year again when most young hockey fans find their way back to their respective college campuses and hoard copious amounts of alcohol in their dorm room closets with the words, "This semester is going to be different," being muttered by every hung-over, sweatpants-wearing, hood-over-their-head fool you walk by on the second day of classes.
Apparently it's not that different, sweetheart.
With a new year at school comes a new NHL Hockey season following close behind. Our favorite players are hitting the ice once more to try and snag their moment at raising the ever so beautiful Stanley Cup over their heads in front of crowds their roaring fans.
But have you ever wondered what these players would be life if they too were hitting the books with the rest of us instead of their opposing team into the boards? Who would still be drunk the next day as they drag their feet to class and who would play three sports, work four on-campus jobs, and still maintain a 4.0 GPA?
Well. We have.
Here are ten fan-favorites and our own predictions on their… exciting experiences in University:
Patrice Bergeron
Major: Business
Minor: Accounting
Well? What did you expect? Not only what we assume to be a successful major, but a successful minor as a back-up plan. Lord. This man's got it all figured out. Patrice has the same nickname from his bros on campus. At least six times a day you can hear someone yell, "Aye, Bergy!" from across campus to grab just a second of his attention. Hockey? Not so much. This main man is captain of the boys Lacrosse team (Teen Wolf, anyone?) Honorary designated-driver, our 2nd string center has everyone's back at parties. When he's not at practice, you can usually find Bergy practically devouring books and sliding through homework in his own little corner of the library with a white board stating, "DO NOT DISTURB," in giant red block letters. The girls love him, the guys want to be him, and all he wants is to graduate Summa Cum Laude and snatch himself up as CEO of some bank. For Lord Stanley's sake, even his professors have a crush on him #DreamBoat.
Dougie Hamilton
Major: Environmental Science
Picture this: awkward, red-headed, lanky freshman sporting a lanyard on his neck and struggling to keep the books he's carrying from falling into a puddle as he rushes to class at 9:30 in the morning; Keep is classy, Douglas. He may be wearing hipster glasses, but we can assure you that it does not in any way define his personality. Dougie gets to class a half an hour early and leaves about ten minutes late. But as much as he loves studying (and believe us, he truly loves studying) he loves his comic books and old Nintendo 64 that much more. He is blessed to have such a roommate that doesn't mind his cheesy old-fashioned country music. Remember: The Man in Black is a legend. Food? What's actual hot food? This kid practically lives off of Doritio's and Monster energy drinks. How he's even alive, we don't know.
Tuukka Rask
Major: Nutrition
Buckle in folks because here we go. Tall, dark, and a bit too handsome for his own damn good. Tuuks is that asshole everybody loves, and he is proud of that title. Living on campus? Absolutely not. You could get in trouble for ragers on campus. Owning a Frat House? Hell. Yes. President of his fraternity at school means girls, girls, girls for this Finnish goaltender. If you've seen the movie Neighbors, you'll understand exactly what we mean. Rask has managed to charm the pants off of every single one of his professors. Show up a half hour late to class? No problem. He's covered. Miss the midterm? That's fine. He can make it up over the weekend and pass it in on Monday – even if he spilt beer on it. Everyone knows his name and everyone has a secret crush on him (even the dudes because look at him). Even if you don't like Tuuks, you do.
Milan Lucic
Major: Journalism
Minor: Photography
One word and one word only: Hipster. Good ol' maul and baul Looch will have succumbed to the typical English major status quo. This includes and is not limited to: beanies, plugs, giant black glasses, constant headphones (either in both or one ear), pants that actually fit, button downs and flannels, guitar hung over his shoulders, a book in one hand and a healthy mineral drink in the other, combat boot and/or vans, and hoodies everywhere. If you can't find him on the hot spot of campus green strumming some indie tune on his guitar, head over to the nearest campus event; the poor kid is probably being stampeded trying to get the perfect shot on his Nikon. Human interaction? Not unless he's spouting off opinions in class. Looch lives in a single and is much too shy to venture out to the dining commons for a somewhat decent meal in case someone simply smiles at him. Poor unfortunate souuullssss…
Brad Marchand
Major: Fashion
Dear lord. Where are we to even start on this one? It all stems from that mop on his head he calls a hairstyle. Throw in a dash or two of blond highlights and we have ourselves a fashion major! The man is an absolute womanizer (nothing we don't already know) who catches their hearts by using them as models for his projects. I mean what college girl wouldn't love that? Marchy loves bowties, ties, belt buckles. Hell, the guy is dressed better than the majority of the female population on campus. There is at least one bottle of beer in his backpack at all times, "In case of an emergency". Mmm… alright Bradley. Whatever you say. No matter how hung over this damn kid is on a Friday or Monday morning (#ThirstyThursday) you will never catch him in sweatpants. What. A. Killah.
Torey Krug
Major: Education
Can you imagine this little nugget standing in front of a class of second-graders teaching them about butterflies and teaching them to color in the lines? We can. Hell to the YEAH we can. You can see short-stuff walking around campus with some type of presentation board for his class with his hair styled up and glasses on. He practices lectures on his friends in the middle of dinner at the dining commons and carries out about a skyscraper high of children's books from the library every day in his worn brown leather jacket. But that's not all of our feisty little defensemen. Ohhh no, no, no. You see, Torey is part of the Improv Group. So yes; he's an actor. And a damn funny one. He's the star of the show! No matter what situation this guy is put in, he always comes out on top.
Reilly Smith
Major: Culinary Arts
The newest dream boat on the team and he can cook for you? Sign. Us. Up. Whatever it is: baking cupcakes, mixing up a stir fry, or grilling you a steak, this kid's got it. When he's not branding out his bleached chef's ja cket, you can usually find him looking like he just rolled out of bed. Smitty loves sweatpants and hoodies. He just does. Finish it up with a beanie and this guy is making the girls swoon with just a simple wave. He's a big movie buff; "Now Playing" posters of movies like Forrest Gump to the newest Marvel movie cover his half of the room. "Netflix is a man's best friend." Ry has his own apartment complete with action figures from all assortments of comics and a mini version of his own farmers market strewn across the countertops in his kitchen (we don't speak of the empty Domino's boxes shoved under his couch). Warning ladies: if you go on a date to a restaurant with him, expect to find him in the kitchen at some point showing the top chef a thing or two. It's not embarrassing, we swear. It's kind of cute, actually. Go big or go home.
David Krejci
Major: Criminal Justice
Ah, yes. Our adorable little 1st line Czech loves contributing what he can to the community. Not only is Davey-Boy a go-getter kind of guy, he loves learning. Did we mention he has a 4.0 GPA? No? Well he does. He works in the Campus Police office though he usually gets in trouble for trying to get in on the action when things go down. He ends up with a black eye now and then from attempting to break up a fight, but he wears them like battle scars. When he's not on campus covering the overnight duty, David will be finding solitude at the local animal shelter with some volunteer work. Yes. He is that crazy guy going from dog pen to dog pen to play with them and smother them with love for about an hour at a time. Ohana means family…
Johnny Boychuck
Major: Political Science
This guy wants to be president. And with those big baby blues, how could you not want to vote for him? He runs for every hall and class election that takes place. He even goes so far as to make the residents in his dorm pins with his face on them with crazy slogans like: "Do you want cash in your pocket? Vote for the Rocket!" Johnny. Why. Chucky is president of the debate team, works in the student affairs office, and will stop you in the street just to make sure that you're having a good day. This all-around gentlemen hasn't touched a drop of alcohol and already started saving up his pennies in an old coke bottle for his future presidential campaign. If that isn't dedication, we don't know what is.
Zdeno Chara
Major: Chemistry
Minor: German
Two words for this one: Mad Scientist (who can also speak fluent German, in case you were wondering). If you think Big Z looks scary on the ice, you should see him in a lab coat with those big yellow gloves that really aren't his color. Last semester, Chara was suspended from the labs for setting some of the tables on fire, "For Science!" Or at least, that's what we think he was yelling in German as he sprinted out of the door. His big thing? Creating mutants. Like in the X-Men. Don't ask us, because we don't know. Crazy eyes over here tried experimenting on his roommate one night. We aren't even going to touch how that went. He wears his lab coat and his "lucky tie" that has tree frogs on it nearly every day around campus to show off his authority. None of this makes sense, we know. But that's okay. Because someday, Chara will be the reason there is a Wolverine and we are totally fine with that.
So there it is, folks! Ten of everyone's favorite B's players as college students!
We wonder what they'd be like in a superhero movie…
NEXT TIME!