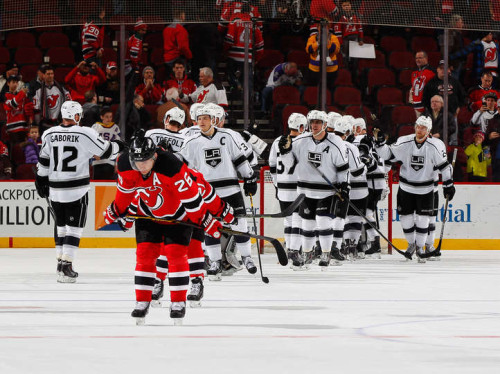 Remember that time, not so long ago, when the New Jersey Devils made it to the Stanley Cup Finals?
But, Devils fans will have to wait yet another year for horribly brilliant goals like those to even be possible. Sunday night, the Devils' 2-1 loss to the Anaheim Ducks mathematically removed them from playoff contention. Not that it came as much of a shock, but hearts could be heard breaking at the Prudential Center. The Devils will end up in no man's land in the standings – not quite in the bottom five (read: no shot at McDavid), but not a playoff team. So, what do the Devils have to do to make sure they're in the top half of the league next season?
Firstly, it's basically imperative that Jakob Josefson continue his improvement. The first round pick has been improving his powerplay game, but lacks the level of consistency – and dependability – that the team needs. A defensive core led solely by Andy Greene and the oft-injured captain, Bryce Salvador, just isn't enough to maintain an above .500 standing in the NHL.
The group of forwards is not the most dismal in the league by any means, but signs of aging are beginning to show in Patrik Elias and Dainius Zubrus. The team relies on Elias, Cammalleri, Henrique Zajac and occasionally Gomez for offence, but a little more depth and a little more youth couldn't hurt.
The goaltending tandem is possibly the strongest on the team. Cory Schneider has been outstanding, making game-saving stops and often bailing the team out. Keith Kinkaid has been a solid back-up, and both are more than viable goaltending options going into the future.
In terms of coaching, Scott Stevens and the gang probably need some more time to figure out the whole player-turned-coach situation. It would be unfair to judge them based on less than a full season, however subpar the season may be.
Needless to say, 2000 and 2002 (when Stevens was on the bench, not behind it) feel like forever ago. Here's hoping Devils fans have hockey like that to look forward to soon.