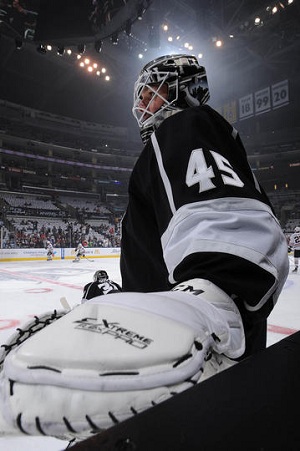 The Los Angeles Kings are doing what they didn't do last summer – going through some major reconstructive surgery. The team for the 2013-2014 season is going to look a bit different than the team that won the Stanley Cup Championship in 2012.
GM Dean Lombardi is having a miserable time working out the numbers with the cap of $64.3 million, and he has multiple players that are about to become Restricted Free Agents on the line. Without turning this into a mathematical equation, we can suffice it to say that the Kings are about to lose some of their favorite guys.
Slava Voynov has been taken care of, as he signed a six-year deal earlier this week, to the tune of $25 million over that time frame.
Willie Mitchell, who didn't play at all during the 2013 season due to complications after knee surgery, is still on the roster, even though it is uncertain whether he will be able to return anytime soon (if at all). He recently posted a video of himself skating alone, bringing hope to fans. However, Lombardi isn't looking at this through rose-colored glasses. He had this to say on the subject:
"…given that we had two setbacks, once he got to a certain point, I'm certainly not as optimistic as I would've been before. That said, he's clearly making progress again, but we've still got to go to another level, push it, and see if it responds."
The biggest loss the Kings are facing this week is in their backup goaltender Jonathan Bernier. It appears that the biggest contenders in the battle for a goalie that definitely deserves a first place spot on someone's roster are the Philadelphia Flyers, Minnesota Wild, and Toronto Maple Leafs. The Kings can't afford to lose a goalie who has been invaluable to them; but they certainly cannot afford to keep him. Bernier would be the starting goalie for most other teams, and he's made it clear that he wants to play more games. Losing him in goal will hurt the Kings immensely. Replacing him won't be easy, so defense in front of the net will be key.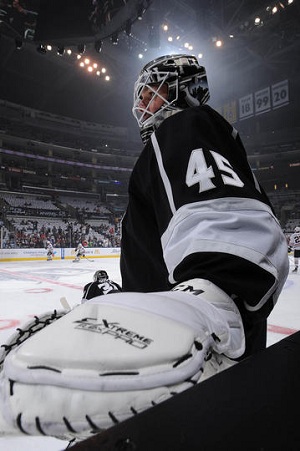 The next question is what to do with defenseman Rob Scuderi? He's won two Stanley Cup Championships in the past four years, including a win with Pittsburgh in 2009. Will he take a huge pay cut for the love of the Kings, or will he accept an offer from elsewhere?
Which leads to Dustin Penner. He has also won two championships. Lombardi and coach Darryl Sutter have stuck with him through questionable regular season performances because they know that Playoff Penner is a different, dominating man. Penner, who put his house up for sale this week, is set to become an unrestricted free agent on July 5th.The Kings probably can't afford him, and would probably prefer to find a more consistent forward from within. No matter where he ends up next season, his playoff beard will be the healthiest on the market, and his Twitter feed will be the most entertaining.
This news has me feeling pretty depressed. So I'm going to end things on a positive note. Anze Kopitar's performance this year fell extremely flat, sparking rumors of a possible injury. It turns out, he wasn't injured. He just never found his groove. Lombardi had these powerful words to say about him (and the rest of the team):
"…deep down, they're a great group of kids. They care about each other, and deep down they're all competitors. And I have no doubt he's going to figure out. He just had a different challenge that he never experienced before in his career, and I've got the utmost faith [that he'll think] 'I realize what this is all about, and if I'm going to be a top, top player in this league a long time, that goes with the turf.' And they've got two things going for them. This group – I've been around awhile, and people underestimate this, but in this day and age, we all see it with all these sports. We've got all the drama and everything else. When you have 20 guys who give a damn about each other and are competitors, you've really got something special. That's what these guys are. Kopi knows not only does he want to do it, but I know he also wants to do it for the guy sitting next to him, and I think that goes for all of them."