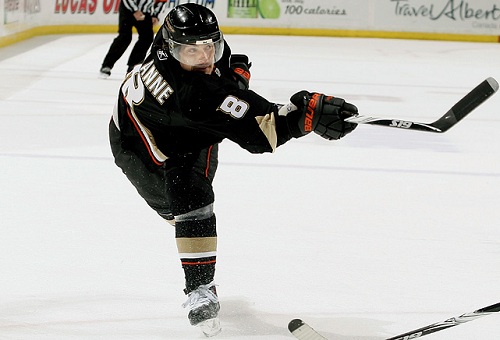 There had always been a strong bond between player and fan in Anaheim, but none was so praised as Teemu Selanne. The Finnish Flash has been a part of the organization for a total of thirteen years. Whether teaming up with Paul Kariya or Saku Koivu, he dominated the ice for twenty NHL seasons and is the epitome of a fan favorite–Selanne is respected throughout the league and adored by the Anaheim organization, with good reason.
Originally from Helsinki, Finland, Teemu played for Jokerit in the Finnish SM-liiga while he worked as a Kindergarten teacher. He was apart of the league for five years, during which, he won the A-junior level championship in 1988. In that same year, the Winnipeg Jets drafted him tenth overall in the first round. However, it was not until the 1992-1993 season that his first NHL appearance was made.
Selanne shattered the all-time record of goals made in a rookie season with a monstrous seventy-six–he is one out of eight players in NHL history to score more than seventy goals in a single season. Those 76 goals are 23 more than the next highest total by a rookie (Mike Bossy – 53). In 1996, he was traded to the Anaheim Mighty Ducks where he went on to win the All-Star Game MVP award in 1998; that same year, he became the first recipient of the Maurice Richard trophy for leading the league in goals-scored that season. Later on in his career, he became the eighteenth player to ever surpass six hundred career goals. He also happens to own the title of the oldest player to score twenty goals in one season since Johnny Bucyk in the 1976-1977 season.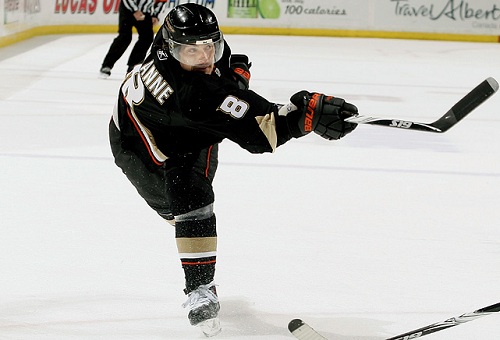 The right wing player spent a total of four seasons away from Anaheim before returning in 2005, where he went on to even more success. Currently, Selanne holds both the all-time goal record and hat trick record in Anaheim–thirteen out of a career twenty-two. In 2007 he led the Ducks, alongside Scott Niedermayer and Chris Pronger, to a Stanley Cup Championship. It was his first Cup in fourteen years and ever since it has been uncertain whether he would continue on or retire.
In this current 2013 season, the Finnish Flash currently laid claim on ten goals, twelve assists, and twenty-two points in thirty-eight games. Though it is still uncertain whether or not he will retire after this season, Teemu Selanne will be regarded as one of the best players to have ever adorned an Anaheim jersey. However, he has a much deeper hold on the fan base than that and will no sooner be forgotten in the Honda Center than Wayne Gretzky was when he decided to hang up his skates.