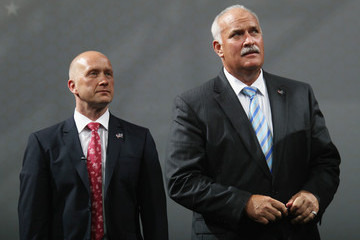 The Columbus Blue Jackets have officially set the tone for something big within the organization.
When John Davidson was hired as the President of Hockey Operations, the club essentially created that position for him. He was given the freedom to oversee every movement that is being made in the front office and on the ice.
The introduction that the Columbus Dispatch gave to Davidson:
As he walked through the Arena District yesterday, John Davidson surveyed the brick streets, the brick façade of Nationwide Arena and the piles of bricks being used in construction projects. The analogy could not be ignored.

"That's how you build a team, gang," Davidson said. "You build it one brick at a time. One brick at a time is the only way to go, and that's what's going to happen here."
– See more here at The Columbus Dispatch.
The foreshadowing that he used in the very beginning of his tenure is impeccable. It's an outstanding caption because we are beginning to see the "bricks" taking shape into something rather promising.
Davidson's career in the Front Office started in St. Louis when he was named President of Hockey Operations in 2006. He took the Blues from last place to 2nd in the Western Conference within 6 seasons. His tactics were simple, along with exercises in patience, build through the draft and allow the players to develop. It appears that he is holding true to his methods in Columbus.
As president, Davidson has had the chance to oversee the Blue Jackets for one full (lockout) season. The first move made by Davidson was to fire General Manager Scott Howson and replace him with Jarmo Kekalainen.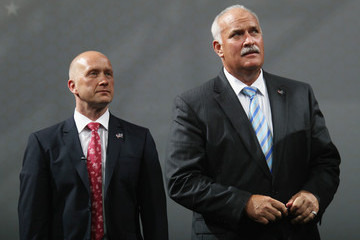 Howson deserves credit for making a few solid transactions before he was fired. He traded Rick Nash which brought Artem Anisimov, Brandon Dubinsky, Tim Erixon and a 1st round draft pick (Kerby Rychel) from the New York Rangers. He also acquired Sergei Bobrovsky from the Philadelphia Flyers. The team he built finally made a push for the playoffs after dwelling in the basement for several seasons. However, he wasn't very consistent throughout his career, unless you want a team to lose, and ending his tenure in Columbus was necessary.
John Davidson and Jarmo Kekalainen worked together in St. Louis and it is apparent that their visions for success run parallel trajectories. Kekalainen was mainly involved in scouting during his stint in St. Louis and he is responsible for the core of players that make up the Blues today including David Backes, Alex Pietrangelo, T.J. Oshie and Patrick Berglund.
Scouting is viewed as Kekalainen's forte by many. As GM he doesn't have as much time to dedicate to the scouting process, so he brought in a familiar face to head the scouting department. Ville Siren was named head amateur scout in July. Siren and Kekalainen worked together for several years in St. Louis. He also added to the pro scouting depth by offering Blake Geoffrion a position after the 25 year-old retired this offseason.
Bill Zito was hired by the Blue Jackets earlier this week. His position is assistant general manager and it is expected that he will head the pro scouting department with a hand in college scouting as well.
Zito founded Acme World Sports in 1995 after he played hockey for Yale University and earned a degree in law from the University of Wisconsin. Acme is one of the biggest agencies representing players in the NHL. They specialize in representing players who are undrafted or go in later rounds, most notably Tim Thomas, Antti Niemi, Tuukka Rask, Brian Rafalski and James Wisniewski.
Acme relied on its own ability to scout so that they could sustain a company and bring home a profit. The company was listed on Forbes as the 8th highest grossing hockey agency in the world this summer. If they are not representing most of the stars in the NHL then they must be efficient at identifying talent early in a career which is huge for the Blue Jackets organization. Zito was president of Acme before he joined the Jackets front office and his experience with the company is going to transition well into his new role.
Davidson's first season in Columbus and the club has made several changes to the front office and added to its scouting depth. Four bricks that make up a foundation to an organization.
Is there a team that is notorious for drafting well and drafting deep? I'm not sure I can think of any offhand other than the Detroit Red Wings. It is very difficult to find any consistency deep into the draft, even if a team does have several 1st round picks. However, maybe the Blue Jackets are attempting to be the perennial drafting gods of the NHL.
I don't know what design Davidson has in mind for his building in Columbus but I hope to see a Draft Pick Den down the hall from the Stanley Cup Sanctuary and Player Development Parlor before the end of his tenure.
Follow @nickjbiss for more terrible puns and alliteration