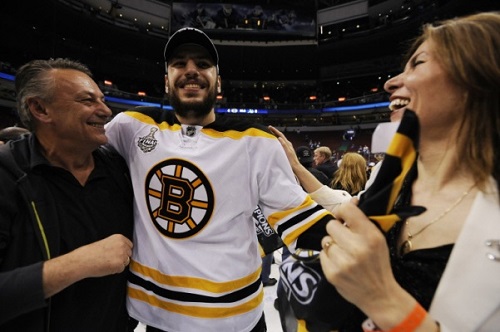 The Boston Bruins got a brutal thumping by the Vancouver Canucks Saturday night to say the least. However in the aftermath, Milan Lucic and teammates decided to go out on the town to forget about what had just happened in their game. The decision turned out to be just as bad in the end. Lucic took out his teammates to the Granville Entertainment district that night for some fun but the Canuck loving crowd had other plans in-store for him and his friends.
It was reportedly after 3 AM when the thumping began at his favourite hangout in Downtown Vancouver called Mean Poutine. They even have a hidden menu offer named after the Vancouver Native called the "Milan Lucic special". After he finished his meal is when the encore began. The Vancouver Native ended up getting sucker punched in his favorite hometown hangout when all he wanted to do was enjoy his own special meal on the night.He left the joint and then again he was sucker punched from the same person outside. That's where this video picks up the action:
Quite frankly I am on the edge about this and it's hard for me to defend either side.I am a Vancouver native and it embarrasses me more that this happened in my own city just like the riots back in 2011. But here's the only problem I have with what Lucic did with Saturday night. Why did you go out on the town in Vancouver? Not to mention on a Saturday night? Now I am not saying he can't do anything in his free time and all he should be doing is practicing or sleeping or doing something hockey related to better himself as a player, but did he realize where he was? You're in a town where you beat the city's team for hockey's most coveted prize not too long ago. Not to mention in a Canadian market as well. Don't you think you would've had some hecklers and people provoking you?
But does that give Vancouverites the excuse to sucker punch him in public not once, but TWICE? Maybe even three times according to the video? No it doesn't. Lucic shouldn't be subjected to such stupid and idiotic behavior because he's on a certain hockey team. He should be a celebrated athlete. I know I've heard my fair share of stories in the past 24 hours when people have seen Lucic in public and he may not be the most gentlemen like, and yes there could be another side to a story that we aren't getting. But this just pinned the tail on the donkey for me. From vandalizing his own church that he used to attend in Burnaby British Columbia to dumping popcorn on his parents during Game 1 of the Cup Finals in 2011 to constant family harassment from Vancouverites since 2011 is absolutely ridiculous.
But you know what sucks though? This is just a small group of idiotic people in Vancouver, and because of these people the city gets a bad rep, not to mention the riots that give it an even worse name. I know many of you think we're all a bunch of torch wielding, car flipping, store burning maniacs, but it's truthfully a select group of people that ruin it for this beautiful city. We aren't all bad people and I am certainly not a bad person I don't think.
At the end of the day it's sad that a guy that used to be loved by this city because he helped win a Memorial Cup for the city's WHL team, now doesn't even want to walk the streets of Vancouver, his hometown, because he's afraid of his own safety. It's just another sad moment for a city that doesn't deserve the bad rep it gets regardless of how the Vancouver Canucks team is playing on the season.