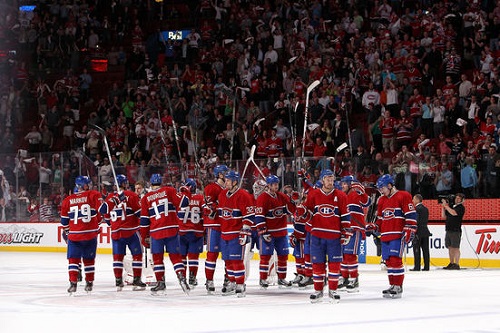 Even with a quick playoff exit, this was a very good season for the Montreal Canadiens. Only one year ago, the team was lost, finishing last in the Eastern Conference and having no clear plan to change that. This season, the Habs bounced back in a big way, winning the Northeast Division and finishing second in the conference.
"We always believed since [the start] of training camp that we would make the playoffs," said rookie forward Alex Galchenyuk. "We worked all year for this."
It was additions like Galchenyuk that helped Montreal jump up 13 spots in the standings. Fellow rookie Brendan Gallagher and veterans Michael Ryder, Colby Armstrong and Brandon Prust all came into the lineup and made an immediate impact. And the guy who brought them all in is General Manager Marc Bergevin.
"You don't change the makeup of a team over night, it takes a long time to change the makeup of a team," Bergevin said in his season-ending press conference "My job moving forward is to bring balance to our club and we always look for options to make our team better."
Balance is what the Habs had in the regular season. They had a strong goalie, Carey Price, in net. They had a mix of offensive and defensive defencemen who could all skate and contribute at both ends of the rink. And their forward group ran four strong lines that all worked equally hard for puck control and ice time.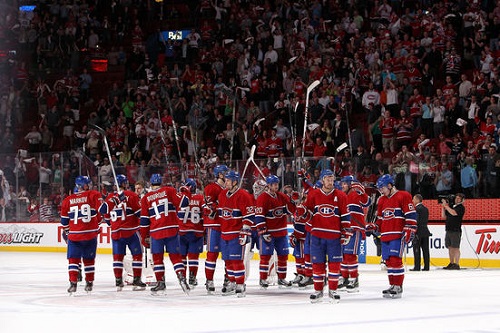 But it all blew up in their face when the Ottawa Senators eliminated them from the playoffs in five games. Suddenly, the Habs looked like the same team from last season. Slow, tired and not skilled enough to compete with the reenergized Sens.
As the players and staff cleaned out their lockers and spoke to the press one final time, possible excuses were tossed around.
One reporter suggested being too small played into the loss. The Habs were the smallest team in the playoffs, with an average height only 5'10 and weight of 198 pounds.
But Bergevin didn't agree with the reporter.
"You look at a guy like Brendan Gallagher, one of the smallest in the league, but he has character off the chart," Bergevin said. "I don't care how big you are, if you have no character you will not succeed."
That character Bergevin mentioned was seen in Gallagher's last meeting with the press, where he talked about making the jump to the big league.
"I learned a lot about myself, the league and how much fun it is to be here," he said. "I knew it would be tougher, but it was a really good challenge for me."
Gallagher made the team out of training camp and made an impact right away. His 15 goals were the second most among rookies, while his 28 points was good for third. Those numbers earned him a Calder Trophy nomination for rookie of the year.
"[The Calder] hasn't been something I'd thought about to much all year," he said. "But when you are recognized, it's pretty cool and a big honour."
Bergevin had more to say on the nomination.
"Brendan earned it," he said. "He came in and as you all know, he never took a shift off. He gives everything he has every night."
Gallagher wasn't the only young player that made an impact. Galchenyuk was just as effective. The 19-year-old forward had 27 points, including nine goals, which was good for fifth in rookie scoring.
Head Coach Michel Therrien spoke highly of both rookies the night the team was eliminated.
"For their first playoff they did really good. Those two kids didn't change their game," he said. "They were a big factor to our team and I was really impressed with the way those kids played."
Arguably the Habs most important piece this season was goaltender Carey Price. Even though he is only 25, Price completed his sixth season as a major leader on the team.
"I really liked the attitude we carried all season," Price said. "Obviously coming from where we were last year to where we wound but this year is positive."
"But the way it ended always leaves a bad taste in your mouth," he added. "We have to use that for motivation over the course of the summer and use that going into next year."
Bergevin was very happy with Price's play this season but said he can grow even more.
"There is no doubt in my mind that goalies mature later than any other players," he said. "Carey is still in the process to mature as a young goaltender but I have 150 per cent confidence in Carey Price."
Near the end of game four, Price went down with a leg injury. It was later revealed to be a torn MCL that will require six weeks to heal.
"Doc said it is an injury that will heal 100% and I won't need a knee brace," Price said. "Right now I just have to wait it out."
The shortened season also saw the emergence of PK Subban as a legitimate superstar defenceman. After missing the first two weeks to negotiate a new contract, Subban jumped into the lineup and made an immediate impact.
He finished the season tied for most points by a defenceman with 38, including 11 goals. Those numbers were good enough to earn a Norris trophy nomination for the top defenceman.
"Any individual success anyone has on this team is because of the team," Subban said of his nomination. "When your team goes from 15th place to second place it's not because of one guy, it's because of 23 guys."
Bergevin made sure to congratulate Subban on his nomination, but emphasized the 24-year-old still has room to grow.
"PK had a really good season and he earned the right to be a Norris nominee. But he is still a young defenceman and like all the kids, he still has a lot to learn.
Although on paper, the large jump in the standings looked impressive, it is pretty common. Since the current playoff format was established in the 2000-2001 season, a team was gone from fifth to first six times.
Montreal wasn't even the only team to do it this season. Anaheim did too. So Bergevin was not surprised by his team's improvement.
"My expectation from day one is that if we stay healthy, we will be in the pack," he said. "By finishing second, it is an achievement but I feel we were where I thought we'd be, in the pack."
"What helped us this year is that we stay consistent the whole year," he added. "At the end we had a tough stretch but overall we were consistent. Next year, we aren't going to take anything for granted. It's going to be hard, very hard."
Still, Bergevin sees room for improvement in Montreal. After all, they did not win the Stanley Cup. But it appears he does have the club on the right track.
"The most important need for me is depth, which is what gets you through the playoffs. And that doesn't come from the deadline, it comes from the draft and young prospects," Bergevin said. "The mindset stays the same. I want to make this team good for many years to come, not just one year."
For Subban, it is time to head home for a little break.
"I'll be back in Toronto because I haven't seen my parents in about three months," he said. "I look forward to seeing my family."