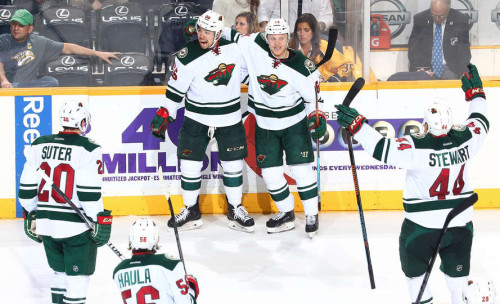 Hello there, my fellow Wild fans!
Still excited after that dramatic 3-2 win over the Preds in Nashville last night?  I know I sure am.
Today, I just thought I would talk about something that has been really evident for this team and that is this resurgence they've been on.
Ever since acquiring goaltender Devan Dubnyk from the Arizona Coyotes, a newfound confidence has sprang up for the Wild.  Dubnyk had a little bit of a rough time last season, bouncing around to many different teams.  He started off on the Oilers, and then was traded to the Predators only to play in 2 games.  From there, he was then traded to the Canadiens, and then to the Arizona Coyotes.  He ultimately ended up signing a 1-year deal with the Coyotes.  After all these issues with not being able to "click" with all those aforementioned teams, he then got traded over to the Wild on January 15th of this year.
Having a good goaltender is key to the other players' confidence on the team, so it's no surprise to see how well we've recoiled from the little slump we were on earlier just before the All-Star break.
Along with all of this, we made quite a few good moves both before and during this year's trade deadline.  Just about a week or so before the deadline, the Wild acquired Finnish left-winger Sean Bergenheim from the Florida Panthers.  Bergenheim has a connection to one of the players that has been on our team for the greater part of a few years now, Mikko Koivu.  Koivu and Bergenheim were both teammates on the Finnish national team.
During the trade deadline, the Wild made perhaps the biggest deal of the year in acquiring defenseman Jordan Leopold from the Columbus Blue Jackets.  Leopold is originally from Golden Valley, MN, a suburb of Minneapolis, so it's great to see him back home here in the State of Hockey.
In addition to Leopold, the Wild also acquired right wing Chris Stewart from the Buffalo Sabres during the deadline.  Stewart likes to be physical with his game, and that has been very evident with his time he's had so far with us here on the Wild.
The point I'm making here is that all these moves have paid dividends for us.  This is great because we're back in the playoff picture now.  With that slump we were in, no one ever thought we would be in this conversation at this point of the season.
Coming along with this resurgence, the Wild have also set some new franchise records.  In his start last night, goaltender Devan Dubnyk now has had his 28th consecutive start, which is a new franchise record.  Along with that, we have now won 8 consecutive road games, which is another new franchise record.  The 2nd of these 2 is especially impressive, as being able to play well at home as well as on the road is very important.
Love Reading About Hockey?

Subscribe to keep up-to-date with the latest and most interesting hockey news!
| | |
| --- | --- |
| | We hate spam just as much as you |