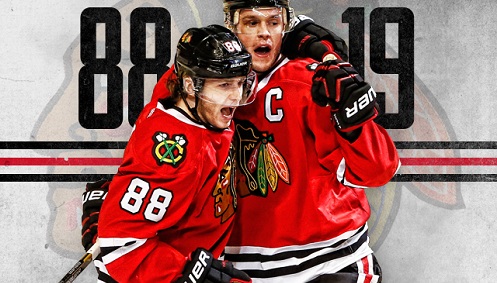 The message has been sent through the Blackhawks network by now, Jonathan Toews and Patrick Kane have been signed to new deals that will make them Chicago residents for the next eight seasons.
The duo signed identical 8-year deals worth $84 million each until the 2022-23 season, working out to $10.5 million a season.
In total, that sounds like a lot of money to pay just two players. Some Blackhawk fans are grumbling about the sum, while there are arguments from camps of other teams that Chicago made a mistake. But if we look closer at what the deal means in the long run, we can see that the Blackhawks stole these two future Hall of Famer's.
The NHL salary cap is expected to rise at five percent each season. So while the Towes and Kane contracts may seem large now, as the years move on those contracts will take up less and less cap space for the team.
While the bottom dollar is large now, its a bargain in the long run.
Ken Campbell of The Hockey News said, "So yes, Toews and Kane will receive a ridiculous amount of money for playing a game over the next eight years. But they're not overpaid. And they're not selfish. And if they things work out, the Blackhawks will look upon this double transaction as one of the biggest steals they've ever executed."
Perhaps what makes these deals even more special is that both Toews and Kane agreed to the deals, putting their own personal benefits aside for the greater good of the team.
If the two were to wait until after next season when they would go to the free agency, they would have teams falling all over themselves to sign either player, with large, tempting deals in hand. Even more so if the pair were to move to another team as a duo.
But that isn't what happened. Both players gave up the possible larger contacts to sign and stay long term with the team that drafted them in the beginning. In a word, loyalty.
While there are some conspiracy theories that the signing of these two came at just the right time to cover practice facility blunders, the planned timing is perfect for the face of the organization as a whole and in the future.
However, for the upcoming future, signing Toews and Kane to new contracts does mean that the Blackhawks are going to have to make some moves with other players. Patrick Sharp's name has been thrown around in the rumor mills, as has others. What Blackhawk fans can take solace in is that the deals are in the hands of Stan Bowman. Bowman has made landmark, franchise changing deals in the past and almost all of the time he's come up correct, with the winning hand. Re-signing Toews and Kane was somewhat of a no-brainer. Whatever moves Bowman and company decide to make as a ripple effect from that, can be seen as moves of confidence.
Toews and Kane showed loyalty to the team, and the motions were reciprocated. Now we need to believe that the Chicago front office knows what they're doing.
In Bowman, We Trust.
Here are reactions from key Blackhawk figures regarding the re-signing of Toews and Kane.
Bob Verdi, Blackhawks Historian
"When President and CEO John McDunnah pledged to provide Chicago hockey fans with a team that annually challenges for the Stanley Cup, it sounded nice, as did Vice President/General Manager Stan Bowman's complementary vow that Toews and Kane would retire as Blackhawks. But promises in professional sports tend to have a short shelf life, an expiration date to be identified later because of extenuating circumstances, and that's why this announcement is so significant. Commitment is a shared value within the Blackhawks, as confirmed by all parties in this example of mutual admiration and trust."
Rocky Wirtz, Blackhawks Chairman
"When we started our journey we made a commitment to our fans to be relevant and to see the Chicago Blackhawks become the best professional hockey organization. There are not two finer symbols of that than Jonathan Toews and Patrick Kane.The commitment we have made to these incredible young men is equal to the commitment they have made to our team, our fans, our entire organization and the city of Chicago. We are excited for out future and proud that they will continue to be a part of that commitment and success for years to come."
John McDonough, Blackhawks President ant CEO
"The signings of Jonathan and Patrick symbolize an important milestone in franchise history. We are driven by the pursuit of consistent excellence and today is a huge step forward."
Stan Bowman, Blackhawks Vice President and General Manager
"Jonathan and Patrick have become cornerstones of this franchise during their time in Chicago. We are excited to ensure they will continue to lead our organization for years to come."
Jonathan Toews, Blackhawks Captain
"I could not be more grateful for the amazing opportunities I've been given by the Chicago Blackhawks. There's no organization in sports that cares more about the overall experience of their fans and the success of their players. To have the chance to continue with this amazing group of teammates and people throughout the organization is an incredible honor. There's nothing we want more as players than to continue to win Stanley Cups for the best hockey fans on the planet."
Patrick Kane, Blackhawks Winger
"It's great to be able to continue my career in Chicago. Playing with the best organization in sports and the best fans in the game is a blessing. Since I was drafted by the Blackhawks, the people of Chicago have really embraced me and treated me with nothing but respect. I look forward to many more years of success with the Blackhawks."
Love Reading About Hockey?

Subscribe to keep up-to-date with the latest and most interesting hockey news!
| | |
| --- | --- |
| | We hate spam just as much as you |