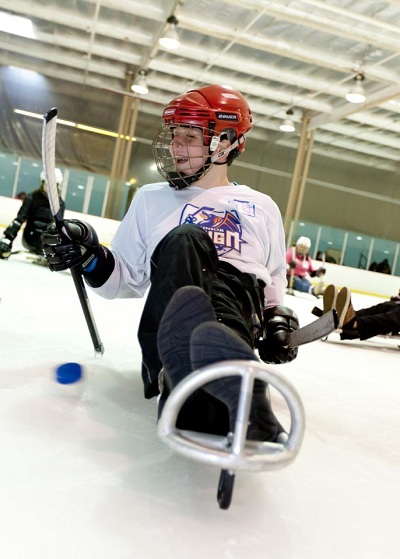 While Billionaires and Millionaires are fighting for more money like the greedy and ignorant people they are, A young kid on the West Coast has had his dreams dashed. Let me tell you a story about a young kid named Nicholas Jenkins. Nicholas who is twelve years old has a birth defect called Spina Bifida.
For those who don't know what Spina Bifida is, it limits the use of the person's legs and leaves them to very few options for activities. So of course Nicholas who is only 12, he wants to be active, but can't because he has Spina Bifida. "The tiny handful of wheelchair basketball teams in SoCal is too far away for us to drive so that he can participate. So what's a kid to do for fun?", said Todd Jenkins, father. Well here's where we introduce Sled Hockey. "Sled hockey is an adaptive form of ice hockey for people who can't use their legs well enough to skate," said Jenkins, Father and Director of Junior Reign sled hockey. Jenkins son saw pictures of the game, and knew right away he had to try it out. "He called just about every rink in Southern California, but most of them had never even heard of sled hockey," he added. Three years and three clinics later and the Junior Reign Sled Hockey program in San Bernardino, California were running. "We now have twenty registered players and we keep on growing," he said.
Nicholas was getting excited for the 2012-2013 NHL hockey season, because he knew on November 15th, he was going to be playing in-front of a large crowd at the Staples Center before an LA Kings hockey game. But due to greed and ignorant people in this world who want money, Nicholas's dreams were dashed. "That on-ice demo was supposed to be tonight, as the Kings played the Columbus Blue Jackets at Staples Center," said Jenkins. "Not happening, because millionaires are fighting with millionaires over how to distribute the funds they get from fans," he said.
There was another opportunity for the Junior Reign sled hockey program to have an on-ice demo, but due to the Lockout, that was quickly scratched out of the equation. "This wasn't the only opportunity killed by the lockout. We had arranged to send our adult team to Phoenix, where we would hold a full-on game at Jobing.com Arena prior to a Coyotes home game," he said. Although Jenkins voiced his displeasure with the League and Players, he had nothing but good to say about the Kings organization. "Let me say that we have an undying appreciation of the Kings organization. The Kings Fan Development office has some great people who really care about this sport and everyone who play it," he explained. "The Kings also gave a huge donation to help the program get going as well when it first started. They helped us get a sizable donation from the Kings Care Foundation, publicized our efforts on their website and newsletters, donated some items for us to auction as a fundraiser ," he said
Todd and Nicholas's story gave me a huge wake-up call. You have to be thankful for what you have in your life, because you may know someone's name, but you don't know their story. You can follow the Junior Reign sled hockey program on twitter @SoCalSledHockey or visit their website at http://socalsledhockey.blogspot.ca/.