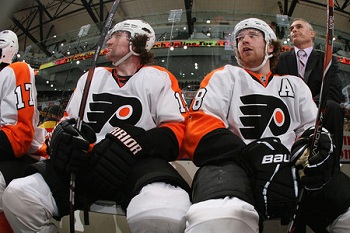 It's Tuesday; two days after the Flyers knocked the Penguins out of the playoff race. The celebrating is finished. Emotions have hit their peak and are now back to normal. The energy from the Quarterfinal win has diminished, for the most part, and now the only thing to do is wait and watch. It's not bad to have a couple of days off to rest, but too many days can be harmful. And the Flyers have learned that they won't be playing again until Saturday, or possibly even Sunday. That's quite a break.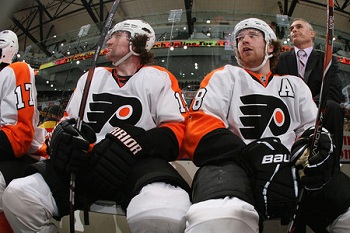 Every player has their own opinion on breaks between series. Some would say that they'd rather get right back on the ice and start the next round without breaking stride. Some would adore the idea of a few days of rest after a long fought battle. But one thing I've never heard a player day is that they'd like more time off. They might be modest and say they enjoy it, but that's all about character; they don't enjoy it. Not in the playoffs. The playoffs are all about momentum. And a lot can happen in a week.
For starters, it has yet to be determined who the Flyers will play in the Semifinals. They could still end up playing any of the remaining teams. This being the case, they can't even really begin to study any video or begin to prepare for any certain team. All they can do is heal their wounds, stay on their toes, and wait to see who will come out on top in the remaining three Eastern Conference series.
As previously stated, each player has their own personal view on these types of breaks. We'll just have to see how this team can come together and find a way to keep the momentum going after such a lengthy break. It will all become clear within the first ten minutes of their first game back, whenever that will be.