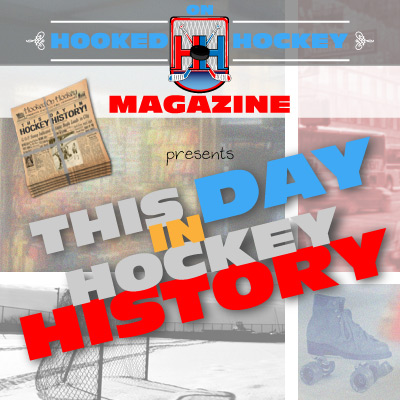 This issue might be the most exciting one yet. Today in hockey history, a terrible record-setting record is set, a player does something for the second time in history in a win that extend his team's dominant streak, a defenseman sets two very impressive records in one game, a pair of brothers put on a show, one of the most insane games of all time takes place, a team finally does something that probably doesn't seem too significant with today's rules, a team gets a new owner (the first of many ownership changes), a different owner does something pretty unfathomable, and….the most dreadful and feared event in NHL history takes place…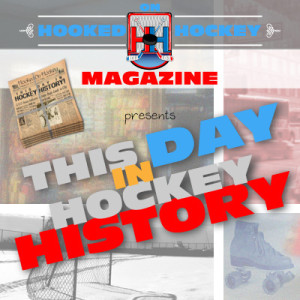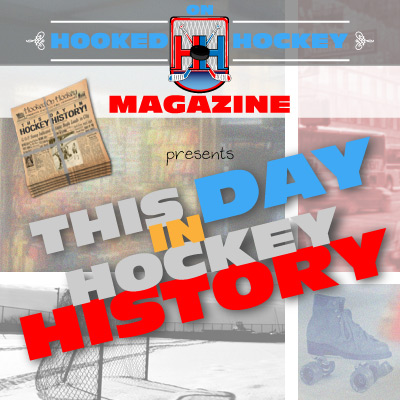 December 11, 1943 – The Bruins beat the Rangers 9-6 to "improve" New York's record to 0-14-1. Yep, 15 games and just one point, good for a .03 points percentage to start the season. Woof. It was the worst start in NHL history.
December 11, 1973 – Kings rookie Phil Hoene became the second player in NHL history to score his first goal on a penalty shot, as he scored against Cesare Maniago in the Kings 6-3 loss to the North Stars. That's a pretty rare feat! Minnesota's win improved their undefeated streak against Los Angeles to 21 games! Their record in that span was 17-0-4, meaning that, conversely, the Kings were 0-17-4 against the North Stars in their time. That's some dominance right there.
December 11, 1977 – Tom Bladon set an NHL record for most points in a game by a defenseman…with eight! And four of them were goals! The Flyers beat the no-longer-existing Cleveland Barons 11-1. And not only did he score a ton of points, but he was a ridiculous +10 in that game, another record! Interestingly, he went on to record just 35 points in that season through 79 games, so about one-fourth of his points that year came in that one game!
December 11, 1982 – The Nordiques Stastny brothers did some work in a 7-4 win over the Penguins: Peter scored a hat trick and added three assists, while Marian scored two goals and three assists. That's 11 points for the brothers! Good job, Mom!
December 11, 1985 – The Blackhawks scored nine goals against the Oilers, but lost the game!!! In the highest-scoring game in modern NHL history, the Oilers beat the Blackhawks by the unreal score of 12-9! That's 21 total goals, in one game! And obviously, Gretzky had some kind of record in the game; he picked up seven assists in the win to tie the record for assists in one game, joining Billy Taylor and Wayne Gretzky (yeah, he had already recorded that feat, duh). Come on, Gretz, just seven points in a 21-goal game? You're better than that.
December 11, 1988 – In an 8-6 Jets loss to the Canucks, Winnipeg's Brent Ashton scored on a penalty shot (his 200th career goal), the first time in team NHL history the Jets scored on a penalty shot! They entered the league in 1979, so it took them their ninth season to record just one goal on the penalty shot. I guess it's a good thing for them the shootout wasn't around back then.
December 11, 1992 – *Cue the Imperial March theme from Star Wars* The NHL announced the naming of its new, and first, NHL Commissioner, set to begin dictatorship rule his tenure in February 1993…Gary Bettman. It took all of one full season for Bettman to lead the NHL into its first (of many) lockout.
December 11, 2000 – Speaking of Gary Bettman, the NHL officially approved the sale of the Phoenix Coyotes, who the commissioner insisted on saving, to Wayne Gretzky and Steve Ellman. It was the first of many ownership changes, as the Coyotes would eventually face a saga of bankruptcy, relocation rumors, and team sales.
December 11, 2000 – Mario Lemieux, who had retired in 1997 and became owner of the Pittsburgh Penguins soon after, announced that he was coming out of retirement and would return to play for the Penguins. His participation as a player in Pittsburgh's games made him the first player-owner in league history, and the third player to play as a member of the Hall of Fame (he was inducted in 1997 immediately after retiring). And the old, injured and sick man still had it in him, as he scored a mind-boggling 76 points in 43 games! And 17 points in 18 playoff games! After sitting out for three years and going through all kinds of treatments and operations. That's incredible.
Source: Hockey Hall of Fame
Love Reading About Hockey?

Subscribe to keep up-to-date with the latest and most interesting hockey news!
| | |
| --- | --- |
| | We hate spam just as much as you |