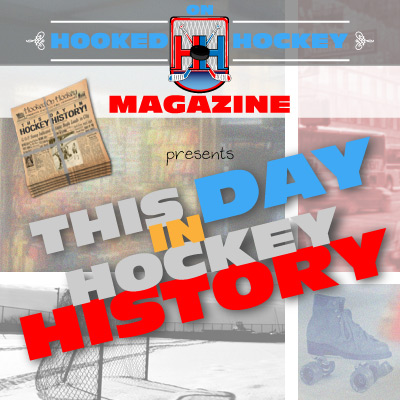 An exciting start to the new month today in hockey history: A goalie with some identity issues, a bit about two of the greatest defensemen of all time, a bit about two of the greatest goaltenders of all time, and a bad case of being a "daddy's boy."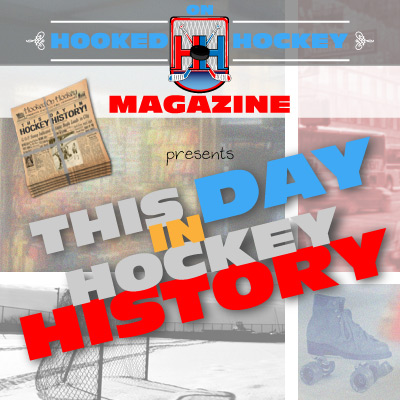 February 1, 1947 – Well, this isn't an official stat, but apparently, New York Rangers' goalie Chuck Rayner rushed up ice with the puck three times all the way into the Montreal Canadiens' zone trying to score a goal in a 2-1 Rangers' loss to Montreal. The league would eventually create a rule prohibiting goalies from crossing center ice with the puck, which is a fair rule for determining where goalies can and cannot go with the puck, unlike some other shape-named rules I can think of…
February 1, 1970 – Terry Sawchuk, in his one season with the Rangers, recorded his 447th and final win, and his 103rd career shutout, when New York beat Pittsburgh 6-0. Sawchuk's 447 wins and 103 career shutouts were both NHL records at the time of his retirement (now owned by Marty Brodeur). He played with four Original Six teams in his career: the Red Wings (with whom he played most of his career with), the Bruins (two seasons), the Leafs (three seasons), and the Rangers (one). (He played with the Kings for one season as well).
February 1, 1992 – The New York Islanders retired Denis Potvin's #5 in Long Island, the first jersey ever retired by the franchise. He sits at #3 on the Islanders' all-time scoring list at 1,052 points and is #1 for defenseman by a huge margin. He holds the playoff record for points by a defenseman, and he held the regular-season record at the time of his retirement (now #7, see the next fact to learn about #1).
February 1, 1997 – Ray Bourque scored a goal and an assist in a 3-0 Boston win at Tampa Bay to become the Boston Bruins' all-time leading scorer at 1,341 points, passing John Bucyk, in a career which had been 18-seasons long up to that point. He's a defenseman, in case you forgot, making the feat that much more impressive. He'd finish with 1,506 points with the Bruins, and currently sits atop Boston's all-time lists in points, assists (1,111), and in games played (1,518), totals which accumulated over 21 seasons with the team, in addition to being the defenseman with the most career points and assists (1,579 and 1,169, respectively). He never won a Cup with the Bruins over those 21 years (the last of which was cut a bit short as a result of a trade), but he won it the next year, as we know, with the Colorado Avalanche, his final season.
February 1, 2001 – Colorado's Patrick Roy extended his NHL record streak by playing in 40+ games for 16 straight seasons when he played in a 5-3 Avalanche loss in Vancouver. He would extend his streak even further in his next (and final) two seasons, playing in 63 regular season games. He currently sits second on the all-time goalie list with 1,029 games played (behind Brodeur). Unrelated to this stat but related to the first bullet point on today's list, here's a hilarious video of Patrick Roy deking Wayne Gretzky at center ice.
2001 – Dallas Stars' rookie Steve Gainey played in the first game of his NHL career, a 4-2 win at San Jose. Who is this guy? Why is that game significant? Well, his father, Bob Gainey, was the GM of Dallas at the time, making him the 7th player in NHL history to appear in a game with a team where his father was the GM. Papa Gainey took junior in the third round (77th overall) in the 1997 entry draft. Which was a bit awkward, since Steve played just 13 games with the Stars in four seasons before being traded to Philly (his father was not the GM at the time), where he never played an NHL game. In 33 NHL games, Steve has zero goals and just two assists. Poor guy.
Source: Hockey Hall of Fame