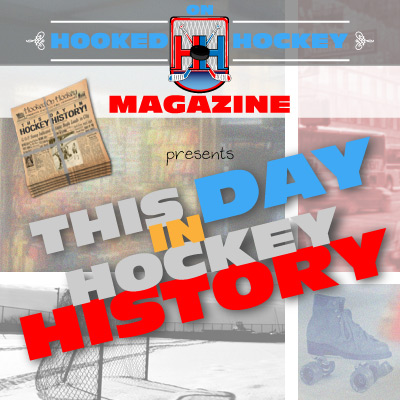 Happy Valentine's Day! Here at HOHM we're glad you decided to spend the day checking out what we have to say instead of hanging out with your sweetie, even though we know hockey is your first love, anyway. An action packed day today in hockey history, including some Gretzky, some Lemieux, some very quick goals, and more, enjoy!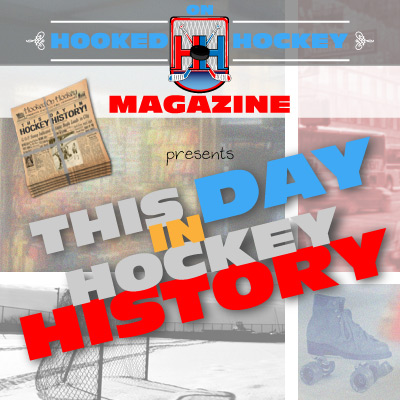 February 14, 1931 – Bernie "Boom Boom" Geoffrion was born in Montreal, Quebec. Geoffrion played in the NHL from 1950 to 1964 with his hometown Montreal Canadiens, and two seasons with the New York Rangers. His "claim to fame" is being one of the first people to fully utilize the slapshot (which he claimed to have invented), hence the nickname "Boom Boom"…although that name could have resulted from his thundering temper. He was inducted into the Hall of Fame in 1972, and sadly passed away in 2006.
February 14, 1986 – As awesome as it is to record seven points in one game, Wayne Gretzky recorded his third career seven-assist game, as his Oilers beat the Quebec Nordiques 8-2. And as amazing as that is, it only tied an NHL record, as Billy Taylor set the bar in 1947. But to be fair to Wayne, defense hadn't been invented until the 1960s.
February 14, 1987 – Tiger Williams set a Kings record for the fastest goal from the start of a game, scoring just seven seconds into the match (in a 5-2 win over the Whalers). The feat is even more impressive when you consider the fact that he probably spent the first five minutes of the games in the penalty box (remember, he averaged close to five PIMs per game throughout his career, and hold the record for most career PIMs at 3,966).
February 14, 1990 – Canadiens' Stephane Richer scored points on each of his first five shifts on the ice, finishing the game with two goals and five assists in a 10-1 Montreal win over Vancouver. He had to be pulled from the game later in the game after suffering from extreme fatigue from what the doctors determined resulted from too much celebrating.
February 14, 1990 – Mario Lemieux failed to record a point in a 4-3 Penguins win over the Rangers, ending his scoring streak at 46 games, five short of Gretzky's record. Like most of his career stats and accomplishments, Lemieux found himself coming up short to Gretzky because of injury and sickness issues, as a back injury prevented him from playing much in the game, including completely missing the third.
February 14, 2000 – Pavel Bure became the first 40-goal scorer in Florida Panthers history (although he scored the only goal in a 4-1 loss at Montreal). Coincidentally, he'd set another Florida first exactly one year later, becoming the first Panther to record hat tricks in back-to-back games (seven total), scoring three in a 4-3 win over the Coyotes.
February 14, 2003 – Boston's Mike Knuble set an NHL record for the fastest two goals from the start of a game by one player, scoring at :10 and again at :27 into the start of a 6-5 Bruins win over the Panthers. The PA announcer probably hadn't even had time to announce his first goal before the second was scored.
February 14, 2004 – Goaltender Marc Denis set a Columbus team record. Unfortunately, that record came as a result of the Blue Jackets incompetency, as he had to make 48 saves to come away with a 2-1 overtime loss against the Sharks.
Source: Hockey Hall of Fame