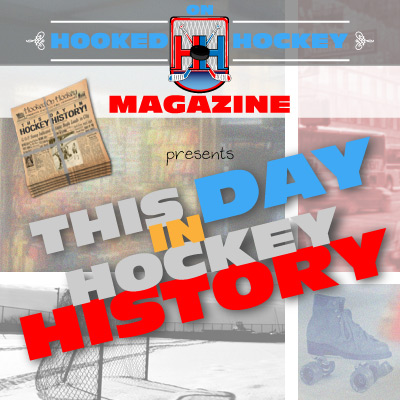 Today in hockey history, the birth of two players (one legend and one oddball), a few unbeaten streaks, an unfortunate season for a goalie, an referee accomplishment, and a game-winning goal by a player you probably wouldn't except.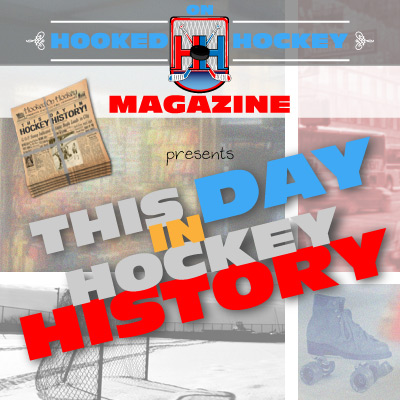 February 15, 1944 – Former NHL goalie Andy Brown born was in Hamilton, Ontario. Brown played in the NHL from 1971-74 with Detroit and Pittsburgh. In '74 with the Penguins, in just 36 games, he set an NHL record…for penalty minutes by a goalie in a single season, with 60 (how??). And fitting to the theme of racking up the PIMs, Brown was also the last goalie in NHL history to play without a mask, thus ending an era of insane people.
February 15, 1972 –Jaromir Jagr was born in Kladno, Czechoslovakia (wasn't the Czech Republic yet). Jagr has a ridiculous list of accolades (Wikipedia it if you really want to see them all), including two Cups, five Art Ross Trophies, most regular season overtime goals (13), and most points (1,635 and counting) and goals (665) by a European player. Dude can play, and he's still doing it at age 41 (as of today).
February 15, 1978 – Montreal won 6-2 at St. Louis, extending their undefeated streak to 24 games (19-0-5), breaking the NHL record of 23 set by the Bruins in 1940-41 and tying Philadelphia's streak set in the 1975-76 season.
February 15, 1990 – Philadelphia's Pete Peeters (remember this guy and his funny name?) recorded his first and only win of the season, leading the Flyers to a 3-0 win over Toronto. Sure, goalies record just one win in a season all the time…but Peeters played in 24 games that year, posting a record of 1-13-5…and the Flyers had 30 wins that season! OUCH.
February 15, 1992 – Refs are people too! Ron Finn set an all-time record for NHL officials when he worked his 1,745th game as a linesman, breaking the old mark held by Neil Armstrong, and the game was also his 2,000th career game. The Jets honored him by beating the Leafs 3-1 in Toronto.
February 15, 1996 – Not to be outdone by the February 15, 1978 Montreal Canadiens, the Rangers tied the current Canadiens 2-2, extending their home unbeaten streak to 24 games, thanks to two goals from Luc Robitaille (who picked up his 900th career point).
February 15, 2000 – Martin Brodeur became the first goaltender in NHL history to get credit for a game-winning goal as the Devils beat the Flyers 4-2. How is that possible, you ask? Well, in an NHL 13-esque moment, a Flyer put the puck in his own net, and by virtue of being the last Devil to have touched the puck, Broduer was credited with the Devils' third goal, which ended up technically being the game winner. There have been twelve goals scored by goaltender's in the NHL's history, and half of them were own goals.
Source: Hockey Hall of Fame