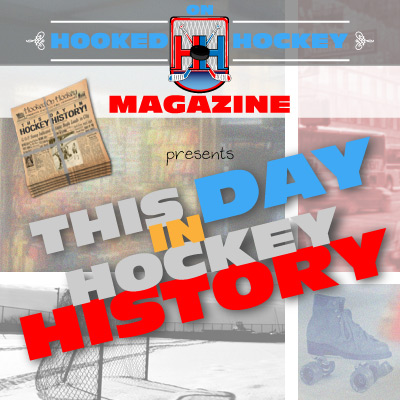 Today in hockey history, the first game televised in the US, a historic franchise reaches a huge milestone, a new player for the Ducks starts his tenure on the team with a bang, a goalie from a non-traditional nation earns an achievement, and a slimy GM gives up coaching because he has no idea what he's doing.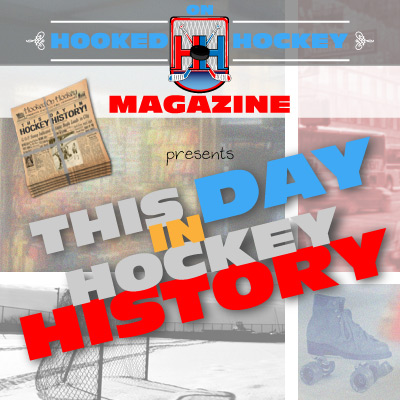 February 25, 1940 – The New York Rangers and the Montreal Canadiens played in the first hockey game ever televised in the United States. The game aired on station W2XBS in New York and broadcasted to 300 TV receivers, and the viewers got what they wanted as the Rangers won 6-2, their 14th straight home win. There was only one camera, but at least that meant no awkward behind-the-net camera angles on the powerplay where you really can't tell what's going on.
February 25, 1990 – The Canadiens reached a milestone by scoring the 15,000th goal in team history. That's a lot of goals! Eric Desjardins took the honors by scoring in the first period of a 6-5 Habs win over the Blues, in Montreal.
February 25, 1996 – Teemu Selanne scored a hat trick in his Mighty Ducks debut, fresh from a trade, and added an assist, giving him points in every Anaheim goal in a 4-3 win over the Sharks. It also just happened to be the second hat trick in Ducks history, and the first one scored at home, even though the franchise was already in its third season. Something tells me that those Ducks fans just might have come to love this guy.
February 25, 2003 – Christobal Huet became the first French-born goaltender to record an NHL win, coming in a 5-3 Kings win over the Penguins. Huet was actually just the second French-born player to play a game in the NHL. No, French-Canadians don't count.
February 25, 2004 – New York Rangers General Manager Glen Sather gave up his head coaching duties, and named Tom Renney as his replacement. He was only coaching the team in the first place because the man he replaced, Bryan Trottier (hated by Ranger fans because he was basically a lifelong Islander), proved incompetent as a coach and had to be fired after just 54 games, which is surprising since Trottier joined the team with an extensive resume of zero games coached on any level.
Source: Hockey Hall of Fame
Love Reading About Hockey?

Subscribe to keep up-to-date with the latest and most interesting hockey news!
| | |
| --- | --- |
| | We hate spam just as much as you |