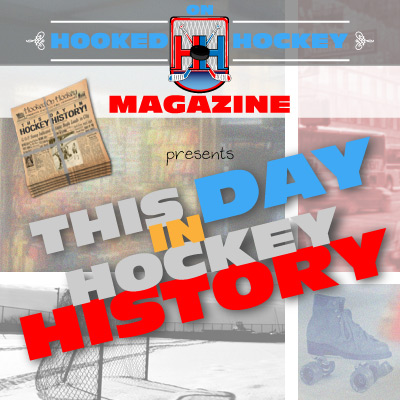 Today in hockey history, a very common hockey term begins to become official, one legendary Bruins defenseman breaks the record of another legendary Bruins defenseman, the Ducks make a trade for the face of their franchise, and a very eventful NHL day.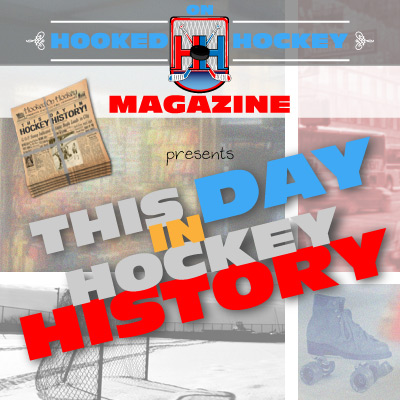 February 7, 1876 – The first ever documented use of the work "puck" was used in a story in the Montreal Gazette. Supposedly, the word "puck" was used because the verb "to puck" was a synonym of the verb "poke," either as in the puck is poked by a stick or from the Irish word "poc," which means to "poke, punch or deliver a death blow" (according to Wikipedia)…but I think someone accidently dropped an F bomb and tried to cover it up by filling in the gap between the two vertical lines in the letter "f", making it a "p".
February 7, 1980 – Rookie Ray Bourque picked up three assists to give him 30 for the season, breaking Bobby Orr's record (28) for most assists by a Bruins' rookie defenseman (set in 1966-67), doing it in an 8-6 win over the visiting…yep, you guessed it, the visiting Toronto Maple Leafs. I really am sorry, Leafs fans, I'm not specifically looking for feats that come at the expense of the your team, but it just keeps coming up in history.
February 7, 1998 – On the eve of the 1998 Winter Olympics break, the NHL had its busiest day in history with every team playing a game. Yep, all 26 of them, for 13 games. I didn't realize how new four current NHL franchises are. Go ahead, try to remember which four current teams weren't around in 1998. This is a timed test; this web page will explode in 30 seconds. Give up? The Nashville Predators, the Atlanta Thrashers (now the Jets), the Minnesota Wild, and the mighty Columbus Blue Jackets.
February 7, 1996 – Anaheim (then the Mighty Ducks) traded Chad Kilger, Oleg Tverdovsky and their third-round pick to the Winnipeg Jets for Marc Chouinard, a fourth round pick, and most notably, Teemu Selanne. Selanne played four seasons with the Jets and has played 13 with the Ducks (currently in his 14th), meaning 18 combined seasons with those teams; that's a lot, right? Well, he also played four seasons with the Sharks and one with the Avs. Yes. Teemu Selanne is currently playing in his 23rd NHL season. He is 42 years old and going strong.
Source: Hockey Hall of Fame