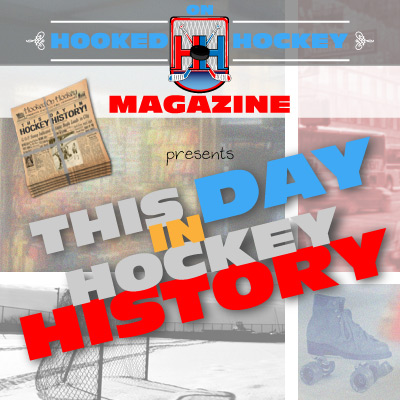 Today was a busy day in hockey history. We had the birth of a Hall of Famer, the debut of a 7-time All Star, several notable milestones, and one very cool record. Let's take a look: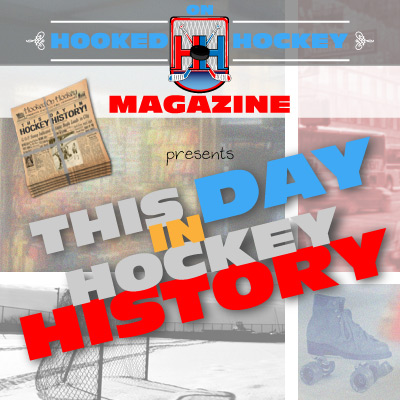 – January 3rd, 1931 – Montreal Maroons' forward Nels Stewart scored two goals four seconds apart in the third period (8:24 and 8:28), to set an NHL record for fastest two goals by one player. This record was later matched by Winnipeg Jets defenseman Deron Quint in 1995.
– January 3rd, 1939 – Hall of Famer Bobby Hull born in Point Anne, Ontario. Bobby Hull went on to play in 1,063 games for the Chicago Blackhawks, the Winnipeg Jets, and the Hartford Whalers. In that time, Hull scored 610 goals, 560 assists, and 1,170 points.
– January 3rd, 1970 – Detroit's Gordie Howe and Toronto's George Armstrong became the first two players to appear in the NHL in four different decades when they played in their first games of the new year. Gordie Howe went on to further distance himself by appearing in a game int he 1980's, making him the only player in NHL history to appear in a game in 5 different decades.
– January 3rd, 1973 – Eddie Giacomin became the NY Rangers' all time leader in career shutouts, when he beat the Kings 3-0, for his 41st career shutout. He broke the team record of 40 set by Dave Kerr. Giacomin went on to extend the record to 49 shutouts before he retired. He better enjoy the record while it lasts because current Rangers goaltender Henrik Lundqvist already has 43 shutouts and is just 30 years old.
– January 3rd, 1989 – Calgary Flames rookie Theoren Fleury played in the first game of his NHL career, a 5-1 win over the visiting Quebec Nordiques. Theo Fleury went on to play another 1,083 games in the NHL for the Flames, Colorado Avalanche, New York Rangers, and Chicago Blackhawks.
– January 3rd, 1990 – Quebec's Guy Lafleur scored his 545th career NHL goal, to move past former Montreal star Maurice Richard into eighth place on the NHL's career goal scoring list. Lafleur finished his career with 560 goals and currently is 24th on the NHL's career goal scoring list.
– January 3rd, 1991 – Wayne Gretzky became just the fourth player in NHL history to score 700 career goals, then added two more (for his 47th career hat trick) in a 6-3 Kings win over the Islanders, at Long Island. As we all know, Gretzky went on to top the 800 goal mark before finally finishing his career with 894 goals, a mark most believe will never be reached.
– January 3rd, 1996 – Rangers Mark Messier scored two goals and added an assist to move past Bryan Trottier into 6th place on the NHL's career-scoring list with 1,427 points as New York won 7-4 over Montreal, at MSG. Messier was nowhere near done, pushing his career scoring total up to 1,887, the 2nd most in NHL history. Unfortunately for him, the gap between him and Wayne Gretzky in 1st is 970 points.
Source: Hockey Hall of Fame