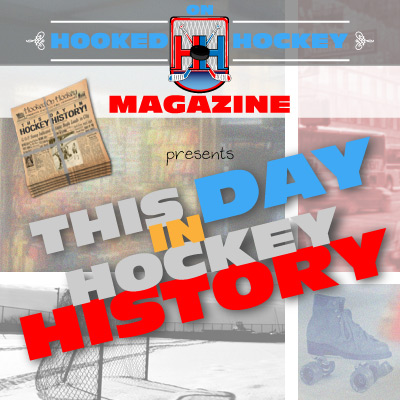 Today in hockey history, a player comes close to setting the record for playoff goals, a Stanley Cup victory makes a player the fourth to record an accomplishment and the first for another, Jaromir Jagr with a Penguins first, the longest game in a team's history that wasn't actually that long, and a Hall-of-Fame goaltender sets a record.
May 11, 1971 – Montreal's Jean Beliveau scored his final playoff goal in a 5-2 win over Chicago in Game 4 of the Finals, his 79th career playoff mark. It was the second most in history at the time, three shy of Maurice Richard's 82, but Beliveau has since been passed by eight other players, most notably Wayne Gretzky who tops the list at 122.
May 11, 1972 – The Bruins beat shutout Rangers 3-0 in Game 6 of the Finals to win the Stanley Cup. Bobby Orr scored the first goal of the game, making him the fourth player to score two Cup-clinching goals in his career, and he was also awarded the Conn Smythe, actually making him the first to win playoff MVP twice.
May 11, 1992 – Jaromir Jagr scored the first-ever penalty shot goal in Penguins history in their 3-2 win over the Rangers in Game 5 of the Patrick Division Finals. He also scored another goal, making him the first player in Penguins history to score a penalty shot goal and a non-penalty shot goal in one playoff game (that's a little joke).
May 11, 1993 – Gary Shuchuk ended the longest playoff game in Kings' history by overtime winner in a 4-3 LA win over the Canucks in Game 5 of the Smythe Division Finals. The most significant part about that is that he scored at 6:31 of the second overtime, which doesn't really seem that long for a team that had been around for 26 years.
May 11, 1996 – Colorado's Patrick Roy became the NHL's all-time leader in playoff minutes by a goaltender in his team's 4-1 win over Chicago. He played his 7,646 minute, which equates to about 127 ½ 60-minute games, passing Billy Smith.
Source: Hockey Hall of Fame