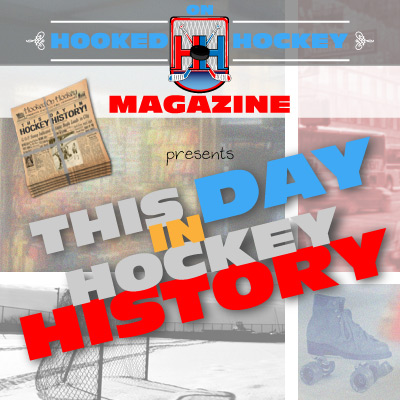 Today in hockey history, the first of a type of goal is scored, a team plays its first game under its new (and short-lived) name, the league introduces a new policy that nobody would ever think is mandatory, a very interesting win, a player sets a record, an expansion franchise decides on a new name, and the Hall of Fame inducts a new class.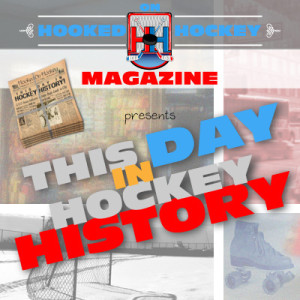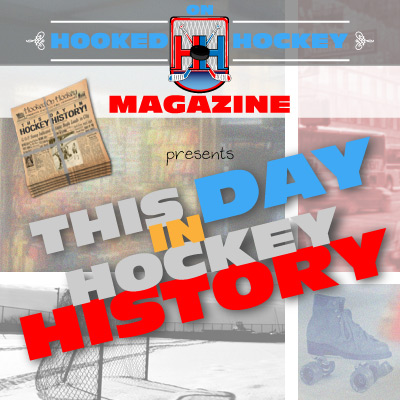 November 13, 1934 – St. Louis Eagles' Ralph Bowman scored the first goal of his career, and it also happened to be the first penalty-shot goal in league history! It was just the second penalty shot in history as well. The Eagles lost to the Montreal Maroons 2-1.
November 13, 1941 – The Brooklyn Americans, recently renamed from the New York Americans, played their first game with a new name, losing 2-1 to Chicago. It was their first and only season as Brooklyn. They folded the year after, never actually playing a game in Brooklyn. Search our site for "Red Dutton" or "Dutton's Curse" for more background and fun facts.
November 13, 1947 – For the first time in NHL history, the league initiated the policy of having players raise their sticks to signify the scoring of a goal for the benefit of everyone else who could not see the puck in the net. And here we thought they were all just celebrating a hard-earned goal! Montreal's Billy Reay became the first to do so as the Canadiens beat Chicago 5-2, and the tradition has lived on since and become a staple of scoring.
November 13, 1968 – The St. Louis Blues beat the Rangers 3-1, but it took them three goalies to do so! Starter Glenn Hall got ejected in the first, backup Robbie Irons suffered a leg injury, and Jacques Plante finished the game. Must've been embarrassing to the guy who let up that one goal.
November 13, 1975 – Chicago's John Marks set a new mark (heh) for the fastest two goals to start a game by scoring twice in just 33 seconds in the first period of a 5-5 tie at Philadelphia. Marks broke the old NHL record of :37 set in 1943 by Boston.
November 13, 1997 – NHL's Nashville expansion franchise announced the team set to begin play in 1998 would be called the "Predators." Interestingly, the logo, a saber-toothed cat, was established and created before the name was chosen, and three names made it to the finals: The Fury, the Ice Tigers, and the Attack. You may notice an obvious omission here…Owner Craig Leipold submitted his own write-in vote, the Predators, which mysteriously "won" the contest.
November 13, 2000 – Hockey Hall of Fame inducted its newest members: Players Joe Mullen and Denis Savard, builder Walter Bush, and media members Bob Miller and Jim Matheson.
Source: Hockey Hall of Fame