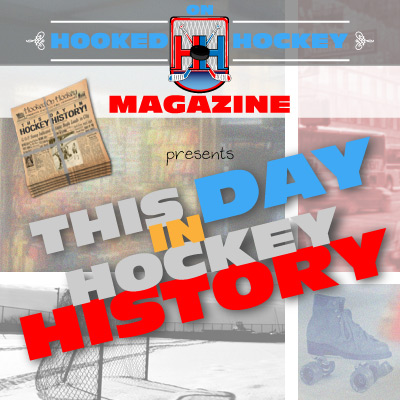 Today in hockey history, a player who experienced incredible success is born, a weird firing, a fast record, a team records its first win, the first player from a nation to score an NHL goal, a fun record involving lots of goals, a goalie takes first place, and one of the most absurd hockey games you will ever read about.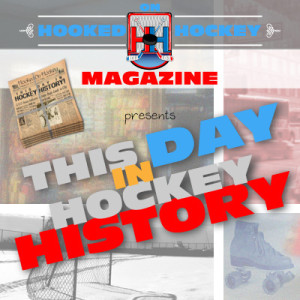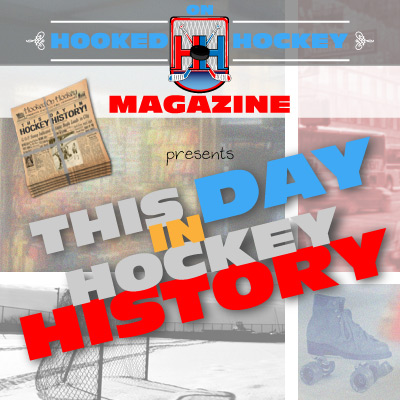 October 17, 1956 – Former NHL defenseman and American hero Ken Morrow was born in Flint, Michigan. Morrow was a part of the Miracle on Ice team that won the Gold, and he was also a part of the Islanders dynasty that won four consecutive Cups from 1980-83. That's one heck of a successful career.
October 17, 1969 – The Red Wings fired Head Coach Bill Gadsby…before their third game of the season…and just an hour before the game…oh, and they were 2-0 at that point. Sid Abel, who had already coached 11 years with Detroit, was named the replacement, and the team lost 3-2 to the North Stars.
October 17, 1974 – Buffalo Sabres' Lee Fogolin and Don Luce scored just four seconds apart in a 6-1 win over the Oakland Seals. How the heck do you score four seconds after a faceoff at center ice??? The two goals in four seconds by one team tied the NHL record set in 1931 by the Montreal Maroons.
October 17, 1974 – The Washington Capitals picked up the franchise's first win, a 4-3 victory over the Black Hawks. The wins wouldn't come easy for the eventual 8-67-5 Capitals in their inaugural year.
October 17, 1982 – Victor Nechayev became the first Soviet-born-and-trained player to score a goal in the NHL (for the Kings a 5-3 win over the Rangers), a rather monumental moment for both the NHL and for the United States and Soviet Union. He only played two more career NHL games though.
October 17, 1988 – The Calgary Flames set a team record with seven goals in the third period in an 11-4 win over the Kings. That's just too many goals. I could never imagine that happening in an NHL game nowadays.
October 17, 2000 – Patrick Roy set an NHL record for most wins by a goaltender, breaking Terry Sawchuk's record of 447, as Colorado won 4-3 in overtime at Washington.
1989 – Now this next one is crazy, so get ready. Exactly a year later after scoring seven third-period goals (see above), and after winning the Cup, the Flames wanted to make history again: Down 8-3 against the Quebec Nordiques with four minutes remaining in the game, Calgary scored three goals in 27 seconds. Crazy, right? They were still down 8-6 though. No way they could complete the comeback…could they? Well, later, they scored a shorthanded goal to cut the original five-goal deficit to one. Four seconds later they scored another shortie. Tie game at 8-8. That's freaking ridiculous. They came back from a five-goal hole with just four freaking minutes left, including two shorthanded goals, and five goals that accumulated 31 seconds! Although they couldn't totally complete the comeback, they turned what should have been an easy loss into a tie game. And it was done in Quebec City. I can picture those fans celebrating and starting the chants and jeers and then just being made looking silly by the Flames. Unbelievable. The two shorties in four seconds by Doug Gilmour and rookie Paul Ranheim set an NHL record for fastest two shorthanded goals. Sorry, I can't get over that.
Source: Hockey Hall of Fame