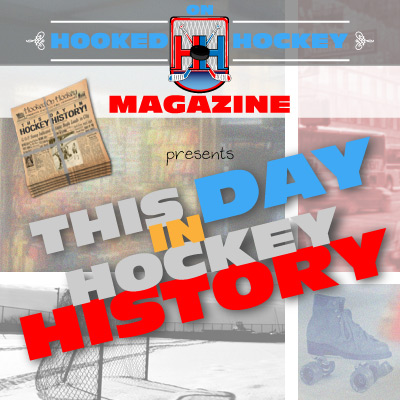 Today in hockey history, a goalie with a good name for where he ended up is born, a player sets an All Star Game record, a new Hall of Fame class is inducted, the first meaningful game played overseas takes place, and a legendary defenseman retires.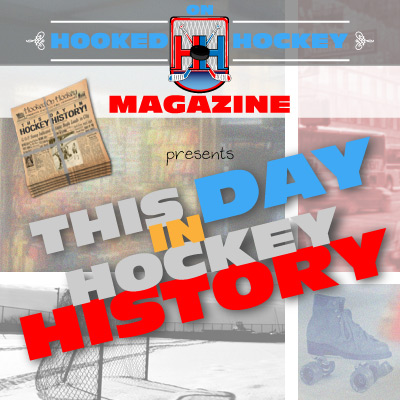 October 3, 1931 – Hall-of-Famer goaltender Glenn Hall was born in Humboldt, Saskatchewan. As you can probably guess, the Hall of Fame was named after Glenn Hall. OK, no, not really, but you would hope any player with the last name "Hall" makes the Hall of Fame (looking at you, Taylor of Edmonton). Anyway, Glenn, who played an impressive 21 seasons, was named "Mr. Goalie," which is pretty appropriate for a goaltender I suppose. He is credited with incorporating the butterfly style of goaltending in hockey, revolutionizing the game that saw most of its goalies stand up and have gaping five holes or tendencies to allow easy goals down low.
October 3, 1953 –Wally Hergesheimer set an All-Star record for the fastest two goals from the start of a game, scoring twice within 5:25 of the opening faceoff. The All-Stars beat the defending Stanley Cup champion Canadiens 3-1. I'll go out on a limb and say the All Star Games are much more exciting now.
October 3, 1989 – Darryl Sittler, Vladislav Tretiak, and Herbie Lewis were inducted into the Hall of Fame as players along with builders Alan Eagleson and Father David Bauer.
October 3, 1997 – The first regular-season game/game that counted in the standings played outside of North America took place! The Canucks beat the Ducks 3-2 in the game played in Tokyo. Also in that game, Espen Knutsen became the first Norwegian-born-and-trained player to play an NHL game! Lots going on for the worldwide exposure of the NHL. The two would play another game the following day and the tables turned as the Ducks beat the Canucks 3-2.
October 3, 2001 – After a 21-season career, Paul Coffey officially retired from the NHL, having won four Stanley Cups with the Oilers, finishing second on the all-time list for points by a defenseman (with a ridiculous 1,531 in 1,409 games), and playing in 14 All Star Games. That's not a bad resume at all.
Source: Hockey Hall of Fame