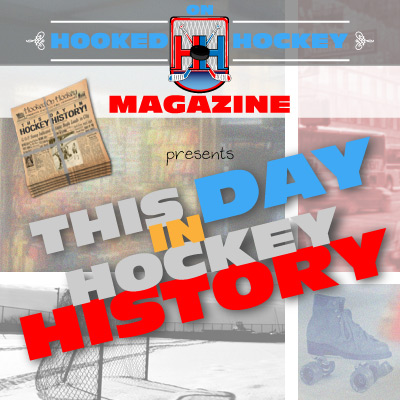 Today in hockey history, an Original Six club begins their foundation, a player with an interesting record is born, an NHL team makes its debut, a big trade with a big-name player takes place, and a now-commissioner of player safety does something neat.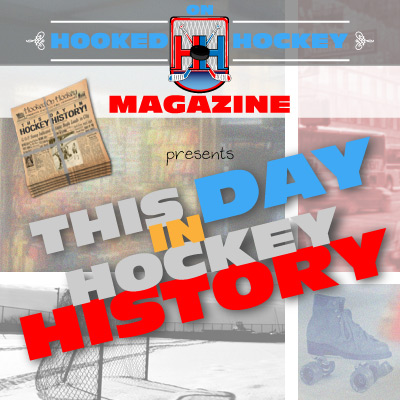 October 4. 1926 – The owner of the new Detroit franchise, who would begin NHL play in a month, purchased the Victoria Cougars team from the defunct Western Hockey League for a mere $100,000. The Victoria players made up nearly half of the Detroit squad, and the team would be named the Detroit Cougars. They actually played the first season in Victoria because an arena was not yet set in Detroit. They'd change their name to the Falcons in 1930 and to the Red Wings in 1932.
October 4, 1934 – Former NHL defenseman Connie Madigan was born in Port Arthur, Ontario. Who is that guy and why is he important? Well, Madigan made his NHL debut with St. Louis at age 38, making him the oldest rookie in NHL history. I wonder if a guy his age was still treated like a rookie in the locker room. He also played a minor role in Slap Shot as Ross "Mad Dog" Madison.
October 4, 1991 – The San Jose Sharks played their first NHL game! But they lost 4-3 in Vancouver. Native Californian Craig Coxe scored the first goal in Sharks history while Jeff Hackett made an impressive 48 saves. It was the first of many losses that season – 58 losses to be exact. They went 17-58-5 in their inaugural year. Not good, but it got even worse the next year – 11-71-2. Yikes.
October 4, 1991 – The Oilers traded their captain, who had been on the team for all five Stanley Cups, Mark Messier, to the Rangers in exchange for Bernie Nicholls, Steven Rice, and Louie DeBrusk. Messier would lead the Rangers to a Cup two seasons later.
October 4, 2001 – Brendan Shanahan scored a hat trick in the Red Wings 4-3 OT win at San Jose to become the second player in NHL history to score an opening-night hat trick twice in his career. That's one way to be on top of the scoring race for at least one day.
Source: Hockey Hall of Fame
Love Reading About Hockey?

Subscribe to keep up-to-date with the latest and most interesting hockey news!
| | |
| --- | --- |
| | We hate spam just as much as you |