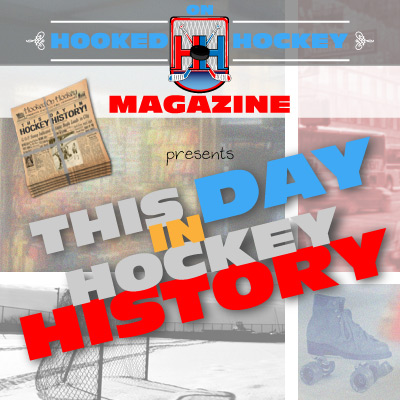 Today in hockey history, a team changes its name (again), a legend is born, two new teams play their first games (although they were actually the same team), Gretzky begins something magical, and an opening day to remember for one man.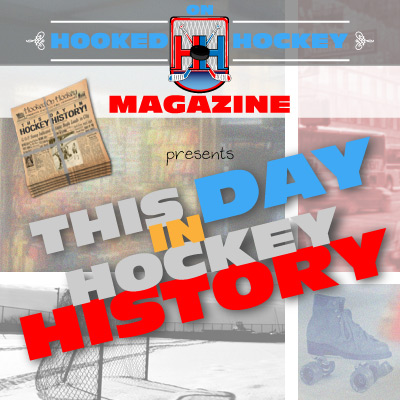 October 5, 1932 – The Detroit Falcons officially changed their name to the Detroit Red Wings, and the Winged Wheel was introduced. They were the Cougars from 1926-30 and the Falcons from 1930-32. The name change came from new ownership, and the Wheel came from the new owner's former club, the Montreal Hockey Club, who actually won the first Stanley Cup in history in 1893.
October 5, 1965 – Goaltending legend Patrick Roy born in Quebec City, Quebec. Roy is arguably the greatest goaltender of all time. He holds the record for most Conn Smythe Trophy wins at three (all championship years) – he posted a 16-4 record with the Canadiens in 1993, a 2.10 GAA with the Avalanche in 1996, and a ridiculous 1.70 GAA in 2001. He won a fourth Cup with the Habs in 1986, and his playoff success is further cemented by his NHL-record 151 postseason wins. He's currently the, ah, colorful coach for the Avs.
October 5, 1976 – The first regular season NHL game was played in Denver, Colorado, as the Colorado Rockies beat the Maple Leafs 4-2 at McNichols Sports Arena. The franchise, which moved from Kansas City after just two years there (1974-76), had another shirt stint and would be moved to New Jersey eight years later. In fact, exactly eight years after the first NHL game in Colorado, the first NHL game in New Jersey (Newark) was played, a 3-3 Devils tie against the Penguins.
October 5, 1983 – Wayne Gretzky scored a goal and an assist in a 5-4 win over Toronto in the season opener, and it was the beginning of many, of a 51-game scoring streak in fact, an NHL record. He recorded a point in every game until January 28. Yep, The Great One went three-and-a-half months before failing to register a point in an NHL game. Excuse me?
October 5, 1990 – Pittsburgh's Kevin Stevens had two goals and four assists in a 7-4 opening-night win against the Capitals to set an NHL record for most points in a season opener (six). John Cullen came close to tying that record with five assists. It was a good omen, as the Pens would win the franchise's first Cup that year (as well as another in the following year).
Source: Hockey Hall of Fame