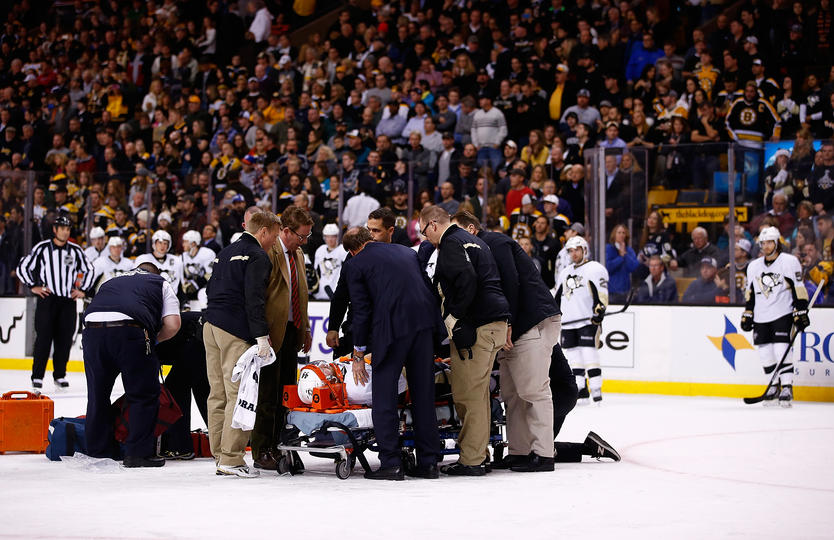 It's unfortunate that the Bruins' December 7th game against the Pittsburgh Penguins won't be remembered for Dennis Seidenberg's kick save, Tuukka Rask's breakaway stop on Sidney Crosby, or the Bruins scoring two goals in 1:16 to come back in the third period. Instead, the game will be remembered mostly for Shawn Thornton attacking Brooks Orpik, leading to Orpik being evacuated out of the arena on a stretcher. While Thornton's actions were not entirely unprompted, in this instance, that doesn't matter. Thornton will no doubt be suspended, and he should be: his actions were completely unacceptable, and no matter how chippy or dirty the game gets, there's a line that players can't cross. Last night, Thornton crossed it.
That being said, it's important to look at the context surrounding the incident as well. Earlier in the game, Orpik hit Bruins forward Loui Eriksson high on a questionable hit which no doubt got many players' attention on the Boston bench. Thornton, in an attempt to send a message that the Bruins took exception to the hit, challenged Orpik to fight, which Orpik refused. Some people will argue that had Orpik chosen to fight Thornton then and there, things may not have escalated further, but Orpik's under no obligation to drop the gloves for what he no doubt considered a clean hit. Later, with Brad Marchand down on the ice, Penguins forward James Neal took the opportunity to knee Marchand in the head (deliberately or not will be decided by the league, but this angle certainly makes it look pretty deliberate). On the ensuing stoppage, Thornton hauled down an unsuspecting Orpik from behind, and threw several punches with Orpik was down on the ice.
Lost in all the penalty minutes and upcoming suspensions is the terrible performance by the officiating crew of Brad Meier, Gord Dwyer, Derek Amell, and Andy McElman. It's no secret that these teams don't like each other, and this game was rough from the onset. While it's great when officials "let 'em play," that wasn't the case in this game. In a game where three players left due to injury, and two have suspensions looming, it's impossible not to look at the refs. Between Orpik's hit on Eriksson, Neal's knee to Marchand's head, Thornton's slewfoot of Orpik, and Pascal Dupuis breaking Chris Kelly's ankle with a slash, there was a grand total of two minor penalties and one match penalty. Neither Thornton nor Neal received major penalties for their infractions, despite both clearly being worthy of the call. The officials lost control of this game early in the first period, and struggled to regain control until the end.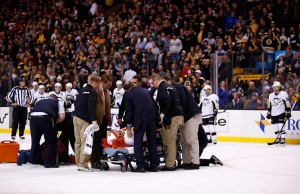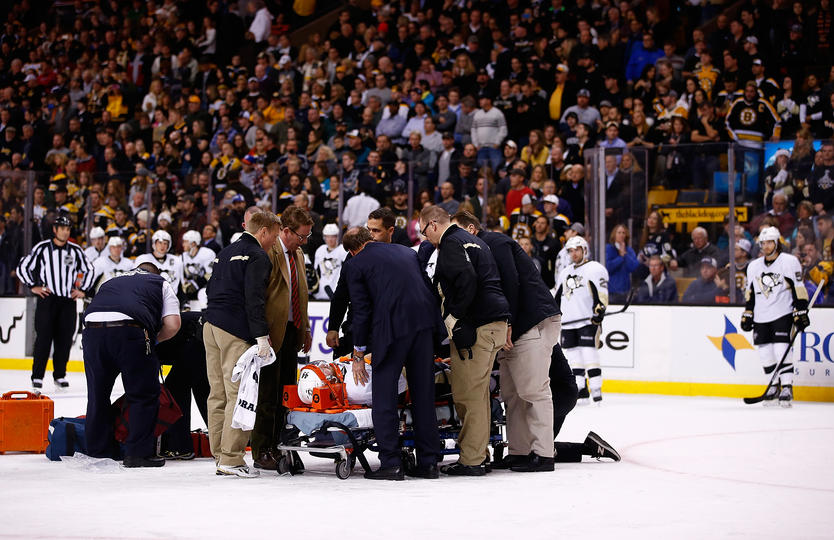 So do poor officiating and some dirty play by the Penguins justify Thornton's reaction? Absolutely not. Thornton's role on this Bruins team is to defend his teammates, but that's not acceptable. And Thornton's well aware of that, too. After the game, he said, "obviously, I made a mistake… I felt sick all game." Thornton added, "It's always my job, I guess, to defend my teammates, but I've prided myself for a long time to stay within the lines. It's hard for me to talk about it right now. I can't say I'm sorry enough, and I'm sure I'll be criticized for saying it, but it's true."
But Thornton isn't a guy who usually crosses that line. This is his first regular-season match penalty, and he's never had a hearing or a suspension in his entire career. That'll change soon, and while he doesn't currently have a time for his hearing, it's coming. This kind of act is really unprecedented in Thornton's long career, and while it's tough to judge a player by a single incident, there's no doubt that'll happen after that game. Hopefully Thornton will serve his time, put the incident behind him, and get back to playing his brand of hockey on the right side of the line. If Thornton wants to shake the reputation he's earned from this incident, playing clean is the only way to do it. Regardless, when these things happen, there are always plenty of reasons, but there are never excuses. Thornton knows better.