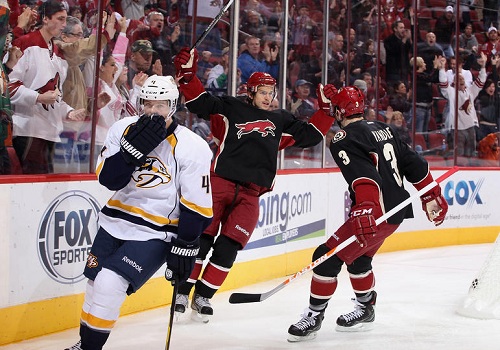 The Nashville Predators have started off their 2012-2013 season with loss after loss. Currently, their record is 1-2-3, much to the disappointment of Preds fans. As Head Coach Barry Trotz has pointed out, he believes lack of time to prepare and a non-existent preseason has lead to this outcome.
Starting off their two-week-long road-trip, they won against Minnesota. Finally, they could add their first "W" of the season. Two days later (Thursday, January 24th), they were facing off against the St. Louis Blues for the second time in four days. During the first period, the Blues gained a power play opportunity, and after a lot of pushing and shoving in front of Nashville goaltender, Pekka Rinne, Blues' Patrik Berglund slid the puck to teammate T.J. Oshie who was beside the goal. Oshie popped the puck over Rinne's left leg pad and put St. Louis up 1-0 at 12:59 of the first. The Predators only managed three shots during the entire first period, playing 16:10 between their first and second shots, to the overwhelming frustration of coach Barry Trotz and team captain, Shea Weber.
"We didn't have too many quality chances," Weber stated.
Into the second period, Berglund added a goal to the assist he acquired during the second period, after Preds' Mike Fisher tripped him as he came into Nashville's zone on the right side. Berglund was awarded a penalty shot and beat Pekka Rinne with a quick snap shot. The Blues were now up 2-0.
Rookie Vladimir Tarasenko added his fourth goal in as many games when he caught the Predators on a slow line change. He took a pass from Alex Steen at 9:04 into the third and beat Rinne, raising the score to 3-0 for the Blues. Tarasenko now has six points in four games in his first NHL season.
Adding their first regulation loss of the season, the Predators were on the losing end of yet another game.
"You come into St. Louis, it's a bee's nest," said Barry Trotz. "They swarm you, they get on you. They have purpose and they work as a group, and tonight we weren't willing to play the game we needed to play to compete at that level. You're not going to walk in here and have success playing like that. You're going to have to battle. Their battle was a lot harder than ours."
---
Entering their next road game after a devastating shutout by St. Louis, the Predators needed a win desperately. Now up against the Anaheim Ducks, who the Predators beat in the first round of the Stanley Cup playoffs in 2011, Nashville knew it wouldn't be an easy game.
Brandon Yip put Nashville on the board, notching his first goal of the season, with a pass from Martin Erat from the blue-line on the attack. Yip took a shot on rookie goaltender Viktor Fasth's left side, which rebounded back out and redirected through teammate Rich Clune's skates. Yip skated to the right and caught his own rebound, catching Fasth sprawled in the crease. He popped the puck over the goalie, putting the Preds up 1-0.
With 35 seconds left in the first, Cam Fowler threw a shot from the blue line and it was redirected by teammate Bobby Ryan who was in front of Pekka Rinne. The score was tied at 1 after the first.
Though there was a lot of battling during the second, neither team could convert for a goal.
In the third period, Nashville battled in the Duck's zone, cycling the puck back and forth. Nashville's David Legwand took the puck, shooting into the leg pad of Fasth. The puck bounced back to his stick and he skated around Fasth's leg pad as he sprawled out and Legwand poked it in past Fasth's foot. The Predators were now back on stride to win.
With just under nine minutes left in regulation, Mikka Koivu passed the puck to Corey Perry in between the blue lines. Perry got deep into Nashville's zone and passed the puck across Rinne's crease to Daniel Winnik, who was tangled up with Preds' d-man Hal Gill, but still managed to push the puck past Rinne's left foot, forcing a 2-all tie.
With no overtime decision, the game went to another shootout. The Predators having seen two shootouts already this season, should have been prepared. With no goals from either side in the first round, Anaheim placed Perry up to shoot. He buried the puck past Rinne's glove-side. Legwand shot for Nashville, but unfortunately the puck hit Fasth, popped up in the air, and then landed in his glove.
Another frustrating loss for Nashville, made even worse by the fact that Patric Hornqvist, who is known for his gritty play in front of the net, was hurt during the third period after Ryan Getzlaf landed on his leg, twisting his knee. Hornqvist will be out for 3-4 weeks with a sprained knee.
---
Losses are all Predator fans seem to know by this point. Monday night (January 28th) brought on another embarrassing disappointment. This time against the Phoenix Coyotes.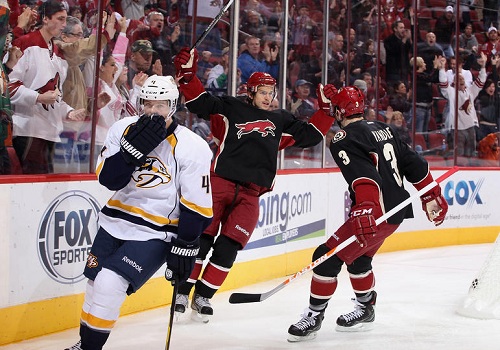 Only three minutes into the first period, Phoenix's Antoine Vermette sent a wrist shot past Preds' goalie Pekka Rinne to raise the Coyote's up 1-0. While the Predators seemed to be finding their feet and creating decent chances, none of their shots were converting to goals. Nashville newcomer, Rich Clune, got in a bit of a confrontation at the blue line with Phoenix's Kyle Chipchura. Though no real punches were thrown, both were sent to the penalty box for 5 minutes for fighting.
With four and a half minutes left in the second period, Lauri Korpikoski buried another one for Phoenix sending another wrist shot past Rinne.
Nick Johnson scored for Phoenix again late in the third, ending almost any chance the Predators had to rally back from a 2-0 deficit. Now up 3-0, Keith Yandle scored on a slap shot from the point during a power play opportunity.
Suffering their second shutout loss in three games, the Predators need to find their footing and figure out what they need to do to put pucks in the net. I am keeping all optimism possible, for my love of the Predators runs far too deep to really talk bad about them. I may be a bit naive and a bit biased, but I know when something isn't right.
The Predators now have a 1-2-3 record to start the season.