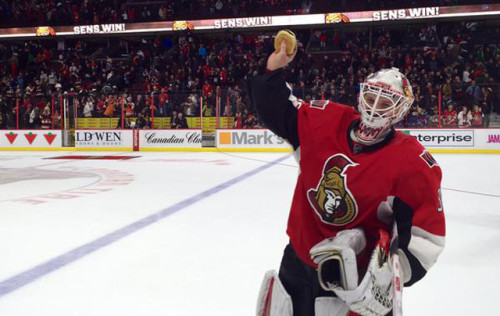 At the conclusion of last season many Sens fans were oblivious to the team's flaws as they attempted to sober up after the high of watching their team go on an unprecedented late season run. But with a new season comes a fresh perspective with which to view the team. Below are the three most important questions that could define Ottawa's season:
How will Andrew Hammond fare in his first full NHL season?
In a surprising twist of irony, it was the Hamburglar who played the role of hero for the Sens last season, helping them to the unlikeliest of playoff berths. For the Sens to be successful in 2015-16 they won't need Hammond to return to the form that allowed the Hamburglar moniker to stick, but they will need him to prove he can cut it as a full-time NHLer. With the exception of last season – when he put up a sparkling 20-1-2 record, 1.79 GAA, .941 save percentage and three shutouts – Hammond hasn't had much to brag about in his adult hockey career. Prior to 2014/15, the last time Hammond won at least 20 games, had a save percentage higher than .900, and a GAA under 2.50 all in one season was 2008/09 as a 21-year-old with the Junior A Vernon Vipers. He managed to stay hot last season by riding the wave of momentum, but that's not something he will have the luxury of benefitting from in '15/16. With Craig Anderson all but guaranteed to be the starter, Hammond will have to get used to seeing limited action – and hope he can still be successful.
Can Bobby Ryan re-gain his scoring touch?
To say his first two seasons in Ottawa have been disappointing wouldn't exactly be breaking news. Coming to Ottawa in the summer of 2013 – on the heels of Daniel Alfredsson's departure in free agency, no less – Ryan also came with the reputation of being a prolific goal scorer that was the result of having four 30-goal seasons to his credit. But in two seasons in Ottawa Ryan has missed time due to injury (a sports hernia), has had to get acclimated with multiple different linemates and has shifted between the first and second lines (sometimes mid-game). All of this has contributed to a gross lack of production (41 goals, 102 points) that, surprisingly, hasn't had much of an adverse effect on the Sens to this point. But if the Sens have any aspirations of being not just a playoff team, but one capable of making a run when it gets to the post-season, a more productive Ryan is a must. That his new mega contract kicks in this season, and the fact he will likely play on a line with Mika Zibanejad and one of Mark Stone or Mike Hoffman, should provide enough motivation.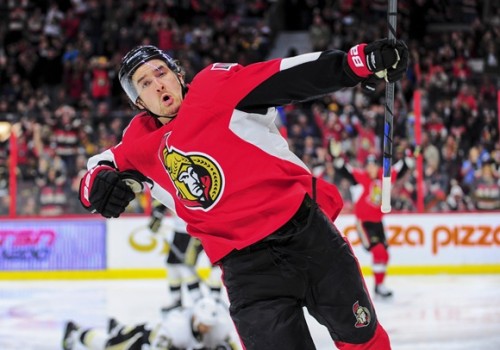 Will the kids continue to produce?
If you thought the Sens were a young team last season you would be right: with an average age of 26.8 theirs was the fifth youngest opening-day lineup in the NHL in 2014/15. That lineup included such players as Curtis Lazar (20), Cody Ceci (21), Jean-Gabriel Pageau (22), Mika Zibanejad (22) and Mark Stone (23). More than just gaining experience, the kids played a pivotal role in getting the Sens to the post-season. Stone stood out among his teammates, finishing third in team scoring and first among all NHL rookies with 64 points, adding a league-best 98 takeaways. As the full-time second line centre, Zibanejad contributed 46 points, while Ceci added 21 points to finish second behind Erik Karlsson in team scoring among defencemen. Lazar and Pageau, meanwhile, formed two thirds of the "Little Line" (along with Erik Condra) that was instrumental in energizing the Sens' lineup down the stretch. With so many positives to look at it can be hard to find any negatives. But the sophomore slump is nothing to fool around with, and with such a high number of sophomores expected to be in the lineup this season the slump could hit the Sens the hardest of any team.