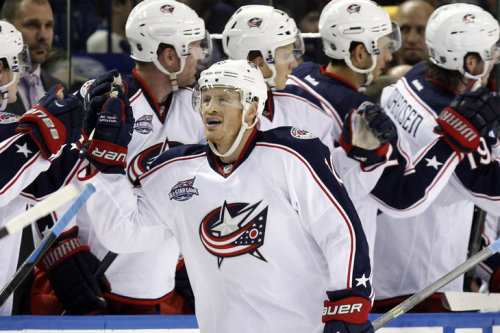 Welcome to "Three things", your recap-like-substance for Columbus Blue Jackets games. No one wants to read "this happened, then this happened" boring recaps, so instead of doing that, we'll look at three important things from the night's action and talk about those.
Here are three things from Thursday night's 3-1 win in Buffalo.
Johansen vs Richards – FIGHT!
So it shouldn't surprise anyone that there might be a few hard feelings left over from the Ryan Johansen vs the franchise contract dispute. But head coach Todd Richards doesn't care about any of that so long as Johansen showed up ready to play.
Apparently, the coach did not think Johansen did the latter, seemingly none too happy with the center's conditioning coming out of the hold out. Instead of yanking him off the ice whenever it seemed Johansen was blown up, he left him out there as a proverbial "I don't care, you're playing" move.
Johansen certainly did his share of coasting, but he was also effective. He assisted on the game-winner from Cam Atkinson to give the Blue Jackets their first W of the season. For the team's sake, Johansen needs to get into game shape quickly; the competition is going to get a lot stiffer than the Sabres and quickly.
Possessing Possession
The score may have only been 3-1, but the Blue Jackets dominated with the puck. There's no official stat (that I could find, anyway) on time of possession for last night's game, but there were long stretches where the Sabres futilely tried to get the puck back and simply couldn't.
This was especially huge down the stretch when the Blue Jackets led 2-1. With the Sabres pressing, trying to even things up, the Jackets simply controlled the puck and exploited one of the last chances they were given – Artem Anisimov let go of a quick shot from the point that goalie Jhonas Enroth clearly never saw to give the Jackets the overwhelming 3-1 lead.
I'm not saying this is a sign of things to come given the thin nature of the forward group, but it's certainly promising that the Jackets were totally in control throughout the night despite being so thin up front and having a perpetually winded Johansen centering their top line.
Cam Atkinson: Mighty Might
One player that really stood out individually for the Jackets last night was Atkinson. He's clearly one of the more skilled members of the offense and it showed, but what really jumped out about his play is that he's so quick and shifty that it makes him difficult to track.
There were a few instances last night where he'd make a quick cut or bounce around contact quickly and you can see that he's growing (figuratively) as he's gaining experience. His game-winner wasn't anything flashy and Enroth did manage to get a piece of it, but it was a well-placed shot that found its mark.
If the Jackets are going to continue to thrive in the absence of half of their forward group, Atkinson is going to have to be one of the driving forces. If last night was any indication, he's getting there.
Follow me: @TwoPadStackRW