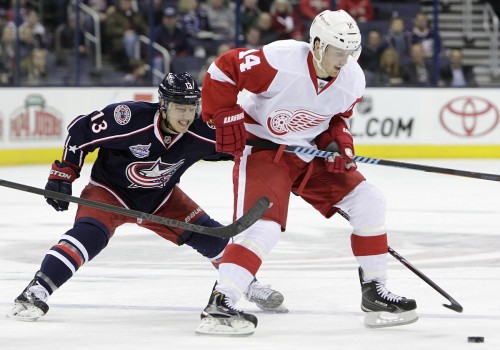 Welcome to "Three things", your recap-like-substance for Columbus Blue Jackets games. No one wants to read "this happened, then this happened" boring recaps, so instead of doing that, we'll look at three important things from the night's action and talk about those.
Last night's 5-0 loss to Detroit isn't as ugly as it sounds, but let's get right into it.
Benching Private Ryan
Early in the third period, Ryan Johansen was benched by head coach Todd Richards. Not only was it the right move, but Johansen later said to reporters that it was the right move. He took a bad penalty to start the third, with the Jackets down 2-0, and the Red Wings scored on the power play to ice it.
Simply put: your best players cannot be taking penalties like that in crucial moments, especially with your team down two goals. Johansen knew this, Richards knew this and that's why the benching occurred. It shouldn't be anything to talk about going forward and Johansen will have learned a valuable lesson from this.
The Other Guy In Net
For as much as we talk about Sergei Bobrovsky around these parts, it's probably worth noting that Detroit's Jimmy Howard is pretty good in his own right. Last night, he picked up the shutout by turning aside all 28 shots directed at him.
A lot is being made of the slow demise of the Red Wings, but with Howard in net and playing the way he is, that demise might still be a little ways off. These aren't your daddy's Red Wings with the top to bottom talent and okay goaltending; Howard makes them go. Simple as that. It doesn't hurt having guys like Zetterberg and Datsyuk around, but Howard is the team MVP right now.
One Step Forward, Two Steps Back
Just when it seems like the Jackets are turning some kind of corner and getting things on the right track, they drop a 5-0 home decision to a division rival. Though Bobrovsky wasn't quite as bad as the score suggests, he still wasn't anything approaching "good". He needs to be better and he needs to do it consistently if the Jackets want to get better and he wants the massive payday he's after.
I understand that things aren't optimal right now and a good portion of the lineup is still missing. It's extremely difficult to bounce back from that kind of adversity. Having said that, this team is built on a style of play that can fit just about anyone. They're supposed to be fast, aggressive and physical. There's been no intensity from this team in a while and THAT is why they continue to lose. They're playing like a defeated team to start games, so it's little wonder they're losing them.
Play like someone lit a fire under your ass and things will change.
Follow me: @TwoPadStackRW