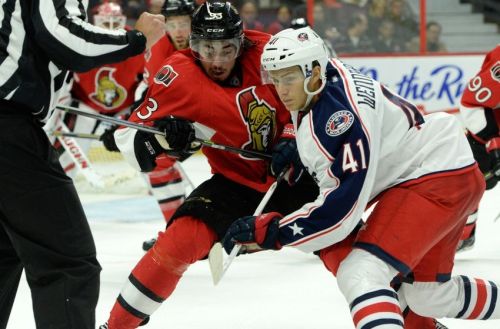 Welcome to "Three things", your recap-like-substance for Columbus Blue Jackets games. No one wants to read "this happened, then this happened" boring recaps, so instead of doing that, we'll look at three important things from the night's action and talk about those.
Things were okay for two periods, but after an ugly third and a couple of injuries, the night ended poorly for the Blue Jackets.
The injuries keep coming
Can the Blue Jackets maybe go a game or two without another player biting the dust and joining the injured reserve? On Tuesday night, the Jackets lost not, but two players. Defenseman James Wisniewski broke his finger and is expected to miss 1-2 weeks. And that was after Artem Anisimov was floored by an elbow from Eric Gryba. His status going forward is unknown until he's examined later today. That's all capped off by a fractured finger for Sergei Bobrovsky suffered in practice Monday, putting him on the injured-reserve as well.
You know the story by now: these two will join Boone Jenner, Nathan Horton, Brandon Dubinsky and Matt Calvert on the shelf and that's not even including Nick Foligno, who suffered a neck stinger over the weekend and is day-to-day.
The Blue Jackets really needed a break to just survive the rash of injuries that they faced before the year started; losing even more important pieces puts them so far behind the eight-ball they may not be able to recover.
Struggle to finish
For the first time in a few games, the Jackets actually go out to a positive start by scoring first; a power play goal from David Savard. Granted, they gave up that lead 1:03 later, but after starting down 2-0 in several games this year, it's a step in the right direction.
After two, it was tied 2-2 and things were tight. But the loss of Wisniewski and Anisimov, as well as the play of Robin Lehner (36 saves) helped put the Senators ahead for good in the third. By the 11:08 mark of the third, it was over and the Sens were walking out with two points.
It's tough to really fault the team here when they're so shorthanded, but it's even tougher to see two points slip away when things were tied after two periods and the team definitely needs to grab as many points as they can early while playing shorthanded. It's going to be tough sledding until everyone starts getting back and the Jackets might not be able to come back if they start dropping more and more games.
Johansen's streaking
Turning to something positive to close this out, it should be noted that Ryan Johansen is still on fire. He's registered at least one point in all nine of the Jackets' games so far this year and while that's impressive on the surface, it's even more impressive given the circumstances to start the year. We all know what they are: he missed training camp and the preseason due to a contract dispute, eventually joining the team before the start of the season and having his condition criticized by head coach Todd Richards.
Instead of struggling as we all expected, he's currently tied for fifth in the NHL in scoring with names like Corey Perry, Jeff Carter, Jason Spezza and Ryan Getzlaf. Not bad company to be in. Reasonably, it can't be expected of him to extend this thing much further; it's hard enough to do in the NHL as it is without having to do so while half your team is on the shelf.
Follow me: @TwoPadStackRW
Love Reading About Hockey?

Subscribe to keep up-to-date with the latest and most interesting hockey news!
| | |
| --- | --- |
| | We hate spam just as much as you |